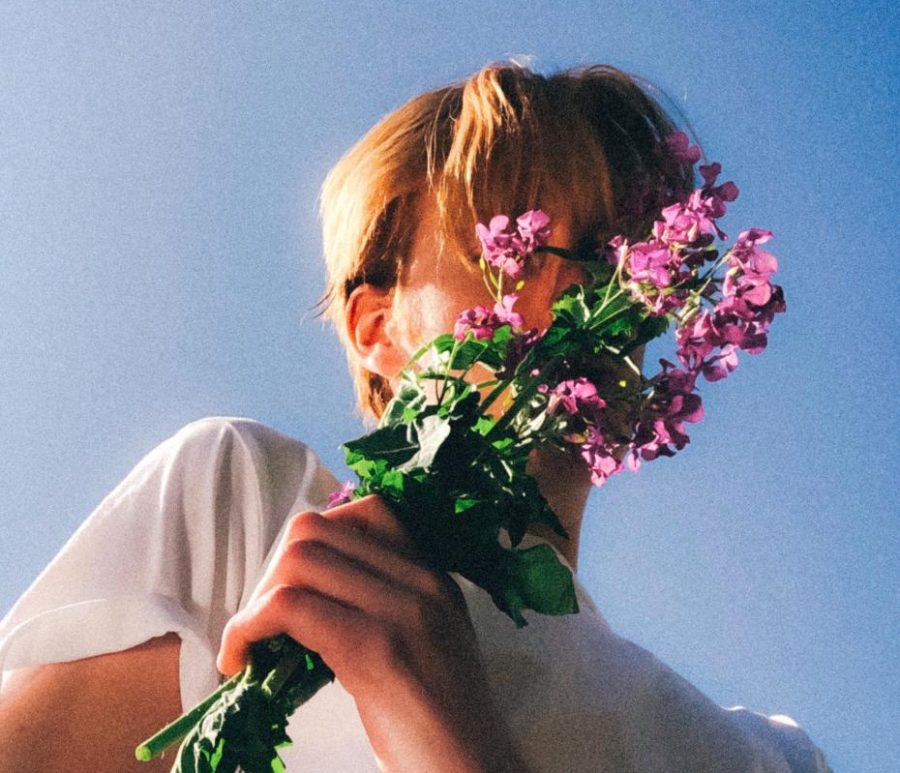 If senior Caleb Goss was a literary device, he would be a juxtaposition. Simultaneously knowing everything about himself and yet nothing at all, Caleb sees himself cinematically sitting in a French cafe drinking a cup of coffee and daydreaming. Or maybe the cafe was Italian, or could it possibly be English? He's an utterly hopeless romantic and must have more creamer in his decaf coffee than decaf coffee. Don't forget to make it decaf. By the time his cup is empty, countless stories about the lives of strangers passing have been composed. Caleb also loves singing. It's one of his favorite pastimes. It is best advised to stay away from Caleb when he is singing... no he's not tone deaf, he's just passionate. When he's not belting "
my future"
by Billie Eilish, awkward dancing to Troye Sivan's "
STUD"
or singing his heart's content
to SZA's "
The Weekend
," Caleb is usually hanging out with his friends. Oftentimes they'll talk about how he's 18 and doesn't have his learner's permit, or how he's the most picky eater in the world and very much judges a book by its cover when it comes to food: he won't eat it if it smells, looks or tastes bad. Yep, you read that correctly. When Caleb isn't lucid dreaming of picnics in the countryside of France/Italy/London, singing/listening along to music into endless hours of the night or being driven around by his friends, you can find him in silence having philosophical debates with himself and constantly wondering: why?
Caleb Goss, Visual Content Editor in Chief
Nov 24, 2020

Lilly, Bocock stay optimistic in the face of COVID restrictions

(Story/Media)

Oct 27, 2020

Wyatt looks for personal growth as JMU goes online

(Story)

Oct 05, 2020

"Chicken and Little" Episode 1 – Macy Swift

(Story)

Oct 05, 2020

Chicken and Little

(Story)

Sep 15, 2020

Gray exudes teen angst on debut album Kid Krow

(Story/Media)

Sep 08, 2020

Yoder turns passion for baking into activism

(Story)

May 27, 2020

A collection of photos and screenshots documenting the virtual months in isolation

(Story/Media)

Apr 11, 2020

Corriston adapts to online schooling, prepares for end-of-year showcase

(Story)

Mar 25, 2020

A day in the life: Quarantine edition

(Story/Media)

Mar 19, 2020

Walton adapts to at-home learning

(Story)

Mar 04, 2020

Spears overcomes insecurities with acne scars, finds suitable skin care routine

(Story)

Jan 28, 2020

Where there's smoke, there's fire

(Story)

Jan 27, 2020

Campbell comes to terms with mental health, embraces identity

(Story)

Jan 23, 2020

Ground-breaking ceremony marks milestone in new high school build

(Media)

Jan 21, 2020

Norwegian show SKAM shines positive light on social issues

(Story)

Nov 19, 2019

Brother inspires Veerman to work in special education, help those like him

(Story)

Oct 24, 2019

Martinez covers social issues in second studio album K-12

(Story)

Oct 08, 2019

Malashiy hits one million followers on TikTok, spreads positivity through trending characters

(Story)

Jun 30, 2019

USWNT beats home team France 2-1, to play England in semi finals

(Story)

Jun 27, 2019

USWNT move on to play France after 2-1 victory over Spain

(Story)

Jun 18, 2019

The U.S move on to the round of 16 after beating Chile 3-0

(Story)

Jun 12, 2019

U.S Women's National Team beats Thailand 13-0 in their World Cup opener.

(Story)

May 23, 2019

HEF hosts Breakfast of Champions for students and teachers

(Story)

Apr 18, 2019

"Thank u, next" embraces flaws in honest fashion

(Story/Media)

Mar 26, 2019

Peric prepares for powerlifting competition

(Story)

Mar 06, 2019

Benton expresses love for K-pop boy band BTS

(Story)

Jan 13, 2019

Swift explores Guatemalan culture through immersion trip

(Story)

Nov 26, 2018

Eilish takes "1 by 1" tour to D.C., gives amazing concert

(Story)

Nov 09, 2018

Band performs for senior night

(Story/Media)

Oct 26, 2018

Top 5 Halloween candies

(Story)

Oct 21, 2018

One Act cast presents life of Siddhartha

(Media)

Sep 11, 2018

Streaks beat Charlottesville 59-28

(Story)

May 17, 2018

Ignorance: the third member in Romeo and Juliet's relationship

(Story/Media)

May 09, 2018

Girls soccer takes on Waynesboro for senior night

(Story)

May 01, 2018

JV girls soccer plays TA on Apr. 26

(Media)

Apr 03, 2018

Track team competes at Gary Bugg Invitational

(Story)

Mar 26, 2018

Andrews collects variety of swords

(Story)

Feb 21, 2018

Malashiy shares deep relationship with her bird

(Story)

Feb 07, 2018
Jan 25, 2018

Burden sings for Obama, Oprah

(Story)