Benton expresses love for K-pop boy band BTS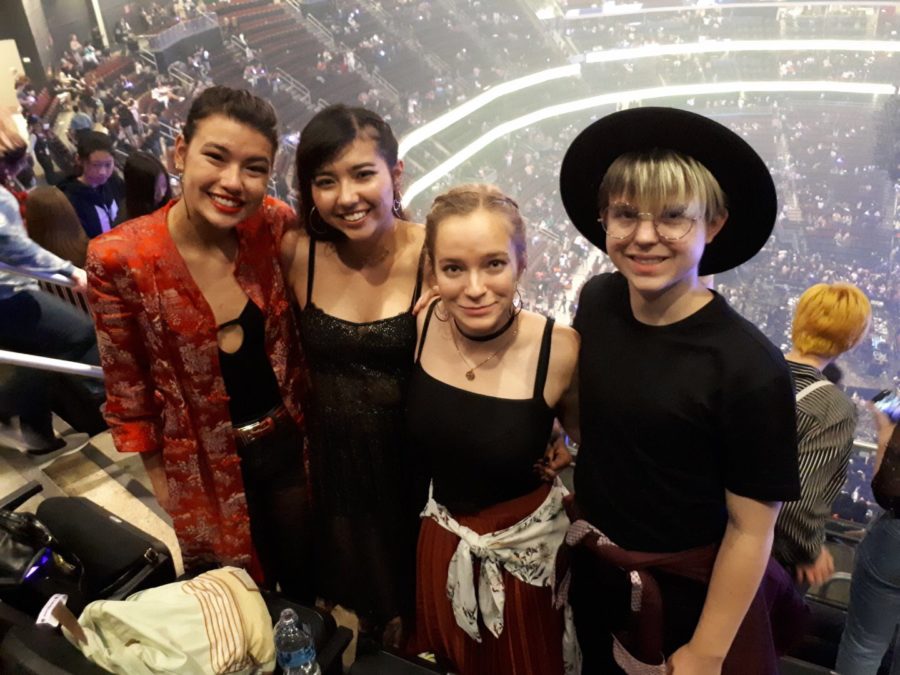 Advertisement
Over the course of five years, K-Pop group Bangtan Sonyeondan (BTS) has accumulated over 34.2 million fans on social media. This comes after the success of three studio albums and a series of sold out world tours. After rising to fame in Korea, this sudden pop trend moved on to bigger things: the United States. Topping the billboard charts at number one with their most recent works "Love Yourself: Answer" and "Love Yourself: Tear," it's clear to see that BTS has taken the world by storm, and this is just the beginning.
Senior Marena Benton is a part of this growing fandom. Introduced to the boy band during her freshman year through a Youtube video, Benton has quickly grown fond of the group. Listening to their music and going to their concerts, Benton sees them and their music as positive and inspirational, two key factors of their success
"I think [there success is] a combination [of a few things]. They talk about how they're so successful themselves, but it's the hard work they put in, like the hours of practice they put into their choreography and their music and their production. A big part is social media. They're constantly posting on twitter and other platforms," Benton said. "One of the things that they do is post videos and content of their everyday lives, which is not just their side as an artist. [For example] you don't see them just recording, you see what they had for lunch. I think they're a lot more relatable to normal people because they showcase their life outside of being a celebrity."
Not only do the members BTS spread positivity, they also spread self love, a common message throughout their albums. To Benton, this message hits home, especially with younger artists. As she says, "I don't think there's a single person who is confident with every part of themselves their entire life".
"One of their most recent messages [has] been about self love. I think that's something a lot of people our age struggle with," Benton said.
Slowly becoming one of the big dogs of the music industry, members of BTS continue to break records. Up on the charts with the likes of Ariana Grande, Travis Scott and Cardi B, the band finds themselves battling for a top spot with each release. Benton finds that, like BTS, other artists work just as hard, believing that the success of the boy band comes from the personality of the members.
"There are a lot of artists who work just as hard as BTS and who are just as honest and their music is just as good. I think it's just a combination of a lot of factors like the timing of when they came out and the message that they chose to debut with. All the members' personalities hit right at what our generation needed. They're so genuine," Benton said.
Not only has BTS set the standard high for their musical peers, but also up and coming bands alike, looking to be the next big thing, something senior Apurva Sharma acknowledges.
"I think they've set the bar very high. They've broken so many records themselves and for the new groups I think they'd have to work very hard to surpass that," Sharma said
With this growing success comes an active fan base. often times though, BTS fans are surrounded by a negative stigma. Leading them to be embarrassed, closeted and feel ashamed for their support of the group. For Benton, a proud fan, this shame stems from the extreme fans and cultural appropriation.
"I think this comes with every fandom, but there are a lot of levels of fans, and a lot of people go overboard, as in they won't stop talking about the band or like copying korean phrases even though they don't know anything about the culture. Calling themselves koreaboos. A lot of what people think of when they think of a K-pop fan is the extreme, and so you don't want to be associated with that," Benton said.
With a growing discography, there are many different ways to go about listening to K-pop. Sharma recommends going with what makes you happy.
"I think [people] should definitely listen to K-pop. I don't really like a lot of K-pop groups, but if you're happy with the music and they make you happy then I feel like you should go for it," Sharma said.
To Benton, enjoying the music and not worrying about minor details is the way to go about listening to BTS.
"Don't be taken back by all the crazy fan culture. You don't need to be obsessed with them and know all their stage names and all their Korean names. You don't need to know every single thing about them and be in love with them and have them as your lock screen and all of this stuff just to appreciate the music," Benton said.