Eilish takes "1 by 1" tour to D.C., gives amazing concert

At just 16, Billie Eilish has taken the world by storm with a brand not only based off her pure talent, but her honest personality, making her a force to be reckoned with.
Eilish's rise to fame took her across the globe on tour, a privilege many dream of. This sudden rise came just shortly after the release of her first hit "Ocean Eyes", capping at over 132 million streams on Spotify. Eilish would later collaborate on season one of the "Thirteen Reasons Why" soundtrack with "bored", leading her to release her first ep "don't smile at me" in August of 2017.
Eilish wouldn't stop in 2017, but progress into 2018 with the heart wrenching "lovely" featuring the adored Khalid. Following "lovely's" radio success, Eilish released "bitches broken hearts" and "you should see me in a crown" where she plays the role of a ruthless queen. Just two months away from the new year, Eilish would release a tear jerking ensemble of angelic vocals overlapping in "when the party's over".
With a strong fan base, Eilish takes her catalogue of songs one by one across the world, giving her fans a glimpse of the talent the young artist has to offer. Taking advantage of this occasional opportunity, I attended a concert at the 9:30 club in Washington D.C to see the star perform.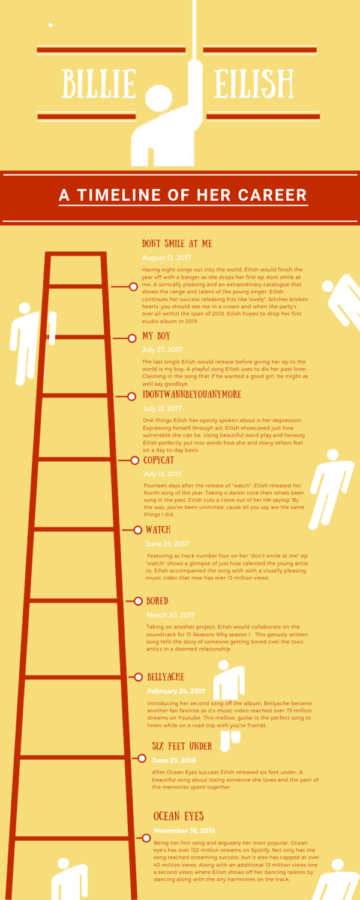 Starting strong with an introduction, Eilish set the mood for the gigg with an array of lights exuding from a metallic spider standing center stage. With help from her brother, Finneas, and drummer, Eilish kicked off the night with crowd pleaser "my boy". As the playful verses on "my boy" faded out, Eilish pulled the crowd back in to display a beautiful performance of "idontwannabeyouanymore" as the words "fall apart twice a day, I just wish you could feel what you say" lingered in the air.
Eilish carried over this tranquil vibe as she moved on to her next song of the night, "bored". Not only would fans hear the singers collection, but also hear her cover hits like hotline bling, adding a ukulele rendition to Drake's chart topper which carried over perfectly to her next song "party favor". Along with covers, we were gifted the occasional dance from Eilish as she somehow even made wii music a club anthem. Following the cover and dance break, Eilish picked back up where she left off with "bitches broken hearts" a mellow piece before the storm. Eilish sang her heart out on her next track of the concert, "six feet under", where a lover struggles to erase the past.
Approaching my favorite part of the night, Eilish took this next song as a moment to bring everyone together. In an attempt to share an intimate moment with fans, Eilish requested that this next song exist without phones, adding "we'll only have this moment once". As the flicker of flashlights and devices dimmed out, Eilish began her most breathtaking performance of the night, "when the party's over", showing just how powerful the singer's range is. As the song came to a close, the audience was brought down back to earth just in time for the production heavy, "watch".
Reaching the final stretch, Eilish continued with a chilling performance of "you should see me in a crown" taking the meaning of queen to a whole new level. This performance was followed up by a duet with her older brother Finneas as they harmonized seemingly effortlessly on "hostage". Their synced harmonies carried over to a crowd favorite, "bellyache". Approaching her second to last song of the night, Eilish carried on where her journey first began in 2016 with "Ocean Eyes".
From blue to red, the crowd prepares for the last performance of the night "COPYCAT". For this last performance, Eilish makes her last request of the night. Asking fans to lower down at the bridge. As the words "I'm so sorry, now you know. Sorry I'm the one that told you so. Sorry, sorry, I'm sorry, sorry. Sike" everyone erupts into chaos enjoying this last moment with the singer.
Say what you want about Eilish, but one thing is clear… she's insanely talented. Not only has she made a name for herself at just sixteen, the star has shown, that unlike some artists, she cares for her fans unlike anyone else could. A name to remember.
Leave a Comment