"Thank u, next" embraces flaws in honest fashion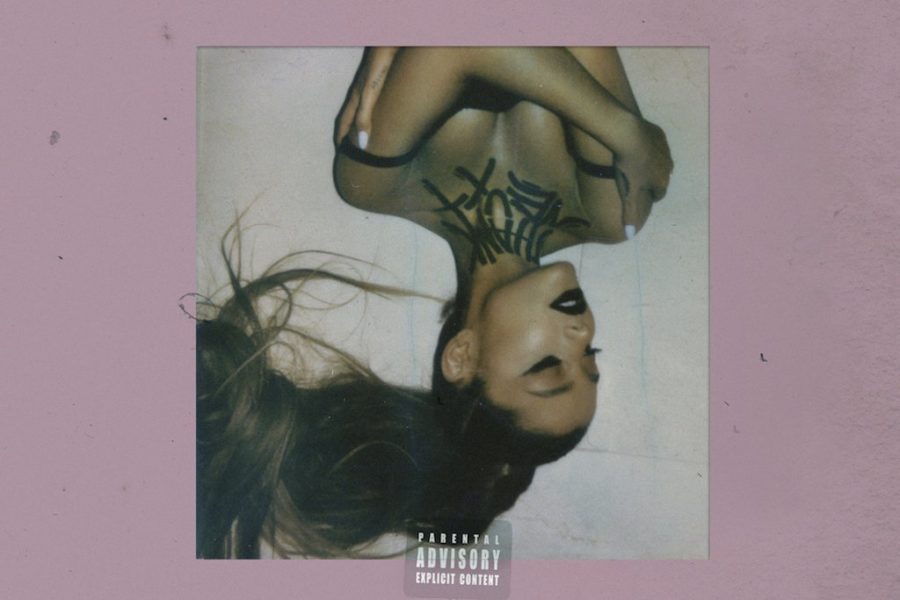 Advertisement
Shortly after releasing her Grammy award winning album "Sweetener", Ariana Grande reached the highest point in her career. Topping the charts on iTunes and getting engaged, life was sweet, but like any sweetener, it eventually fades away.
For Grande, life was suddenly flipped upside down after hearing the breaking news of her ex-boyfriend Mac Miller's death caused by an overdose. Following Mac's death, Grande's engagement with Pete Davidson was broken off. But if there's anyone who knows how to bounce back, it's Grande herself. Doing what she does best, Grande headed off to the studio, writing and healing over the course of six months. Working with friends and laughing over bottles of champagne, Grande created her most honest album to date… and she didn't hold back.
imagine
Imagine a world where you sleep in with the love of your life, go on dates "like the movies do" and don't worry about what could happen. This is what Grande envisioned on the first track of the album. Starting off with the pulse of base and melodic undertones, Grande already begins to pull you into a dreamy state of perfection. Leading up to the chorus with the subject of social media and luxury, Grande repetitively paints a picture of having all the pieces fit together. As echos of "can you imagine" draw you in, there's no doubt that with the added whistle tones, Grande has every detail planned out.
needy
Teasing this highly requested song back in early October, fans first got a glimpse of what this next era of Grande's music would sound like. With this track, Grande pours out her heart and flaws, explaining that its okay to be needy at times. Singing in the pre-chorus "Imma scream and shout for what I love. Passionate but I don't give no f**ks. I admit that I'm a little messed up, but I can hide it when I'm all dressed up", Grande sums up her outlook on life as she explores and defines the new meaning of the term needy and owning up to who you are without regrets. These needs aren't just for Grande herself but also for those in her life as she sings in the angelic chorus "I can be needy, so hard to please me. Tell me how good it feels to be needy." Coming to a close with orchestrated violins, Grande brings back her old beloved sound, whilst adding in the new chart topping production.
NASA
Disregarding her desires for being close to someone on needy, Grande takes a different approach: space. Like needy, Grande still has no problems expressing what
she wants, claiming "There ain't nothing wrong with saying I need, me time." On this track, Grande makes it clear that this person is holding her back. In in an age where she is so prevalent as she sings "You know I'm a star" she doesn't have time to be dragged down as the popstar writes in the bridge "You don't wanna leave me but I'm tryna self discover, keep me in your orbit and you know you'll drag me under." Through powerful synths and interchanging harmonies, it's no surprise why this song is such a hit amongst fans.
bloodline
Beginning with royal trumpets, Grande makes her presence known with a clear message. She's not looking for love, but rather company. Opening the song with the line "even though you're bad for me I know, you're the one that I'm thinking", it's clear the artist is here for a good time not a long time. After going through a series of several intense break ups in the limelight, Grande says it best on the track, singing "I ain't looking for my one true love. Yeah that shipped sailed away." So just know if you get into a fling with Grande, you "won't be talking the next day," cause she "ain't got nothing to say."
fake smile
For most artists, there are no boundaries when it comes to invasion of privacy. Constantly in the news, celebrities are faced with the fact that their private lives become public for everyone to see. Not only does this require patience, it also requires a lot of "fake smiles" as celebrities remain to be held to a higher standard than the average person. Having publicly been going through two of the worst years of her life and being one of the most famous names across the globe, Grande not only had to endure the pain she was going through in these traumatic events, but also deal with ignorant people that blamed her for them, singing "I read the things they write about me and what they're saying on the tv. It's crazy." "It's getting hard for them to strike me, but every now and then it's shocking. Don't blame me". But Grandes done faking smiles "I can't fake another smile. I can't fake, like I'm alright. And I won't say, I'm feeling fine. After what I've been through I can't lie." and she's done pretending like it doesn't affect her. As she said with a sample at the beginning of the song, "after laughter comes tears." You feel as though Grande has faced the tears, and healed from them.
bad idea
Everyone has wanted to act on a bad idea. For Grande, this is no exception. Kicking the song off with 80's like guitar counts, bad idea is the perfect formula for getting into trouble. But it's one thing to have a bad idea, it's another to act on it. On the sixth track of the album, Grande constructs a battle through heavenly vocals and more cohesive violins to portray the temptations the artist has faced. Singing in the catchy chorus "I got a bad idea. Yeah imma call you over here to numb the pain." "I got a bad idea. Forget about it… yeah, forget about him… yeah, forget about me." As the song comes to a close, the violins play on, giving the appearance that the singer has lost an ongoing battle. This transition is taken over by a trap/pop mixture as the echoed words from the chorus haunt the track. Backing the idea that Grande gave in. Forgetting about everything, including herself.
make up
Used as a double entendre, the track "make up" both refers to applying makeup, while also making up with your partner after a heated argument. For some people, this would seem as another bad idea. A situation Grande has mentioned she regrets as the "sweetner" artist explains on the interview podcast "Zach Sang Show." Though beneath the surface isn't the best message to spread, the artists uses lyrical creativity to have fun whilst still telling her truth. Getting playful, Grande has picks fun on verse two with the lyrics "No eyeliner on, but looking at you is the fix." "Highlighter my life just like that Fenty Beauty kit", giving this double entendre a whole new meaning.
ghostin
Being Grande's most honest/powerful track, ghostin exemplifies the repercussions of having someone you love pass away to soon, and how that love can affect your current relationship. On the eighth track of her fifth studio album, Grande lets her unmatched vocals and genius storytelling do the talking, singing "I know that it breaks your heart when I cry again, over him" "I know that it breaks your heart when I cry again, stead of ghostin him." "We'll get through this, we'll get past this." "I'm a girl with a whole lot of baggage." Sampling her late ex boyfriend Mac Miller's song 2009 from his most recent body of work "Swimming", Grande adds her own unearthly twist to the sample. Making it the staple piece for the track. Adding in heavenly vocals layered on top of waves of violins, Grande makes it feel like as though your in a dreamy state floating amongst the clouds and ghostly memories. Not only does Grande acknowledge her recent relationship with Pete Davidson and the strain it had on their relationship as she sings in the pre-chorus "You've been so understanding, you've been so good. And I'm putting you through more than one ever should." "And I'm hating myself, cause you don't want to." "Admit that it hurts you", Grande admits that she hadn't fully moved on "Though I wish he were here instead. Don't want that living in your head." "He just comes to visit me, when I'm dreaming every now and then." Ending with whistles and more angelic vocals, Grande ends the track with the presence of a mysterious ghost train, leaving the memories and heartache behind.
in my head
Having a habit of seeing what isn't there, "in my head" revisits "bad ideas" trap/pop sound in an attempt to express Grandes habits of seeing the good in someone. Singing "Thought you were the one. But it was all in my head." Grande continues to comment on the past relationship and looks to fix the problems as she states "Falling, falling, but I thought that you would need me. Falling, falling, needed something to believe in. I thought you were the one". Trying her best, Grande eventually has to come to terms with the fact that she was dreaming. Calling out the lover for what he is in the Chorus "Yeah, look at you, boy, I invented you." "Gucci tennis shoes, runnin' from your issues", Grande voices her pain "When you broke my heart, said you only wanted half of me " and blames herself for living in misguided bliss "Guess I did it to myself, yeah. Thought you were somebody else, you".
7 rings
Taking "Sound of Music" hit "Favorite Things" and making it her own, Grande creates yet another chart topper flexing on her haters. Taking their insults in her confident, fenty booted stride. The idea of this song originated spontaneously, as she was feeling down one day. So, to cheer her up, Grande's friends took her out shopping, eventually leading to Grande's decision to buy her and her six friends diamond rings "Wearing a ring but ain't gon' be no Mrs. bought matching diamonds for six of my b**ches. I'd rather spoil all my friends with my riches. Think retail therapy my new addiction."
Featured at the beginning of Grande's "thank u, next" video and other sneak peaks, the artist shows off her wealth that she worked so hard for. But make no mistake, this song isn't meant to be taken seriously. After several running jokes from critics about what is now an iconic ponytail, Grande swipes away the remarks made by her critics, flaunting in the pre-chorus "You like, my hair? Gee thanks, just bought it. I see it, I like it, I want it, I got it." From effortless singing , to rapping through a club anthem, Grande shows yet again that she's more than just a one trick pony.
thank u, next
Being the title track for Grande's fifth album, the bop does not disappoint. Calling out past relationships and moving on, Grande brings a new sound to mainstream pop. Though this track wishes her exes farewell as she thanks them in the opening verse "Thought I'd end up with Sean, but he wasn't a match. Wrote some songs about Ricky, now I listen and laugh. Even almost got married, and for Pete I'm so thankful. Wish I could say thank you to Malcolm, cause he was an angel." Grande spreads an even more important message, self love. Taking love, patience and pain from the four relationships, Grande was able to grow and work on herself, singing "Spend my time with my friends, I ain't worried bout nothing. Plus I met someone else, we havin' better discussions. I know they say I move on to fast, but this one gon' last. Cause her name is Ari, and I'm so good with that." It's clear that with the ongoing success of this chart topper, "thank u, next" will be the break-up anthem for generations to come.
break up with your girlfriend, i'm bored
On the final track of the album, the word entertaining is an understatement when describing this troublesome track. Wreaking havoc on a couple she met at a party, Grande toys with the idea of breaking the two apart. Using flirtatious intertwined drums and childish flow, Grande sings her way into the arms of the person she's chasing. Taking NSYNC's popular line from "It Makes Me Ill", Grande continues to go after what she wants as she quotes the boy band singing "You can say I'm hatin' if you want to, but I only hate on her 'cause I want you. Say I'm trippin' if you feel that, but you without me ain't right. You can call me crazy 'cause I want you, and I never even never f**kin' met you. Say I'm trippin' and it ain't right, but you without me ain't nice." Like the whole album, "break up with your girlfriend, i'm bored" is another defining track in Grande's career. Making her presence even more known, it's clear that with this finish, Grande is not boring, but someone who will be around for as long as she wants to be.
After listening to Grande's new album, it is no surprise to me why it is number one across the charts. "Thank u, next" had the perfect recipe for success as it represented the true reality that is Grande's life. Giving heart jerking ballads, break up anthems and pop bops, it is clear why she has become an icon within the industry as the star continues to change the meaning of pop one whistle note at a time. So, to Ariana, I say thank you. And I can't wait to hear what's next.