Malashiy hits one million followers on TikTok, spreads positivity through trending characters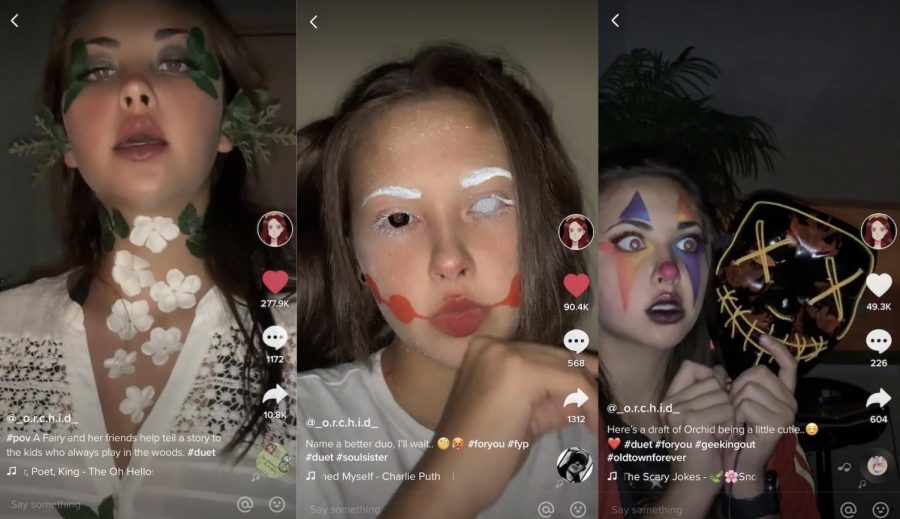 Advertisement
It all began with a mental breakdown and dinosaur chicken nuggets. Junior Angelina Malashiy released her first TikTok in February 2019, kick-starting a career and making a name for herself among the realm of TikTok. While many other girls, blonde hair and blue eyed, lip sync to radio pop hits, Malashiy creates her own world of characters. Inspired by the clown trend, her rise to fame came from the creation of one of her most well known characters: Orchid. Malashiy displays her creativity with theatrics and a purpose: to spread positivity.
"I blew up like a month and a half ago so I still can't process the thought that I'm gaining followers each and every single day. I haven't gained enough thought process to really say 'Hey, I'm popular on social media,' like I still think I'm very small, I still think that I'm a nobody," Malashiy said.
Similar to Vine and Musical.ly, TikTok captures a generation of short attention-spanned catered videos. Because of this short length, it takes creativity and wit to reach the trending, or "For You," page. For Malashiy, TikTok is a creative outlet and a way for her to express herself outside of reality.
"When I do TikTok, it's my escape and I feel like it's a good way to be somebody else. Not necessarily be a different person, but you have a way to express yourself differently than you would outside of social media. I think it's very sad for people to be stuck to social media because there's things outside of it that are great," Malashiy says. "I also find it an amazing way to connect with people and to bring people together [as well as] have a way to help people."
Bringing people together is just what Malashiy did. With a fan base of over one million followers, Malishiy is growing rapidly and is on her way to her first million. Bonding over the past month, Angelina and her characters have collected a loyal fan base. Receiving direct messages and a growing number of fan accounts, it's clear that her characters Orchid, Acid, Alpha Orien and many more have touched the hearts of fans across the platform. Not only does she spread positivity throughout her fans, but also to her fellow creators as she gives back to the community that made her and her characters who they are today.
"My fans have a really good relationship [with me]. We're not a toxic community. [In fact], we're known as the love army and we do these things called positivity raids, [which is when] I go live, we'll get usually five hundred to nine hundred in the live and we'll go over to other content creators who are live and I'll send everybody from my live to their live to give them a positivity raid and then we'll come back and do more people. People get to know who I am through my positivity," Malashiy said.
This positivity has not only helped her fans, but as well as herself. Embodying positivity and doing her job, Malashiy creates merch for her fans. Writing on the back "Never underestimate the power of positivity."
"My videos might be strange and scary and out of the norm, but our group is so positive and so helpful that there are times where I've cried on my lives and they've cried with me talking about their stories and we've just had a good bond so even though I don't know them personally, I feel better as a person when I get a [direct message] saying, 'Hey you really helped me out through this because of your positivity'. I've helped people which is an insane part of my job, I help people and it makes me feel better that I know that I'm helping everyone in a way and so I think that's really cool."
But with having a large fanbase comes a great share of haters. For Malashiy, it's simple: "If people don't get it, don't watch me. Don't watch my content. There's plenty of other people you can enjoy."
"To them, I say that if you stick in the norm and stay trendy, you'll never be special. You have to think outside the box if you want to get somewhere in life. If you follow the trends you'll be the same as everybody else, no one's going to notice you. Yes, it might be scary at first to be different, but soon people enjoy that kind of stuff. They find it interesting because nobody else does it and then they start doing it as well, so always be different," Malashiy said.
Charting the trending page and becoming the fourth most famous Angelina on FamousBirthdays.com, Malashiy has secured sponsorships and worked with artists in her videos which help small companies gain traction as well as fund Malashiy's creative endeavors. Working most recently with a company that produces colored contacts, Malashiy created an unnamed black and white themed character to incorporate into the sponsorship. Being sixteen and working with adults and professional companies can be a stressful process as she steps into the world of being an adult, with every decision being her own.
"..it's important to stay true to yourself because once you change, everyone notices and you won't be the same as you were before." – Angelina Malashiy
"It can get stressful because all of these happen at once so I have to really plan out how I'm going to promote each of these. I don't want to go out on social media and just post me sitting somewhere with a shirt. I want to make it creative to capture people more and it's very scary for me because I have to make these decisions on my own now," Malashiy said. "[These] things are very scary because I don't know if there's any bad reviews on them or if they're not good people. But I also think it's so good because I get to promote these companies, [which also gives me] an advantage."
For Malashiy, she thanks her sister in the midst of all of this for keeping her grounded.
"My sister has really been there for me. I've had a few times where I've lost myself in my fame and I've gotten not necessarily egotistical about it, but I just got lost being stressed about 'Oh I need to put out good content so I don't disappoint anyone' and my sister every time would sit me down and tell me 'You'll be fine, everyone loves who you are.' She's kind of like my manager. She helps me out so much and I just want to take her everywhere I go. So, going to Playlist Live later on to meet my fans, she's coming with me because she's my role model and I look up to her. I really thank her a lot for that," Malashiy said.
This newfound, unexplainable fame has taught Malashiy a lot about who she is and who she wants to be. Watching other creators, she's learned from their mistakes, starting with being humble.
"I think it's really helped me make more decisions for myself. It's also made me think more about how to stay humble because when a lot of people blow up, they're not very humble. They go out there and try to spread around that they're popular and that they're trending and that they're important. Because of that, it's important to stay true to yourself because once you change, everyone notices and you won't be the same as you were before," Malashiy said.
Looking towards the future, Malashiy is dead-set on continuing her first dream; flying and joining the AirForce. Admitting, though, that if this new reality on TikTok keeps growing and developing, she might continue what 16 year-old Angelina started in her room with just a phone, and maybe even audition for a few horror movies along the way. Reaching 1 million, Malashiy reflects over the recent events as she hits a career milestone.
"One million is just a number. There are so many different things that I should be worrying about, like what is going to happen after that, am I going to go on a downfall, people are not going to notice me as much. After people gain a lot of followers they don't feel like they'll get noticed. Their fans feel like they won't get noticed. So to me, it's just a number, though I'm very happy and think it's a huge accomplishment. I definitely want to stay the same and keep doing [what I've been] doing," Malashiy said.