Girls varsity soccer falls at home to Waynesboro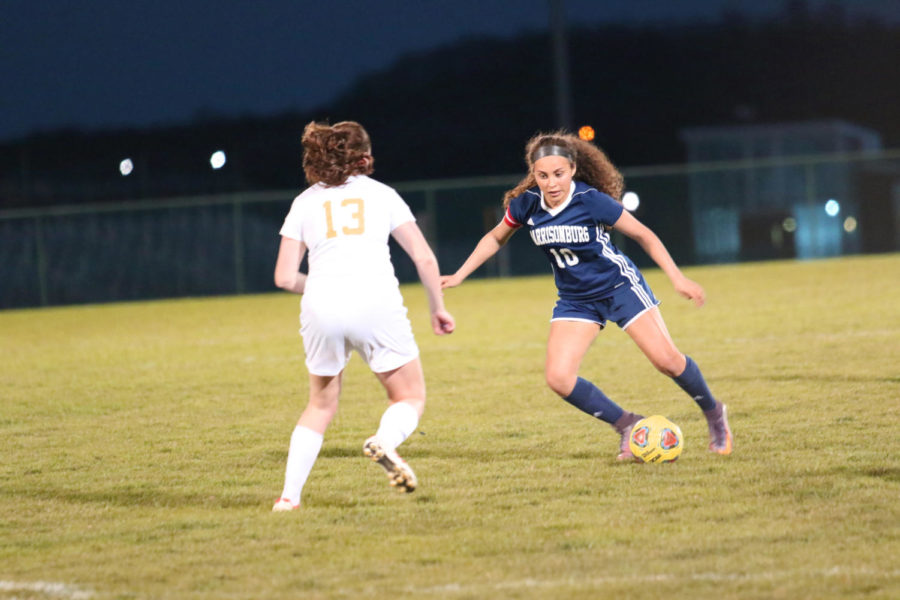 A standard high school soccer game consists of maybe one penalty kick. However, for the girls varsity soccer team, Tuesday nights game against the Little Giants consisted of three penalty attempts which all resulted in goals for Waynesboro. While the streaks were still able to put up a fight, they ended up falling short with a final score of 4-3.
In the first half, the streaks started out the game strong with sophomore Ashley Iscoa leading the way by scoring the first goal of the game. The little giants rallied late in the half to tie the game at 1-1 (this being the only goal not scored on a penalty kick). To conclude the first half, freshman Abby Fornadel took a free kick outside the penalty box that sailed just over the goal.
Returning for the second half, Harrisonburg was led yet again with another goal from Iscoa on a break away pass from senior Mikaela O'Fallon . Later in the half, senior Audrey Knupp added a goal of her own after following up a blocked shot from senior Lauren Mitchell.
The next thirty minutes of the game consisted of a series of unpredictable events. Following three foul calls in the penalty box, the Little Giants attempted and scored on all three shots. Sophomore goalie Amelia Mitchell was able to get her hands on the ball however she was unsuccessful in preventing the goal. Not only did the Giants take the lead with these three goals, they were also at an advantage following a yellow card on sophomore Amira Lucas.
Though the streaks were running low on time, two corner kicks allowed for Harrisonburg to get off two additional shots on goal that were both deflected by the keeper.
The streaks will be able to attempt to get a win on Friday April 12, as they travel to Spotswood high school to take on the Blazers.