The Juggler
Bike to school, attend school, participate in a club meeting or play practice, go to sports practice, make dinner, attend dance practice, do homework, eat, sleep, repeat. During a normal year, this would be senior Elizabeth Healy's weekday schedule. Healy has been involved in numerous clubs and sports throughout her high school experience, which is why her favorite part of high school is all the opportunities offered. 
"My favorite part of HHS is all the opportunities there are. We offer so many classes that other schools don't offer, and I think the opportunity to be able to dive into all of these different things helped me realize that you can be a part of multiple things," Healy said."In middle school it's kind of 'oh, you're a STEM person or you do such and such sport, or [the] musical,' but in high school you kind of get the opportunity to do a little bit of everything," Healy said.
Healy participate in sideline cheerleading, competitive cheerleading, gymnastics, softball, the Ski and Snowboard club, French club, the Gay-straight Alliance (GSA) and participates in winter plays. Healy also has passions for cooking and singing and is in the choir strand of the Fine Arts Academy. She juggles all these passions and activities on a day to day basis.
"[I would describe myself as] dedicated. I'm willing to put in the hours, no matter what it takes. I really won't give up; if I have a goal I'll find a way to reach it," Healy said.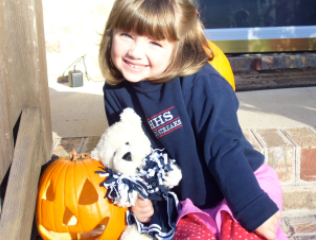 Healy discovered her favorite sport during her sophomore year when she decided to begin sideline and competition cheer.
"Both of [these sports] are difficult because of teamwork. In cheerleading you get this chance to bond as a team, but then there's also the chance to bond [with] your stunt group. Cheerleading is really difficult because of the trust aspect," Healy said.
Although the trust aspect of cheerleading can sometimes be a struggle, Healy loves that cheer gives her the opportunity to use her competitive edge while working as a team in a stunt group.
"[I love] cheerleading because of the team aspect and the bonds you form. I'm also pretty competitive and so the chance to [use that competitive edge in cheerleading is something I love]. We've come a long way in terms of competition. We're actually more competitive than we have been in the past couple years. Last year we were able to qualify for regionals and [made it] to the second round of regionals which is really exciting," Healy said.
Healy also began high school gymnastics her sophomore year.
"I think a lot of sports are mental [like gymnastics]. Gymnastics is really hard for me because I have not been doing it [for] very long. After cheerleading, I decided I would do gymnastics and I formed a really tight bond with the girls on the gymnastics team and the coaches because it's a pretty small team," Healy said. "We also work together on Saturdays at Skyline Gymnastics, so I've been able to form really great relationships through that. Just starting a sport like gymnastics so late was a hard transition."
On top of gymnastics and cheerleading, Healy found her way back to the sport of softball after playing at a young age.
"I did softball when I was five and six, but I quit because I hated wearing long socks. I started again my freshman year, and my favorite part is cheering for the other girls when they are batting. We have about a dozen chants that we say for each other when we are batting. I love watching my teammates grow because many girls come to the team with no experience," Healy said.
She has been in the Fine Arts Academy since her freshman year and enjoys singing and dance. Healy was also a part of the musical her freshman year.
"I've been involved in choir since I was in third grade. I've always loved singing [and] I did it a lot in middle school. When I got the opportunity to audition for the Fine Arts Academy, that was something I wanted to do," Healy said. "When you're in the Fine Arts Academy, you have to do everything else. It's not like you're a singer or a dancer, you have to be able to do everything. I've been dancing since I was three as well so that's another major passion of mine, and I still dance through the Rec Center."
Healy has further developed her love for the arts through winter plays.
"I participated in Mr. Walton's plays my freshman and junior year, and I plan to participate this year. His plays are amazing because he writes them and they always strike a clever balance between humor and humility. The friends I met [and] grew closer to my freshman year in the play [also] led me to join GSA. A lot of my friends are in the LGBTQ community, so joining the club was a way for me to support and understand them as well as learn more about myself as an ally," Healy said.
Healy is not only in the GSA club, but also the French Club as well as the ski and snowboarding club.
I love speaking French and diving into French culture. I really enjoy studying it because it ties into other parts of my life, particularly cooking and dance," Healy said. "I am also in the Ski and Snowboard club since my dad is one of the heads of the club, and I have been skiing since I was three, so it made sense for me to join the club."
Another of Healy's major passions is cooking. Healy is the main cook in her family and loves to make meals for others.
"[Cooking is another] one of those things [that] I've been doing forever. I've been cooking every meal for my family since I was about 10. [Even]  for Thanksgiving I made the whole [meal]. Honestly, cooking is relaxing for me and it is a huge part of my routine," Healy said.
Healy began cooking for her family at age six, but her love for cooking didn't stop there. She has also entered baking competitions and won prizes.
"When I was six I started making dinner one night a week, and each year after that I added a night to my duty. By the time I was 10 I was cooking dinner every night. When I was 10 I also started volunteering with a cooking summer camp called "Chef in the Making" which I now teach. At age 10 I also started entering baked goods, ceramics and sewn items into the county fair. I enter about 80 items each year and I have won about 200 ribbons and close to $500," Healy said.
Along with many other interests, Healy is very intrigued by biology. In her near future she hopes to become a registered dietitian combining her love for biology and cooking.
"[I think something others would find interesting about me is that] I do all these sports, I'm interested in [the] arts but I actually don't want to do that as a career, I want to be a dietitian. There's a lot of science involved in that but all my other passions don't really fit into that," Healy said.
Healy became interested in dietetics because of her own experience with a dietitian. Healy hopes that by becoming a registered dietitian she can change people's lives the way her dietitian did for her.
"When I was 14, I had to go to a dietician myself, and I fell in love with it. I was amazed by how my own experience with dietetics changed my life and I knew that I wanted to help others the same way that my dietician helped me," Healy said.
Healy plans to major in food sciences and has applied to four out-of-state schools: the University of New Haven in Connecticut, Keene State College in New Hampshire, the University of Dayton and the University of Vermont.
"I plan to be a registered dietitian, [but] that major is hard to find. I did find a few schools that I applied to, and hopefully I will go to one of those schools, and it's a pretty long process to become a registered dietitian. At the end of the day I imagined myself having a private practice and working with people one-on-one," Healy said.
As Healy prepares to leave high school she hopes she can be remembered as more than just related to her father, but more as someone who juggled and accomplished lots of activities through her four years.
"I just hope people can remember me for being more than Mr. Healy's daughter. I feel like a lot of times that's the impression that people get of me, but I've been involved in so many other things so I hope that people can remember me [for me]," Healy said.
Leave a Comment