The Humanitarian
Like many children in the area, senior Stella Alexiou was born in Harrisonburg. Although she has lived in one place her entire life, it has been anything but stagnant. 
Alexiou has travelled inside and outside of the U.S., spending time in Greece, Cuba, Spain and various other national parks. Alexiou travels with her family and has found interest in exploring her Greek heritage while in Greece. 
"My grandfather immigrated from Greece. That's probably the biggest [influence in my life]. I mean, everyone in Harrisonburg is Scottish or Irish. So I have some Scotland [and] some Irish in me, but Alexiou is Greek, and so we predominantly are Greek. I love the food. They do meat really well. Everything's well seasoned, which I feel like is really, really nice. Lamb and the desserts. Greek food is, dessert is like a centerpiece of Greek. I enjoy the sweets a lot," Alexiou said. "I visited my family in Greece when I was really really little, like maybe five or seven or something. My dad left me alone with my family for a little bit to go to the bathroom or something. [When] he came back, my family had apparently thought I was too skinny and so they tried to feed me. I didn't want food, but they ended up like holding me down and shoving food down my throat. Telling me to eat more sugar. My dad had [to] basically pull [them] off."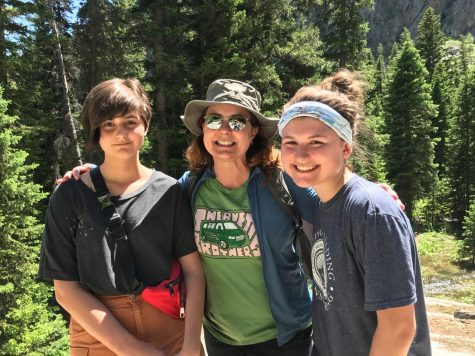 Alexiou's parents met during their residency as doctors at the University of Arkansas. Therefore, she has a strong science background from her parents and excels in science in school, attending the Massanutten Regional Governor's School (MRGS). However, she wants to pursue a career in law or politics, citing the environment and systematic racism as her main concerns. 
"I'm especially interested in environmental science but with a humanities twist. I can see myself going into politics to advocate for environmental justice, but also with environmental law, studying environmental racism. That's something I'm extremely passionate about. [Also I'm interested in] figuring out how health disparities and climate change disparities affect marginalized communities," Alexiou said. "I am really passionate about social justice and politics and fighting for equality within people, but especially finding patterns between things. That's also why I'm interested in medicine, especially global health. Finding reasons for why people are affected in different ways and finding ways to reduce those disparities."
Alexiou has always appreciated the opportunities school has given her to learn. As a current student at MRGS, she appreciates the different learning style and the atmosphere it provides her. As MRGS is a separate school from HHS, she is currently attending in-person school two days a week. 
"I would definitely say [MRGS] has helped fuel my desire to learn. I think being surrounded in that environment where everyone else is passionate about what they believe in and wants to learn has really helped fuel my ambition. Having those hands on research opportunities, not only in the research class, but also just like calculus and enviro has kind of helped me learn deeper, which is, I think, something that a lot of classes miss," Alexiou said.
Academics have been a focal point throughout Alexiou's life. She enjoys the many opportunities her education has given her and believes it is an important step in developing a country.
"In my opinion, I really value school, I think education is one of those tools that a lot of people take for granted. But when you look at developmental countries or inequalities, you see that education is one of the key defining factors on whether or not a country's developed. And so I really value education, I absolutely love learning. I'm very grateful that school provides that opportunity, but also in a social setting. I think it's important to be around people. And I think school provides that opportunity. Although the education system should be reformed a little bit, I still am very grateful for the opportunity school has given me," Alexiou said. 
Despite having a rigorous course load, Alexiou also participates in a multitude of extracurricular activities. She recommends her favorites to freshmen in high school. 
"I recommend debate to anyone who is thinking about what clubs they want to do. It's just so much fun. I'm also on the swim team, and that has been an absolute joy for me over the past five years. I just love the people, and I love the sport. I am involved with Model UN, which I think is really interesting, especially in terms of international relations and kind of learning that. I would say I also really, really enjoyed Key Club, because although it's technically not like a club that we meet and do stuff like within the school. It's important to have those opportunities to give back to the community and the school. Providing those opportunities to others is really important to me," Alexiou said. 
Alexiou's love of learning stems from her love of books at an early age. She was part of a Harry Potter super fandom when she was younger and still keeps a souvenir of that time on display in her room. 
"The first Harry Potter book was one of those books [my dad] read aloud to me before I could read. Once I learned to read, I started reading books on my own. I guess it's fun imagining magic [and] dragons. Especially as a kid and just growing up with that world, that hope that you'll find something like that has really, I wouldn't say like helped me develop, but it certainly gave me something to look forward to. I have an autographed picture of Emma Watson that I got. When I was really little, I was obsessed with Harry Potter, so I wrote to her because she was my icon and still is. I didn't get a letter back, but I did get an autographed picture of Emma Watson," Alexiou said. 
Emma Watson is also an outspoken activist similar to Alexiou, and she spoke out against J.K. Rowling after Rowling tweeted a series of transphobic tweets. Rowling was one of Alexiou's role models growing up, so Rowling's actions surprised her. After that experience, Alexiou learned to recognize bias even in a book about a fantasy world. 
"I still really like Harry Potter, but I think I've definitely distanced myself from the author. I think that it's especially important now in today's age to recognize the bias in her writing and figure out how the racial undertones are in Harry Potter with the house elves and the gringotts banks. It's important, in my opinion, not to distance yourself from the work, but to heavily consider the bias in the writing and take that with a grain of salt," Alexiou said. 
As for her relationship with reading now, Alexiou continues to read and attributes her worldly perspective on life from reading many books. 
"I love reading. I grew up with a bunch of young adult books, and kind of being transported into a different world helped me to develop my imagination and kind of get an outside perspective that I wouldn't have gotten from just listening to people around me," Alexiou said. "I think reading lets me hear other people's perspectives, even reading for my English class. I just read Heart of Darkness, and I absolutely love the way that words are phrased in an eloquent way that helps communicate ideas. I think the communication of ideas is such an important value to me, and books allow me to hear others."
As for Alexiou's future, she isn't stressed about it. She is looking at a variety of options and is excited to see where she will continue her journey in life. 
"I'm not exactly sure where I'm going to end up. I think my top school right now is Georgetown and because of their environmental sustainability law program, but I also absolutely love UVA. They have a great law school that would be great for my desires. I don't really have a dream school at the moment, I'm just kind of waiting to see where life takes me," Alexiou said.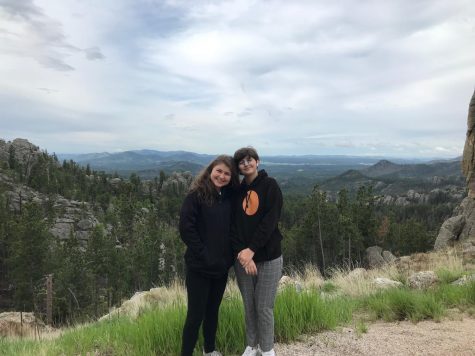 Leave a Comment