Massanutten Technical Center students reflect on their in-person learning experience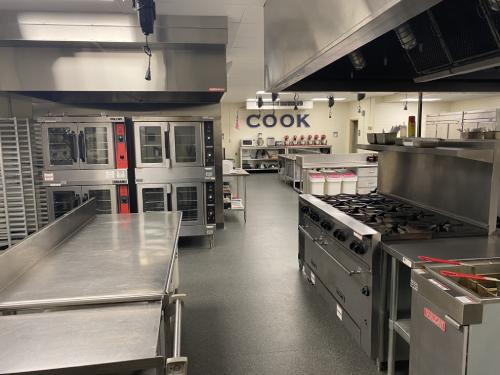 Massanutten Technical Center (MTC) is a place for students to explore new jobs before entering the workforce. MTC offers several different classes, ranging from cybersecurity to welding to culinary arts and many more. According to mtcva.com, Massanutten Technical center was built in 1972. It began serving the community as a joint career and technical education center to help students develop their skills and knowledge in their chosen career. 
Junior Adrian Etchebeirne attended MTC last semester, and he has been interested in technology, specifically graphic design. That was what drove Etchebeirne to MTC. 
"I wanted to attend MTC because I was really interested in their computer graphics classes they had there. I want to go into graphic designing or into computer graphics," Etchebeirne said. 
Etchebeirne attended MTC for the entire first semester. 
"I attend computer graphics and animation [classes], " Etchebeirne said. 
Things that Etchebeirne likes about MTC are that it's an open and more outdoor school and that the staff and teachers there are very nice. 
"Something I do like about [MTC] is how it's an outdoor school. [For] a lot of the classes you have, [they need] to be accessed from outside, [and] that's honestly not that bad. That's something I enjoyed, and a lot of the staff there are really nice too, like the teachers and the principals and just the staff in general. They just seem like nice people," Etchebeirne said. 
Even though he likes MTC, it still isn't perfect to Etchebeirne. 
"I really do not like their announcements. They play horrific music over top of the speaker columns, and it sounds horrible," Etchebeirne said. 
With COVID-19, many things changed with MTC. In computer graphics class, Etchebeirne followed the procedures that have to be taken in order to stay safe from the virus. 
"We would have to wipe down the keyboards and chairs after every class, and then we would stay six feet apart in the classroom," Etchebeirne said. " We would have to wear masks [at all times]," Etchebeirne said.
When weighing the positive and negative aspects of MTC, Etchebeirne believes that the school impacted him more primarily in a negative way
"I did not [know] we weren't supposed to have a full year of class work, and it got cut down to [35 classes], so it kind of held us back from even getting into the [actual] animation. It was just the computer modeling class," Etchebeirne said.
COVID-19 not only caused the class to perform extra procedures to ensure safety, but it also stopped different units in the class to be studied, such as animation. This upset Etchebeirne because animation is significant to him. 
"[In] animation, you get to create. You can make fake characters [and] you can make anything [or] do anything. That's really what it is: creating endless possibilities of art.  I can make a computer desk setup and I can make the chair spin. I couldn't make a car, [and] I couldn't make my characters that I draw. There's just something very good [about animation]" Etchebeirne said. 
Junior Brianna Knupp also attends MTC. Knupp attends culinary arts class because she would like to go to culinary school after high school. She wants to learn about baking, pastry arts and waiting, and she wants to develop better cooking skills in general. Knupp has a passion for cooking and she has been doing it since she was eight years old. 
"I am there for culinary arts, and I plan to go to culinary school after high school,"Knupp said. " I wanted to get like learn more in-depth about like baking and pastry arts, waiting [and] different flavors," Knupp said. 
Knupp is new to the class, as she has been attending it for a little over a month. Knupp likes certain things in her class, like the low amount of people which makes it easier for her to socialize more. 
"I like that my class is smaller, so it's kind of easier [to be] social with lower people," Knupp said. 
Knupp also likes the class because it involves lots of hand use, meaning she gets to touch or work with lots of different objects. 
"I love the hands-on part," Knupp said. 
After COVID-19 arrived in Harrisonburg, the school system changed from traditional in-person learning to virtual online learning. This happened to nearly all schools in the district, except for MTC, which continued with traditional in-person learning. Knupp then started performing certain procedures to protect herself from the virus. 
"I personally double mask," Knupp said. "We [stay] at least three feet apart from at our stations."
Staying at least three feet away from each other while cooking is important, as social distancing is a key part of protecting oneself from COVID-19. Transportation in your own car during this pandemic is also safer because there's no one else close to you.
"I'm in my own car. I'm not riding the bus," Knupp said. 
Senior Michael Robinson attended MTC last semester. Robinson attended MTC because he was interested in cybersecurity. 
"I wanted to expand my knowledge on cyber security as a whole. That was one of the classes they were offering, and I got a lot out of it" Robinson said.
Robinson has been attending MTC since his junior year, and he likes that it's really good at training one for a career, and it also provides lots of information about that career and how it would look like working in it. 
"It [gives] great first hand experience. There's a lot of training in the actual field rather than just a bunch of regurgitated information. [In] most [of the] classes, you get an actual view of what the workforce would be like in that field," Robinson said. 
Robinson does dislike something about cybersecurity class though, as he believes it's a little harder than the rest of the classes. However, that didn't affect him as much as he was learning more. 
"It was one of my favorite classes, [but] I guess the only thing was [that] it was a little bit harder than most of the classes, but that made it better because I was learning a lot more," Robinson said. 
Robinson has always been primarily interested in cybersecurity and computer science, but there are other parts of computer science that he didn't enjoy as much. 
"It's just a field that I've always been interested in. I've always liked computer science in general, but I didn't really like coding because it was very monotonous. So I learned about cybersecurity, and I wanted to learn a lot more and maybe even go into it as a career," Robinson said.  
Due to COVID, there were procedures and steps there had to be taken in cybersecurity class to stay safe from the virus. Classes had to be lessened, spaces between people were present at all times, masks were obligatory and students always had to clean up anything you touched belonging to the school. 
"We had to wear masks at all times. We had to stay at least six feet apart at all times… there was a time limit to the amount of time that you could be near somebody to allow passing by someone or grabbing something or things like that, but otherwise, you have to stay keep your distance. After you were done and after you were about to leave, you had to clean up your entire station with sanitation liquid and wipes and things like that and leave nothing at the desk," Robinson said. 
This changed Robinson's experience with MTC and cybersecurity more negatively because it lowered the class, which in return created less class. Participation and less class lectures were given because there wasn't enough time. 
"Although there was the advantage of having extra time at home, you weren't always there, so I guess I had more of an incentive to look over my notes at home and learn more. [However,] I still feel like I learned a lot less because there weren't as many in-class lectures because there wasn't time because of class being split," Robinson said.