Q&A with Anallely Mateo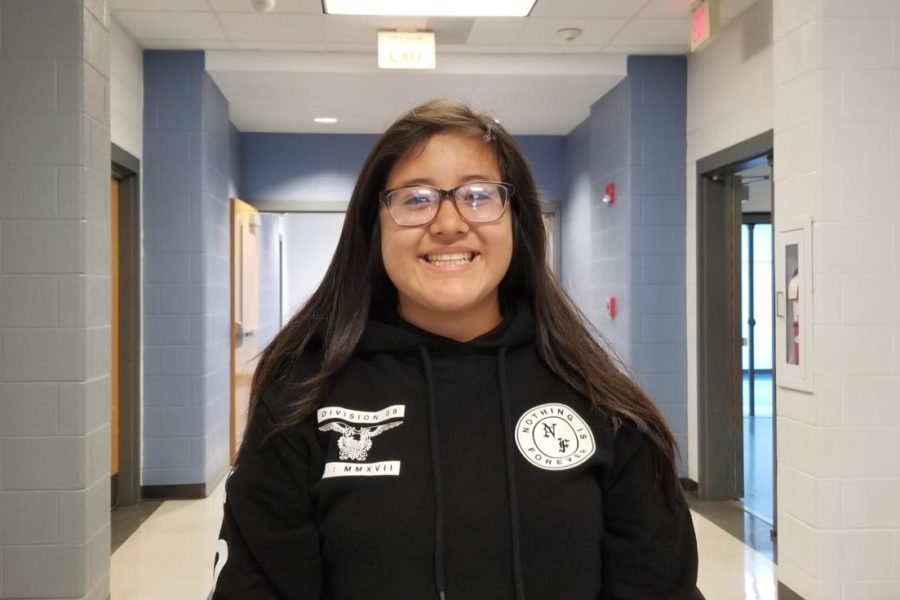 Q: Favorite thing to do over the summer?
A: "My favorite thing to do over the summer was to play with my dog."
Q: What's your dog's name?
A: "Jimi."
Q:Why did you name your dog Jimi?
A: "He is named after Jimi Hendrix."
Q: Suggested books for some people?
A: "The series Delirium."
Q:Top 5 movies?
A: "I don't watch movies."
Q:What do tv shows you watch?
A: "I watch 'Riverdale', 'Stranger Things' and 'Gray's Anatomy'."
Q:Favorite class so far?
A: "Sign language."
Q:What were your better memories from middle school?
A: "My friend falling."
Q:How is that a good memory?
A: "I don't know. I just find it funny."
Q:How did it happen?
A: "We were running on the track."
Q:What is your favorite Anime?
A: "Attack on Titan."
Q:What is your opinion of Fortnite?
A: "Fortnite reminds me of Minecraft. It's alright, I guess, if you know how to play, but I suck."
Q:What's your favorite food?
A: "Lasagna."
Q:Do you do any sports?
A: "I do color guard, but I dont think thats a sport."
Q:What do you do in color guard?
A: "You attend football games."
Q: Do you do any extracurricular activities?
A: "Well, I used to do Karate, [but I stopped] because I reached black belt."
Q: Top three manga?
A: "Black butler, Prince of tennis and Fairy tale."
Q:What are you excited for in high school specifically?
A: "Taking all honors classes."