Q&A with Maribel Tirado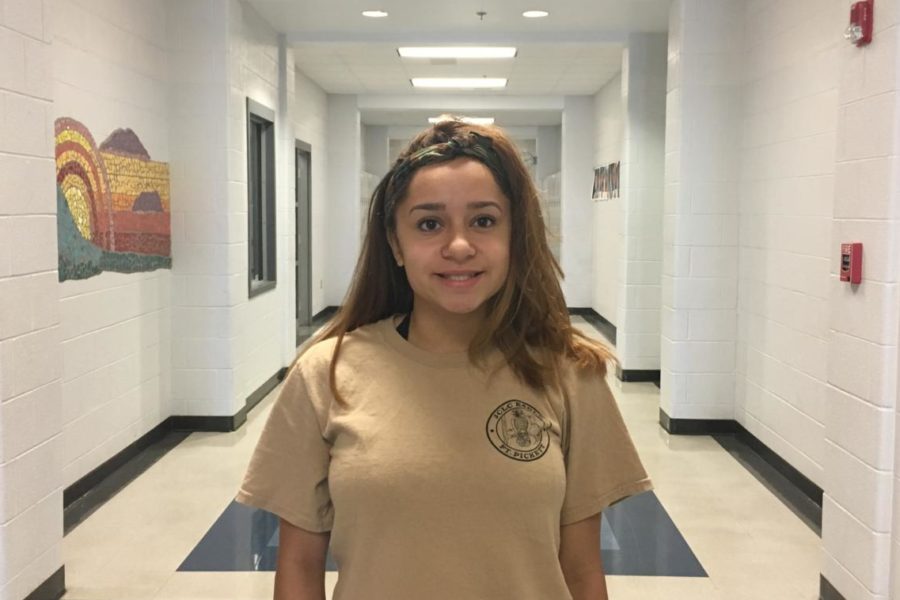 Q: "What ethnicity are you?"
A: " I am one hundred percent Puerto Rican.This year I am trying to improve my Spanish by reading and writing it because I am not a fluent speaker, since my parents never taught me."
Q: "Do you know your family's story?"
A: "I do know my family's story. My grandmother was very poor and she lived in Vargas Village in Puerto Rico, [while] my grandpa was very rich. They didn't want to stay in Puerto Rico because of things like hurricanes and stuff, so they moved to New York where they had my mom in the Bronx, and that is where my mom and dad [met]."
Q: "Where did your family used to live?"
A: "My sister was born in New York, in the Bronx, which is really ghetto and not a good place [to live], so we moved down to Harrisonburg, and that's where I was born."
Q: "How long has your family been in Harrisonburg?"
A: "We have been in Harrisonburg since 2003."
Q: "Do you think you're going to enjoy your experience here at HHS?"
A: "I think I am going to enjoy high school a lot because it is going to be very beneficial to me when I go to college. I want to succeed a lot in life and that's going to take a lot of work, like a lot of hard work and extra credit in high school."
Q: "What classes are you taking this year and why?"
A: "I am taking JROTC because I don't know if I want to be in the military or a doctor.I want to be in STEM because that's going to be my math and science route to being a doctor."
Q: "What has been the best part of high school so far?"
A: "I think the best part of high school has definitely been the volleyball team and the sports. One of my favorite parts has been going to the football game with my boyfriend."
Q: "Do you have a specific college in mind that you'd like to go to?"
A: "I want to go to a college where they will accept me to play basketball, and I was thinking about maybe South Carolina and if not [there], UCONN [or] JMU."
Q: "What's the most exciting thing that has happened to you?"
A: "The most exciting thing that has happened to me I would say is making new friends, like people that I don't usually talk to in school and getting to know them."
Q: "What is your favorite thing to do in your free time?"
A: "Some of my hobbies are going on dates, sometimes going to parties, playing basketball, [and] watching Netflix, that's one of my favorites."
Q: "How has being on the volleyball team affected your transition into high school?"
A: "[Being on the volleyball team] has made me very social towards people I don't really know [who] went to Thomas Harrison. People know my name that I don't even know."
Q: "What clubs and activities do you want to take part in during your high school years?"
A: "I definitely want to be in JROTC, I want to be on the Raider team and the Honor Guard team. I want to be the S3 in JROTC.
Q: "Out of volleyball and basketball, which sport do you prefer and why?"
A: "[I prefer] basketball. I've been playing basketball for two years and I definitely want to improve my skills, [which is] why I would prefer that. If I had a choice to practice [between the two], my choice would be basketball."
Q: "How has being apart of so many sports affected your social relationships with people?
A: "[Being apart of so many sports] has made me known to more people, I know a lot more people and a lot more people know me [compared to] a normal kid going to school."
Q: "Can you tell me about your favorite class this year?"
A: "I think my favorite class this year would be JROTC because the teachers are like family to me and…it [teaches] basic survival skills that you should know in life."
Q: "Why did you try out for volleyball?"
A: "I decided to try out for volleyball since I did it last year. I did get a lot of playing time at first, but then I got hurt, [so] I couldn't really do anything. I decided to [do it] this year so I could have more of an experience."
Q: "What is the most random fact about yourself?"
A: "The most random fact about myself would be that I am a party animal and I love to eat."
Q: "What are you looking forward to in JROTC"
A: "Staying fit, being JCLC, the Leadership camp and the Raider team camp because it is a giant course where you have to run like 18 miles."
Q: "What is your biggest goal for this year?"
A: "My biggest goal for this year is to play on the varsity basketball team."
Q: "Who is your biggest inspiration and why?"
A: "My biggest inspiration would be sister Millie Tirado and I'd say that because she has been through all these four years and she has been through JROTC and she just gets good grades. I like to ask her questions and for help when I need [it] and she always gives me great answers."