Musical: A look back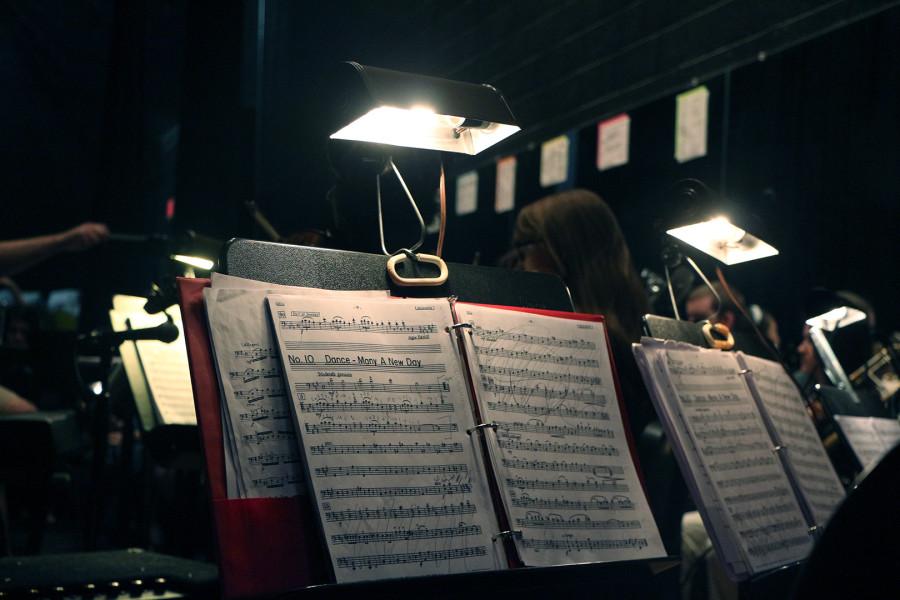 Ariel Vogel, Feature Editor
March 20, 2014
They over-greased their hair and over-colored their lips for the scandalous How To Succeed in Business Without Really Trying.
They belted out their souls and upped the dramatics for the heart wrenching Les Miserables.
They pulled on the sparkles and kicked their tap shoes for the jazzy Thoroughly Modern Millie.
And finally, they tipped their cowboy hats and sang in twang for this year's western Oklahoma!.
This batch of seniors has been around for some of Stan Swartz's biggest risks–and biggest hits. After four years of standing ovations and watching other seniors say goodbye, these seniors have finally had their own last hurrah.
"There was no one to look up to [as a senior]. That was a weird feeling," Senior Deb Halpern said. She was on the stage crew for How to Succeed and performed in Oklahoma! and Les Mis.
"Les Mis was so incredibly good, quality wise," Halpern said. "[My favorite role was] definitely being a whore in Les Mis. That was a blast."
Senior Heidi Warner also cited Les Mis as her favorite musical at HHS, but said that she enjoyed her role in this year's Oklahoma! the most.
"This year as Ellen I got to be more involved than other years because I had a solo and lines and got to do more character development," Warner said.
Even though Warner liked developing her character, she decided learning choreography was her favorite part of the musical process.
"Everyone is all together and everyone is being silly. Plus, I love to dance," Warner laughed.
Senior Michael Knapp has been involved in HHS's musicals since middle school.
"I started in eighth grade because Andrew Kniss, [an HHS alum who ran the tech board] brought me," Knapp said. He agreed that Les Mis was his favorite musical, but for entirely different reasons.
"I think the story is fun and I think the show was really well done. There were [also] a lot of tech things to be done," he said.
Knapp's worst memory of his musical experiences happened during Les Mis.
"We had some random parent come in and click the slides of the time periods that were projected on the sides of the auditorium. We weren't happy with her because we had no idea who she was, but how could she screw up clicking? Well, there's a blank slide for use during intermission and she went to the end of the slideshow for some reason, passing it, and thelaptop was also on the catwalk so we couldn't restart the slideshow and the second act was starting. As the lights went all the way down, Ben [Marks]'s desktop background was projected on both sides of the auditorium and then after a while it went to his screensaver, which is all of his personal photos! So I sprinted up to the catwalk and pulled the power to the projectors…it was really embarrassing for him. We got rid of that lady shortly after!" Knapp said.
Knapp's favorite moment of musical productions is classic: opening night.
"It's when all of our hard work pays off. [I also like] proble. Solving the tech things," Knapp said. Senior Tyler Edwards has the opposite feeling; his favorite memory of musicals was closing night of 2012's Thoroughly Modern Millie.
"I had gone through some rough stuff that year and being in the room [with] all the people pulled me out of a dark place," Edwards said. "It was a blissful feeling."
Halpern enjoyed the bonding in the cast as well.
"There's always a point when you realize the people surrounding you in the rehearsals are the people you spend all your time with. You're doing what you love with people you love," Halpern said.
Halpern recalled a particularly negative memory during Les Mis in which she broke a glass bottle in her hand.
"I just remember [Cara] Walton pouring alcohol on my hand and picking out pieces of glass with tweezers and Dorrall [Price] was holding my other hand and I was just sobbing," Halpern said with a shudder. Warner remembered the fire alarm and evacuation of the building during a performance of Les Mis as her least favorite musical moment, while Edwards, like Halpern, had a painful Les Mis recollection.
"Getting punched in the face by Abe Nouri [was probably my worst memory.] It was a shock but it was fun, maybe because of adrenaline," Edwards said.
Edwards gave a nod to some of his good friends from musical while citing Stan Swartz as his inspiration, while Warner appreciated Elana Swartz and Phoebe Copeland's positive influence.
"Elana was there for Les Mis and Oklahoma! and I really looked up to her; she inspired me. Phoebe is the rock that holds together the organization," Warner said.
Halpern was inspired by Isabelle Burden, explaining that having a best friend who loves what you love only encourages your passion.
Warner explained that being a senior doesn't change musical as much as you might expect.
"You think it's going to mean more, but it doesn't. Everything is just more sentimental," she said.