The Activist
Not many students can say they've been arrested before they graduate high school; however, that is not the case for senior Silas Benevento- Zahner. At the age of 17, he, along with 20 others, got arrested for not leaving the Capitol Building when they were asked to during a Green New Deal protest. 
 "I was part of a Sunrise Movement weekend retreat. We did a protest in the US Capitol Building where there [were around] 300 of us. People were singing, and we did banner drops where we [asked] senators to support the Green New Deal. You're not allowed to protest inside the Capitol Building, so they said you had to leave or get arrested. I stayed as an act of civil disobedience. I got arrested and handcuffed and then shipped off to the DC Juvenile Detention Center. [It] doesn't go on my record, and I didn't have to pay a fine, which is great," Benevento-Zahner said.
Along with protesting for more climate reform, Benevento-Zahner also co-led an environmental movement last year called Shenandoah Youth for Climate. Last year, they organized two climate strike walk-outs, one of which was during school hours.
"The first [walk-out] we just had an organized thing downtown. [At] the second one, we organized a walkout from HHS where we [were able to gather] 30 or 40 students to walk out downtown," Benevento-Zahner said.
Over the past year, Benevento-Zahner has been working with the 50 by 25 energy justice campaign that is aimed towards Harrisonburg.
"We are working to get Harrisonburg to 100% [renewable energy] by 2035 and 50%, renewables by 2025 and so on. I've been interning with that campaign where I've been working [their] Instagram [page] and the website [a bit]. We've gotten the city council to pass a resolution to commit to 100% renewables by 2035, which is really great," Benevento-Zahner said. 
Although born in Madison, Wisconsin, Benevento-Zahner will always call Harrisonburg his home because he has lived here the longest. However, when he was three, his family lived in the Dominican Republic for a year, and he went to school there.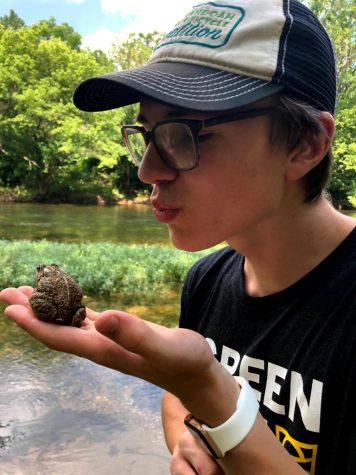 "I've gotten to go back and forth to the Dominican Republic because my dad does work there, so I go with him [sometimes]," Benevento- Zahner said. "He does reforestation work, so I've gotten to go and help him every couple of summers, which has been really great. I really feel like it's shaped my world."
Former students Forrest Matter and Elias Wickline introduced Benevento-Zahner to small concerts around town. This launched a new hobby for Benevento-Zahner before COVID-19 hit. He would attend these concerts through JMU students that would host little concerts in the basements of different places for small artists to perform music.
"It's just local artists or small artists that come, and it's free. You give donations, and it's pretty chill. It's just fun to be with other people, [and] listen to music. I feel like I'm fairly antisocial, and so putting myself in that situation where I'm around a bunch of people forces me to be social and learn how to be outgoing. And so it's helped me really force myself to introduce myself to random people and spark up conversations," Benevento-Zahner said.
To help further fuel his environmental activism, Benevento-Zahner has plans to take a road trip across the country with his friend, senior Jonas Miller, after their senior year. They drove a couple hours to go pick up their van they worked hard to buy together and bring it back home. They plan to visit the Grand Canyon and Redwoods, but mostly just want to have a fun trip
Leave a Comment