The Pilot
In order to become an astronaut, one has to know how to fly a plane. After dreaming of becoming an astronaut her entire life, senior Eva Velker decided to take private airplane flying lessons. Falling in love with flying inside our own atmosphere, Valker changed her dream from flying in space to pursuing a career in commercial flight. 
After making this decision, Velker talked to her grandfather who was an airline pilot to gain more insight on the job. It also helps that the average salary for an airline pilot goes from $51,000 to $300,000 offering a lot of growth within the job. 
"I always loved the [idea of] wanting to fly because I wanted to be an astronaut. I kind of realized pretty soon through my sophomore year that I didn't really want to be an astronaut. I just wanted to be up in the air and be up in the sky. My grandfather was a pilot, and [the second] I got into the sky, there [was] no turning back," Velker said. 
Many start their flying journey by getting a private pilot's license to offer them more experience before training in a commercial plane. Velker found a local opportunity in July to obtain her private pilot's license and is currently working on flying the hours needed to complete it. 
"I got accepted into the Pathways Program, which gave me 10 free hours of being able to fly. The Pathways Program is a program that is in partnership with Averett University. I was supposed to go there for a week, and I would get six [flying] hours, but I wasn't able to because of the Coronavirus. Instead, I just did the ground school, and I started flying at the Weyers Cave Airport," Velker said. "I need to get my private pilot's license first. I have to [fly for] 40 different hours to get my private pilot's license. Right now, I'm with my instructor trying to get those hours in. I am almost about to do my first solo soon. I'm kind of paying all out of pocket for it, too. Whenever I have enough money, I'll just do the next [lesson]," Velker said. 
Once you get your private pilot's license, you have a leg up on other classmates, who also want to become pilots. At the collegiate level, many pilots major in aeronautical engineering and work on obtaining their commercial pilots license while in college, according to the ATP flying school. Velker's main goal is attending a specific college for aviation or cheaper schools that would allow her to pay for aviation classes. She will have to support herself through college because of her big family.
"Right now, I'm looking at Embry Riddle. If I get in there, then that's the best case scenario, but I'm also not pinning all my hopes on that. I'm also looking at a bunch of different colleges in Tennessee just because their pricing is very, very good. I'm looking at Middle Tennessee State University and engineering [school] because I'm probably not going to get my pilot's license through a college. I'll probably get it through an independent aviation school just because it's so much cheaper," Velker said.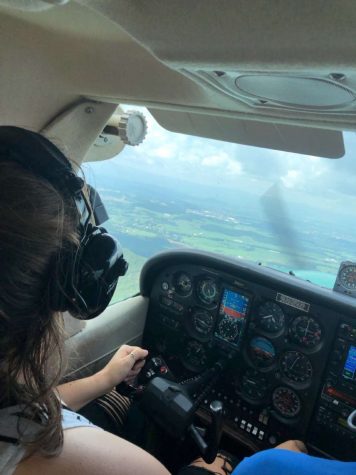 When Velker flies a plane she experiences her own euphoria by observing her life from a different point of view. 
"Flying is amazing. For me, every single time [I fly a plane, my life becomes] complete. It's like viewing the world from a completely different perspective. It's super cool. I kind of feel like this is something that I could do even when I get bored because I don't want to get burnt out, like doing an office job. I want to be able to do stuff and actually have that power [to change up my life in the last minute]. There's a bunch of great opportunities that have been opening for me. It just makes the most amount of sense [for me right now], and I know that I will not regret it. I'll be able to travel all over the world, which is super cool," Velker said. 
Before getting her private pilot's license, Velker can fly solo, but she can't fly other people until she gets her license. 
"There are different steps to fly by yourself. You have to have something like a test drive. You take a solo, like two laps, to be able to be okay by yourself. You [also] have to be able to land the plane," Velker said. 
After deciding to graduate early because of COVID-19, Velker will receive her diploma in December and take a gap semester before college. She is currently looking for a job related to aviation to save money and sustain her flying career. 
"[I want] a desk job probably at Dynamic Aviations, the Weyers Cave airport or just somewhere that will let a 17 year old [work]. I'm just looking at the best opportunity that comes around," Velker said. 
Although she is excited to take a gap semester, Velker is sad to miss some of her favorite extracurricular activities in school. 
"I'm especially sad about [graduating early] because I wanted to do robotics. I wanted to learn more coding. I'm tired, [and] I like high school, [but] your vision is [small] in high school. There's so much more left of the world to see," Velker said. 
Velker is excited about the travel included in her future career, but worries about the implications it might have when she wants to start a family.
"At least when I'm young and able and supple, I want to travel internationally and just kind of see the whole world, which I think would be really fun. I'm just excited to see where I'm gonna end up," Velker said. "It's kind of hard because [there's] the whole having a family with the [hectic work schedule]. It's just [if I] raise kids, I would have to be gone for like a week and then [only get to] be back for [short periods of time]. I would just have to hire somebody else to [take care of] my kids. I have a big family, so if I [live in] Harrisonburg, I can just leave my kids with my family." 
Piloting is a career mostly made up of men, so Velker believes she will have more obstacles to overcome than the typical male in the business. However, she enjoys the community she has found through flying. She believes everybody should get their private pilot's license but warns that it takes grit to fly. 
"The community's really awesome. It's definitely a rich man's sport. It [takes] a lot of money to get into it, but it's worth it. It's only [really] as expensive as [getting] a car. It's not that big of a deal," Velker said. "[However,] it really isn't for everybody because it requires so much concentration and [the ability to] multitask. [Also you need to be] able to change things in an instant and [think quickly]. It's really stressful. Every single time I get out of the plane, I'm tired, but I'm happy that I'm tired."