The All Around Champion
Starting in third grade, senior Dorothy Yates, has identified herself as a student athlete. Yates has also been on the varsity competition cheer team since her freshman year.
 "I like [acrobotic] sports and I am a tumbler. I love tumbling, [and] I'm a really strong tumbler," Yates said. 
Yates started tumbling as a way to deal with her stress and anger. All of her anger goes into her tumbling giving her the power to complete difficult passes.
"When I tumble, I have to have a lot of power. Every time when I'm doing a tumbling class, I put all of my anger towards that tumbling class so that I have enough power," Yates said.
Besides tumbling and sports, Yates also has interests in photography and bracelet making as a way to relax and capture memories.
"I really enjoy photography and I have my own camera because it's fun for me to take pictures of my friends at their games or do senior photos. I also like making bracelets just as a stress reliever for me," Yates said.
Yates enjoys photography because it helps her preserve important moments in her life.
"For photography, I just love capturing pictures and I love being in the moment. For me personally, I don't like to drag things out. I love memories in the moment because it makes you remember that forever," Yates said.
Earlier this year Yates lost an important person in her life, her grandmother. This significant loss in her life helped her rediscover bracelet making, an activity she did frequently with her grandmother.
"My grandma passed away in January, and we were really, really, really close with [each other.] One thing that we loved to do was just make bracelets together. I kind of just think about her all the time when I would be making them," Yates said.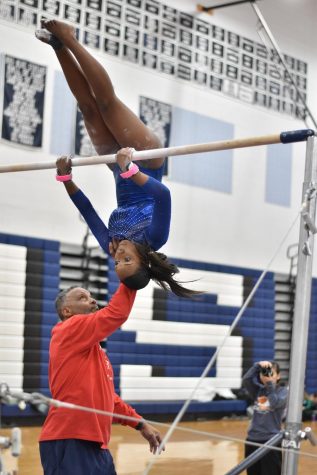 Overall, Yates' hardest time in high school was her junior year, due to hard classes, a busy schedule and more homework.
"My junior year [was the hardest], because freshman year, you're just a freshman. That's self explanatory. Your classes aren't that hard; it's really easy. Sophomore year you kind of get a little bit more work, but my junior year was the hardest," Yates said. "Procrastination is real. Your junior year is harder, your classes are harder, everything is five times harder and it hits you differently. I [found] that keeping up with all of my classes during my junior year is hard. Especially since I'm an athlete and I have practices. You only have such a small [amount of time to spend] and it makes it hard."
Yates advises students to get their work done right away and to not procrastinate their work. She realizes that the transition to high school is hard, but that it's important to know what you want and who you are.
"Procrastination is going to take a hold of you. Just get it done. If you just get your stuff done, then you're not going to have to worry about it because the more you procrastinate, the more things are gonna pile up on you and it's not gonna look good for you at the end. So, you just want to make sure to get your stuff done," Yates said. "Also, don't get attached to people. Really just make sure that you know yourself. In high school, it's a really tricky transition with yourself because you're not going to know who you are or who [you] want to be. So, it's important to keep your mental health in check, including your physical health."
During the pandemic, Yates found it beneficial to stay close to her family and keep herself safe.
"Just make sure to be safe [wherever] you are because even if the COVID-19 cases aren't bad they're still COVID-19. Just make sure that you all keep yourself safe and that you take care of your families," Yates said.