Brino-Dean finds ways to visit colleges despite the global pandemic
With the COVID-19 pandemic looming and school completely online, it is hard for seniors to finish out their high school experience like they expected to. Senior Michaela Brino-Dean has found it disappointing to finish out her high school years on a computer.
"I think [the pandemic] has directly impacted my learning and relationships. [I'm disappointed with] how the year has [been] playing out. [Even] small stuff like leading cheers and standing in the front at football games is something I've waited and have wanted to do for the past three years. Now that may never happen. In high school everyone really looks forward to a relaxing senior year with all the fun senior things, and almost all of those things will never happen which really sucks," Brino-Dean said.
Though Brino-Dean does not like school being completely virtual she is grateful it has given her the opportunity to travel and do school at the same time.
"One perk of being online was that I was able to attend almost all of my classes while traveling," Brino-Dean said.
Many colleges have also been put online or have different precautions to meet COVID-19 guidelines. This makes it hard for seniors to tour and get a feel for any college they may want to apply to. However, Brino-Dean has found ways to visit colleges and go on safe tours.
"I have been able to tour five out of the six colleges I'm applying to. The 6th [school] my dad works at so I'm there all the time. All of the tours had almost all the same guidelines, masks are required inside and outside, don't touch anything when inside, maintain six feet from other people and reduce group size," Brino-Dean said.
Brino-Dean has traveled up to Pennsylvania with her dad every three weeks to see schools in the past few months.
"My dad commutes up to Shippensburg Thursday morning, [spends all of Thursday and Friday morning there] and comes back Friday night, so for all of the tours I went up with him and then my mom met us there. We travelled about every three weeks [to tour colleges], [which] gave us some time to stay at home more and 'quarantine' before traveling again. [This was] in hopes that if one of us [became] symptomatic we would be able to stop our spread," Brino-Dean said. 
Many of the schools Brino-Dean has toured have given her and her family a tour guide since there cannot be real college tours with large groups of people.
"Four out of the five [colleges] that I visited had a tour guide with us who was masked, along with us, to give us information and guide us along the tour. We walked around campus as our tour guide pointed out important buildings [and] gave us information about classes. We [also] visited some dorm rooms and [the tour itself] gave me a good idea on how big the campus was," Brino-Dean said.
 Staying safe and healthy during the COVID pandemic is something Brino-Dean takes very seriously. She feels touring the campuses on her own is safe, but takes the number of cases at a school into deep consideration.
"We are still able to be on [college] campuses because lots of students aren't there. It's very safe since we don't pass many people," Brino-Dean said. "I [also] look at how many cases a college campus has. A couple of them are like JMU and haven't followed the rules very well and have outbreaks. That's something that is concerning and I will take into consideration."
All of the colleges Brino-Dean's applying to are in Pennsylvania. Pennsylvania contains Brino-Dean's hometown where she has lots of family members.
"My dad works in Pennsylvania. He communts there two days out of each week, and he works in the Pennsylvania State School of Higher Education (PASSHE) system. That system of state schools is where I'm looking because I'll receive half or free tuition. My mom also has family near Philly so for the past 2 months and the last month before Covid started in March, I have been going up to visit one or two schools and staying with my dad or my moms family," Brino-Dean said.
Before the pandemic began Brino-Dean was able to stay with extended family members. Now Brino-Dean and her immediate family safely stay in a hotel.
"Pre-covid [we] stayed with family in their homes. Now we safely stay in a hotel room and wipe down surfaces. [We are still able to] visit family outside with masks on. We keep in mind that we are more of a threat to them, since we are traveling from a college town that has 2,000 plus cases and in their small town have less than 100," Brino-Dean said.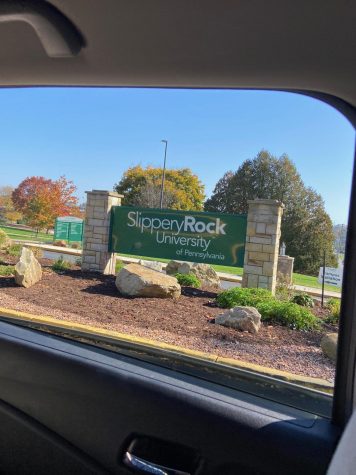 Brino-Dean began looking for colleges last year. Since then she has narrowed her college search down to six Pennsylvania schools.
"I started looking at colleges last year in the fall when I went to my first open house. I have toured West Chester University, Millersville University, Kutztown University, Slippery Rock University and Indiana University of Pennsylvania. When looking for colleges, I looked at things that are important to me like size, location, majors, diversity, and travel abroad programs," Brino-Dean said. 
When looking at colleges Brino-Dean focused closely on size, majors and school diversity.
"I looked for size first, I wanted something medium size, and then I also looked at majors and diversity. I'm interested in nursing and political science so my schools needed to have at least one of those. I also wanted to continue my education in a school with diversity similar to HHS," Brino-Dean said.
When looking at college campuses Brino-Dean looks for that welcoming feel. She wants a place that could feel like her home.
"[I look for the campus] set up, how dorms look, where buildings are located on campus, security and also type of campus. I like campuses [that are] spread out, and [I like] taking the bus so I looked for that when visiting as well. When you get on a campus you also just feel like you like the space. It's [a] very hard [feeling] to describe but many universities I've been to had it. [The campuses] just feel welcoming and places that I could see myself being at," Brino-Dean said. 
 Though the year has gone differently then Brino-Dean had hoped and she had to find unconventional ways to tour colleges. She is excited for this next important step in her life, college.
"[I'm excited] to meet different people, find connections and see what the actual campus looks like with students there," Brino-Dean said.
Leave a Comment