Holden, Rodriguez transition from coaching varsity to JV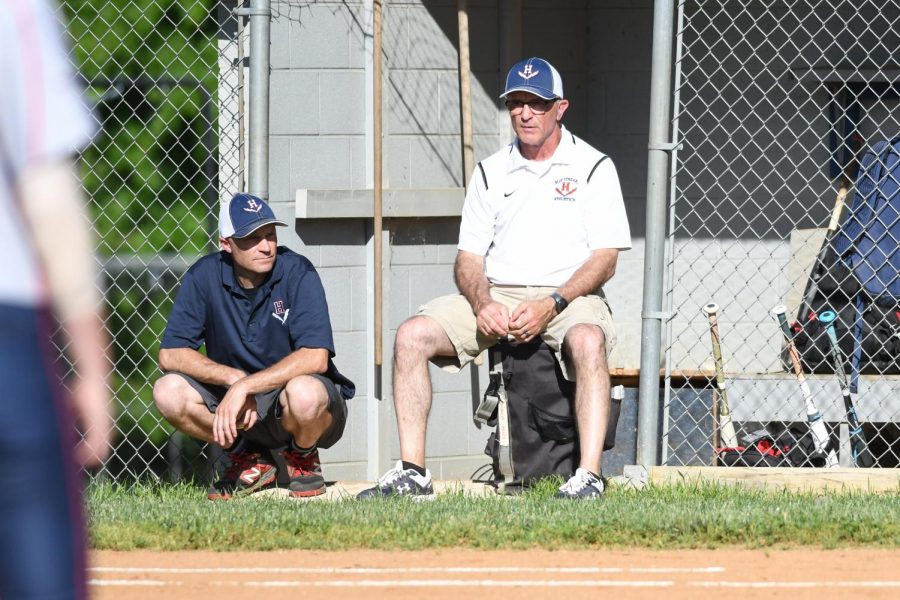 With tryout week for spring sports concluding Friday, the players on the rosters aren't the only differences between the 2019 and 2020 season for the baseball and softball programs. The coaching staffs are changing as well in preparation for the 2020 season, while the two varsity teams lose a coach, the two JV teams gain a coach. According to Athletic Director Brandon Burley, this adjustment will move both programs in a positive direction.
"Our coaching staffs are aligned in a way to benefit the entire program," Burley said. "I believe we will continue to see improvement in both our softball and baseball programs during the upcoming season."
With his daughter Maycie playing for Harrisonburg Little League Association and a background of playing various sports, Carter Holden has been a softball coach for approximately seven years total for his daughter's teams, providing him with years of experience.
"My whole life I've pretty much been involved in sports, [but] baseball and softball have always been my go to since I was a little kid," Holden said. "I've coached on Maycie's teams for about seven years, but the last five I've doubled up on travel and little league."
Prior to last season, Holden hoped to take his coaching abilities to the high school level. Along with Katie Henson and Mikala Wolters, a Harrisonburg High School Alumna, Holden was hired as an assistant coach for the varsity softball team under head coach Randy Hill.
"I've learned you have to keep it interesting [while coaching] as much as possible just like a classroom teacher would do," Holden said. "I try to go to other school practices [including] James Madison University, Bridgewater College and Eastern Mennonite University just to get some ideas and to keep my coach game tight also."
During the 2018 season, the team wasn't able to accumulate any wins; therefore, going into his first season as an assistant coach for a high school team, Holden hoped to be able to help the program succeed in 2019. Despite having another unsuccessful season last year, Holden was looking forward to coaching the returning players once again. Henson was kept as a varsity coach and Holden was sent down to help out with the JV team after Scott Sheets became the head coach last season with the resignation of four year JV head coach Christina Oakes.
"I'm just happy to be with the program, I honestly don't look at it [as varsity or JV]," Holden said. "I would be happy in any role I was asked to do just as long as I can make an impact."
One of the varsity players that Holden formed a connection with last season was junior Alyssa Sutton, which helped her become more confident about her abilities in relation to softball.
"He's a great coach and he has helped me look at the sport in a more positive way rather than being negative on myself as a player. Anytime I want to get in extra practice he's there," Sutton said.
Although Holden has a connection with many of the varsity girls from last season including those who graduated, he's looking forward to working closely with the JV girls ranging from eighth to tenth grade. As a result of his daughter's participation in HLLA and travel softball, Holden is already familiar with and has coached many of the eighth graders who will join the team this season.
"Until we continue to allow this program to grow, having that familiar face that I coach in the short time we have little league helps when they decide to come tryout for high school ball," Holden said. "I also think having a high school coach floating around the little league fields helps the [younger girls] stay motivated to continue to love the game."
Similarly to Holden, varsity baseball assistant coach Christian "C-Rod" Rodriguez is forced to adjust to coaching JV.
"Coaching [at HHS], Tysinger called me and asked me to come help since I knew the kids from coaching them at little league. It's been more than a blessing," Rodriguez said. "I have the opportunity to mold the young players to what we need them to be at the varsity level. I embrace these challenges and look forward to our success."
Throughout his coaching career at HHS, Rodriguez and Tysinger together have helped multiple former players become collegiate athletes including Jose Rocha at Patrick Henry Community College, Owen Marshall at Mary Baldwin University, Cade Templeton at Shenandoah University and Kevin Navedo at Bridgewater College.
"I find great pride in helping student athletes meet their maximum potential and it's a dream come true," Rodriguez said. "Hopefully they can go further in their careers."
Even though he will be coaching a younger group of male athletes, Rodriguez does not plan to be easy on them due to the fact that they will someday be varsity players.
"My goal is to have these JV players ready to play varsity baseball next year [as well as be] fundamentally sound for the next level," Rodriguez said.
For varsity baseball head coach Kevin Tysinger, losing Rodriguez as an assistant coach will be a challenge for his team as they will lose a translator and coach, but he believes the change will help the JV team.
"It will help us on JV by having an experienced coach who has been in our program for the last four to five years, [but in return] it will hurt us on varsity because of his versatility as a coach," Tysinger said.
The baseball and softball teams will start their season with games against Riverheads High School. Both varsity teams will travel away to RHS while both JV teams remain at HHS for their first game of the 2020 season.