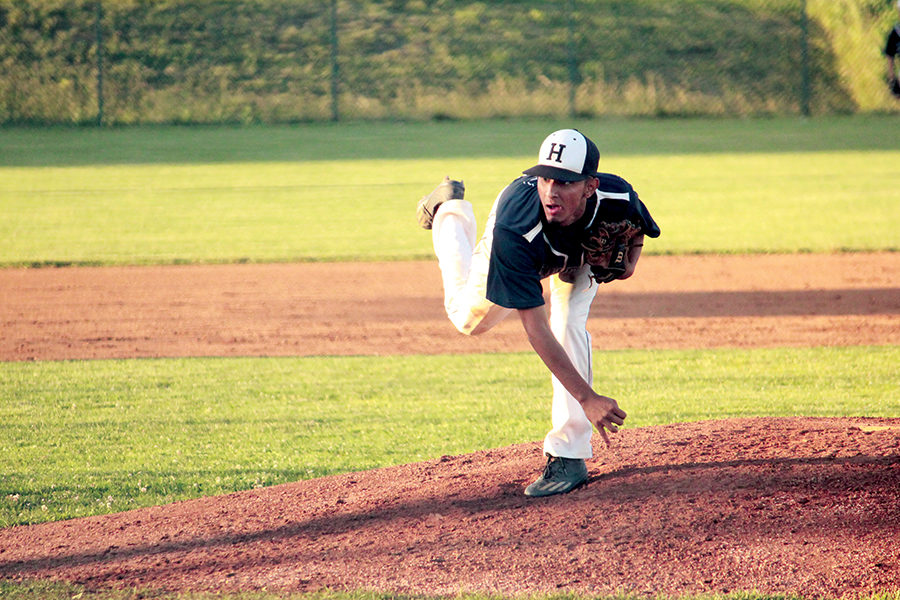 Rocha, coaches reflect on college baseball commitment
December 20, 2018
Rocha to continue baseball journey at PHCC
From his days of Little League, senior Jose Rocha knew he was talented, playing with kids above his age group every season. While some kids also move up a bit early, Rocha was the only nine-year-old to play majors, an age group that mostly consists of 11 and 12-year-olds. This trend didn't stop when Rocha entered high school as he joined the varsity team as a freshman. In his junior season, Rocha lead the team in batting average hitting .396 with four home runs. This success has lead Rocha to receive interest from various colleges, but on Nov. 14, Rocha committed to Patrick Henry Community College (PHCC).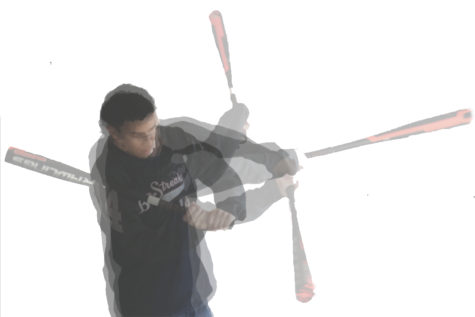 "They called me one day after school… They said 'Hi Jose, this is the coach from Patrick Henry. How are you doing?' They asked me to go on a visit. I finally had the time. Although my parents had to work, my coach Blake Sipe took me. They offered me. I liked the program, I liked the coach, and I liked the field," Rocha said.
What initially drew Rocha in was the opportunity to start as a true freshman. He also enjoys the winning culture that the team has had, as they finished 39-16 in the 2018 season.
"They said that if I commited I would be the only shortstop there. I am the only shortstop they are talking to, which is big because starting as a freshman makes it easier for you to develop," Rocha said.
Many of Rocha's coaches have helped him throughout the recruitment process. HHS coach Kevin Tysinger and travel coach Blake Sipe both agreed that Rocha needed to make sure that he enjoyed the atmosphere at the school he chose to go to.
"[They told me] to go wherever felt good and was a good fit for me. They thought JUCO would be good for me because of my academics," Rocha said.
While PHCC is not a four year institution, many athletes transfer to a larger program after their eligibility is up. Rocha feels the junior college (JUCO) route is the best for him because his grades were not where he would have liked his first two years of school.
"I thought it was a good fit for me because I started my freshman and sophomore year badly. I had bad grades because I didn't like school. I thought it would be good fit for me academically," Rocha said. "Hopefully, I can transfer to a Division I school or maybe even get drafted because I heard there are going to be MLB scouts there. Playing at a D-II or D-III school is a blessing, but my dream is to get drafted and hopefully play professional ball."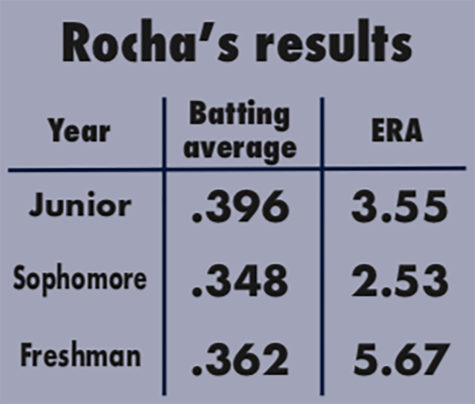 After his sophomore year, Rocha realized the importance of his grades in the college recruitment process. Rocha hopes that JUCO will give him more academic experience, so if he transfers he will be prepared for college.
"I heard that if my grades were good from the beginning I would probably already be committed somewhere. It is a good thing I have brought my grades and GPA up. I feel like the JUCO route will be good. Academically I just want the experience of how college is," Rocha said.
While Rocha has met his goal of having the opportunity to play at the college level, he has yet to meet his end goal. Rocha's childhood dream is to play Major League Baseball. He wants to develop both physically and as a player.
"Baseball wise I want to develop and get bigger and stronger because right now I'm skinny. I want to get a bigger body, throw harder, hit harder, and run faster," Rocha said
Rocha feels that playing college ball is a dream come true.
"I was excited and I felt blessed. Playing at the next level is a blessing," Rocha said.

Tysinger, Rodriguez reflect on coaching Rocha
Jose Rocha didn't take long to begin launching home runs into the creek behind Field 1 at Purcell Park. His rapid improvement drew eyes from coaches everywhere. He quickly gained a reputation, and current varsity assistant coach Christian Rodriguez took notice immediately.
"
I think of him like a son. We go everywhere together."
— Coach Christian Rodriguez
"I met Jose probably five or six years ago back in Little League. [People] used to always talk about this dude hitting two home runs a game, hitting bombs all the time. I went to check it out and he didn't let me down," Rodriguez said.
Rodriguez began working with Rocha in practice, and the two have built a relationship over the past few years, to the point where they regularly hang out and discuss Rocha's future.
"I think of him like a son. We go everywhere together," Rodriguez said. "I've [given him] advice like go to school and do your work. We have a lot of talks. I guess you never have a dull moment with him. He always keeps everything funny and light. If you're going to have a serious conversation with somebody, have it with him because he'll make it funny."
Head coach Kevin Tysinger hasn't known Rocha for quite as long, but has coached him for four years at the varsity level. Tysinger recognized his talent for the game from the get-go, and has enjoyed watching Rocha's demeanor change as he's gotten older.
"[He] wasn't a very big kid, but he had a lot of baseball ability. I wasn't really sure [about him] because he was, and still can be, quiet, so I wasn't sure with his personality what he was going to be like out there," Tysinger said. "[I didn't know] if he could be a go get 'em kind of guy or if he'd really have to be pushed, but he's done a good job and he's got a lot of inner drive."
Recently, Rocha made his verbal commitment to Patrick Henry Community College, a two-year school in Martinsville, Virginia that competes at the JUCO level. Tysinger admitted it wasn't a decision he expected as it came on a bit of a whim.
"
I gave him a hug and told him congrats, but not to close the book yet."
— Coach Christian Rodriguez
"He kind of caught me off guard with the Patrick Henry thing being that it's a little farther from home and I'm not as familiar with their program. I know they have a good program, [but] I haven't had any contact with their coaching staff so he kind of caught me really off guard, and I was a little shocked," Tysinger said.
Rodriguez was one of the first to congratulate Rocha on his decision, but also made sure to caution him to keep his eyes open for other options.
"I gave him a hug and told him congrats, but not to close the book yet. It might be the best option right now, but [he hasn't] played his senior year yet. Better options might come, better opportunities. That's what we talked about," Rodriguez said.
While most athletes require coaching to fix their mistakes, Tysinger has always been impressed by Rocha's ability to self-correct in addition to asking for a coach's help, a trait that will be of importance on a college roster with many more players and less individual attention.
"He recognizes flaws of his own pretty well. He's quick to ask questions on his own before we call him out, but as far as baseball goes, there are things I wish he would take more charge of from a leadership standpoint. Skill stuff I don't have to worry about as much with him," Tysinger said.
Rocha, a shortstop, has played his last two summers of travel baseball with the Invaders out of Charlottesville, works out multiple days a week and plans to play his first season in the Rockingham County Baseball League in the upcoming summer. His passion for the game left Tysinger with a simple explanation on Rocha's attitude.
"He pretty much seems to live and breathe baseball," Tysinger said.