Varsity Softball suffers from back-to-back winless seasons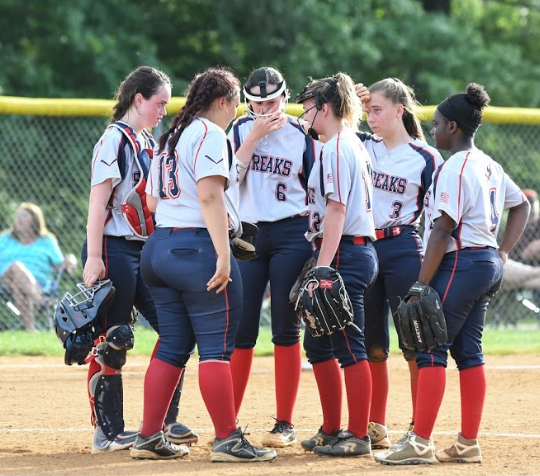 Advertisement
After last year's winless season, the Varsity Softball team was forced to make some changes in hopes of having a better record at the end of this season. For starters, Randy Hill took over as the new head coach after the resignation of the former coach, Susie Bocock, which resulted in the addition of three assistant coaches for pitching, catching, infield, outfield and conditioning purposes as well as another manager, sophomore Calayiah Stuart, alongside senior Nina Andrews.
"My expectations for the the softball team were very high because I knew that all the girls wanted to do was win and prove to everyone that they're better than their winless season [last year]," Andrews said. "It's going to take a lot of work, but as long as they continue to believe in themselves, they can go far."
Position changes also occurred after the graduation of seven seniors after last year's season as well as new captains and a brand new roster over-all. Since Maddie Cooper graduated last year, junior Lydia Grogg became the new catcher for the team and freshman Juju Butler became a varsity starter in center field after the graduation of Aaliyah Jones in 2018.
"Playing varsity this year was definitely a change [because] the game was faster, more intense and more competitive. Being a freshman on varsity was definitely intimidating, but it just meant that I had to prove to my coach and my team that I could do it," Butler said. "Playing outfield [this season] was fun [but a big change from pitching last year on JV.] I like being able to make easy outs during the game, however, it also involved being ready at all times, which was a change from JV because a lot more balls were hit to the outfield by varsity girls."
Despite adjusting to a new coaching and managing staff as well as recovering from the loss of many seniors, the team was hopeful for improvement and desperate for at least one win after not earning any last season, but when work ethic, mindsets and attitudes changed for the worse, senior Ines Lopez-Flores noticed how big of an impact it had on the team.
"In February we were ready to work hard and hopefully win some games this season, but as the season continued some of us didn't work as hard as we should have and there was some drama on the team that separated some of the players and we didn't really play has a whole team, which definitely hurt us in the long run," Lopez-Flores said.
On May 2 the team celebrated senior night against Waynesboro High School. Even though the team lost all of their games prior to senior night, junior Kiara Richardson and her teammates wanted to get a win for the seniors, but ended up losing in slaughter rule after five innings with a final score of 12-0.
"On senior night I really thought we were going to win, but I think the energy towards other teammates and errors made [on defense] hurt us the most during games and I think the seniors were hurt because their last home game [ended in a loss]," Richardson said.
As the season continued, the team remained winless. At the start of playoffs on May 22 the team had a record of 0-20, which increased their desperation for a win. They travelled to William Fleming High School for the first round of playoffs, but with junior Grace Shifflett obtaining a concussion in a previous game, some players were in different defensive positions. The team played seven innings, but lost with a score of 8-2 to end their season with a record of 0-21. Shifflett, however, does not blame the position changes on the loss of the game. Instead she believes the team atmosphere on and off the field brought the team down this season.
"I think some people take for granted the fact they are able to play. It is very disheartening to see your teammates give up on the field when you would do anything to be out there yourself," Shifflett said. "The team needs to work on attitudes towards the game itself and towards their teammates."
Now that this is their second winless season in a row, the team is aware that changes need to be made in order to improve next year. First year assistant coach Carter Holden loved getting to know this year's team, but he also felt that confidence and lack of bonds within the team resulted in the second winless season in a row.
"I personally think a lot of the issues were work ethic that this program has been used to over the past four or five years, [and] I also think the team camaraderie needs to become more of a team instead of ten or eleven individuals," Holden said. "We had the fundamentals to win games, but we just did not have the confidence to finish the game, [but coaching this season has allowed me to] get to know all of the girls, which has made me want to be a better coach in future seasons. Next year I want to bring this team together more and build the program because these girls need to know that the softball field is where they forget everything and enjoy something they all love to do [and have dedicated so much time to doing.]"