Blancher enjoys variety of hobbies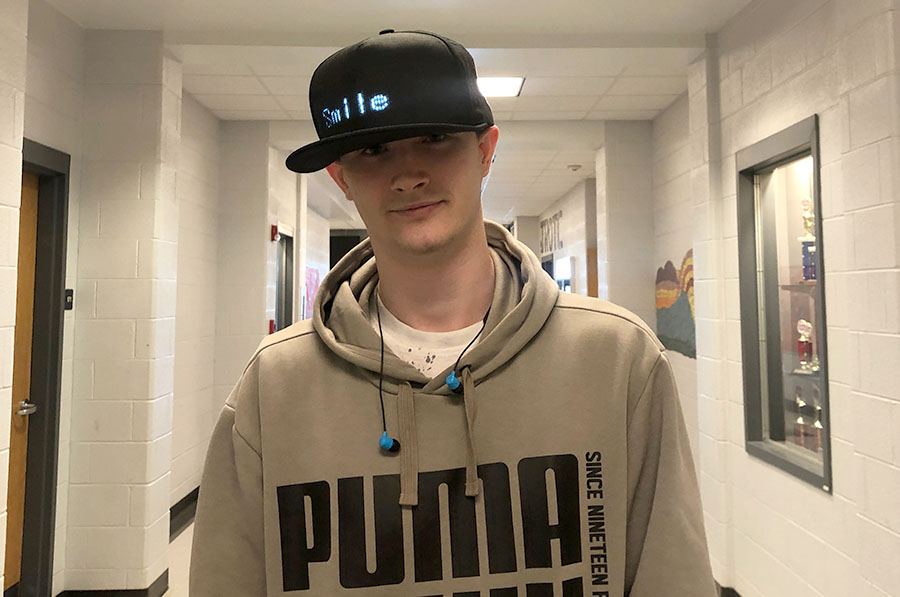 Advertisement
Sophomore Michel Blancher is often found wearing his light up hat around school, displaying a message of how he's feeling or a funny phrase. However, his hat is a fairly new addition to his wardrobe.
"Really what inspired the hat is the whole hip hop culture. [Hip hop is my favorite because] I can vibe with it the best. I like the LED lights because I can display how I feel on the hat and make it display how others feel on the hat. [Sometimes] people ask me [to put something on the hat], if they want it really bad, I'll do it for them," Blancher said.
Blancher ordered the hat from Amazon as a way to associate with hip hop culture when he's not dancing.
"I breakdance in my off time. Growing up, my mom was always dancing. She's the one that got me into dancing," Blancher said.
Although it has always been a part of his life, Blancher has never taken a dance class.
"I've taught myself. [My mom has] been all around the world. She's been to Germany and several other places. I think she mostly learned to dance when she was in Germany," Blancher said.
Blancher's love for breakdancing has also inspired his tast in music.
"I listen to a lot of beat songs, I don't really have a favorite one. [I like] anything that's really fast and upbeat," Blancher said.
Blancher aspires to be a law enforcement official and follow in his family's footsteps.
"I don't really have that many hobbies, but I collect a bunch of war stuff. The majority of my family is involved with the military. I'm going into law enforcement in about two to three years [and I hope to attend] Bridgewater [College]," Blancher said. "[Law enforcement is] a passion of mine because me and my family have been through a lot, so it's mostly the tick that's in my head. I want to protect my family and protect people like that," Blancher said.
Blancher's interest in the military manifests itself in drawing as well.
"I like to draw a lot of things [including] nature and old war scenes. Drawing's one of my favorite things. I'm a very hands-on person. I took art last year. It's a good way to express yourself as well as expressing emotion," Blancher said.