Burgers of the 'Burg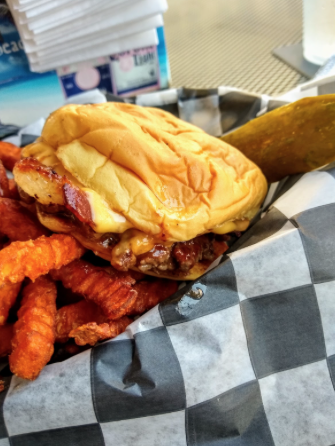 Advertisement
With all the burger options in Harrisonburg, I decided to find out which one was the best. For the past five days, I ate at different restaurants to try out their best burger and rated them on a scale of 1 to 10. I went to Billy Jack's, Cuban Burger, Burger King, Local Chop and Grill House and Jack Brown's on my search for the best burger in Harrisonburg.
The first restaurant I went to was Billy Jack's. The burger I got was called "The Home Wrecker." It cost 13 dollars, was four inches tall and five inches wide and consisted of crunchy potato thins, green peppers, onions, cilantro, sour cream, homemade chili, bacon, and of course, a patty. I feel like for this burger they tried to do too much and didn't execute it perfectly. The patty was cooked perfectly and so was the bacon, although I wish there was more of the bacon. They added too much sour cream on the burger, and it ended up making the bun soggy and the whole burger fall apart. The crispy potato thins did add some crunch, but I think it needed more because the sour cream made everything very sloppy and less crunchy. Also, the burger was overstuffed, so the bun didn't stretch across the whole burger. They either needed bigger buns or fewer ingredients. The chili, however, was perfect. It was seasoned to perfection and had just the right amount of flavor. Billy Jack's is always packed, so the restaurant was very loud. The music is played extremely loud, so if you want a quiet setting to enjoy your food, I would not recommend going here. However, if you want to come with a group of friends, this place would be great. Overall, I give this burger and restaurant a seven out of 10.
The next place that I went to was Cuban Burger. There, I got the burger called the "Buenos Dias." It cost 10 dollars, and it was three and a half inches tall and four and a quarter inches wide. The burger had a bun, crispy french fries, bacon, a beef patty and a sunny-side-up egg. It had some great crunch from the crispy french fries and bacon, but I wish the bun was toasted more on the bottom because it was too soft and fell apart easily. Another problem with this burger is the egg. It tasted good, but I only got two or three good bites with egg in it. It just fell apart the moment that I bit into it. The texture of the burger as a whole was very good, and it had a lot of nice crunch. The flavour of the meat patty and bacon also tasted good. The restaurant is very dark, and at night, it is hard to see. The restaurant is split up into two different sections: the bar and the dining room. This is nice because if you want it to be more quiet, you might want to eat in the dining area, but if you want it to be a bit louder, you could eat at the bar. I would completely recommend this restaurant, and I give it an eight and a hal out of ten.
The next restaurant that I went to was Burger King. I chose Burger King because I wanted to see how fast food restaurants compared to local restaurants. I got the "Whopper" with cheese, and the burger wastwi and a half inches tall, and almost five inches wide. It has beef, lettuce, tomato, mayonnaise, ketchup, pickles and white onions on a soft sesame-seed bun. It cost just over four dollars, making it the cheapest burger I sampled.. This was a very simple burger. It had all the things that a burger needs, but nothing extra. I wish the burger was a little bit taller and had something else to make it unique, though I can't say much else about this burger because it was so boring. The atmosphere of the restaurant, like you'd expect from a fast food restaurant, isn't good at all. The tables are all dirty, the kitchen is super loud, and it was way too cold. It doesn't make you feel good while you're eating. The only good thing about this restaurant is that the food came very fast and was extremely cheap. If you're low on money or need something to eat quick, I can understand why you would go here, but if not, there are plenty of other places that you could eat instead. I give Burger King a three out of 10 based on my experience, but in some situations I can understand going there.
The next place I went to was the Local Chop and Grill House. There, I got the "Chop House Burger" for 11 dollars. This burger had cheddar, onions, garlic aioli, lettuce, tomatoes, a brioche bun and a patty. The burger was almost four inches tall, and four and a half inches wide. This burger also comes with one side. This is a very fancy restaurant, so you might want to wear nice clothing and not talk as loud. With that being said, the burger was pretty good. Just like Burger King, I would have liked a little something extra, but they executed what they did so well that it completely makes up for it. The patty was extremely juicy, the bun was nicely toasted, and they added the correct amount of lettuce, tomatoes and other side ingredients. This will not do anything to the rating because I'm only reviewing the burger and the restaurant itself, but I think it's worth noting that the mac'n'cheese that I got there was the best mac and cheese I've ever had. Overall, it was a great meal, and it completely deserves a nine out of 10.
The final restaurant that I went to was Jack Brown's. The burger that I got was called "The Cowboy." It cost about eight dollars, and it had BBQ sauce, applewood smoked bacon and American cheddar cheese. This burger was two and a quarter inches tall and almost five inches wide. The BBQ sauce worked well on this burger, and all the other ingredients tasted great, but there were only three ingredients other than the bun, so it's hard to mess up. I feel like they needed to take more risks and also add some vegetables like lettuce or tomatoes. It also needed a lot more crunch. One thing I liked about this burger was that it was the only burger on this list that didn't fall apart while you were eating it. It didn't make too much of a mess, and it was a decent burger. The restaurant had some really nice outside tables, but the inside was extremely dark and loud. The music is played loudly, so if you want to quietly enjoy your meal, I would sit outside. If you don't mind noise, you might want to sit inside. Overall, I give this burger an eight out of 10.