Deloney advocates against the world cup being held in Qatar.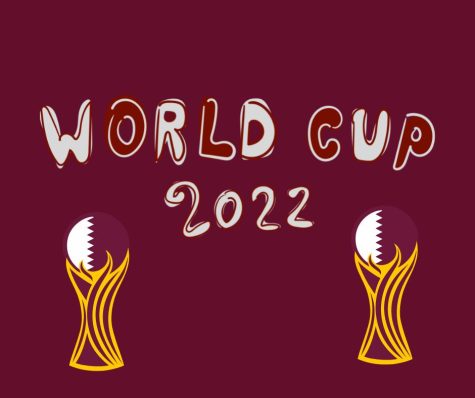 12 years ago, the president of the Federation Internationale de Football Association (FIFA), Sepp Blatter went up on a podium to announce the winner of the FIFA bidding win. He brought out a white envelope, opened it and pulled out a card that said Qatar. Cheering erupted from the Qatar table. After a lot of excitement and hugging, the chairman of the 2022 Qatar bidding, Sheikh Mohammed Bin Hamad Al-Thani, gave a speech. He told the FIFA president that "Qatar would not let them down." 12 years later, the FIFA world cup is being held by a country smaller than the state of Connecticut. 
Over the last 12 years there have been allegations against Qatar of treating migrants who built these stadiums unfairly. 
Junior William Deloney advocates against the world cup being held in Qatar for those reasons. 
"When they chose Qatar in 2010 to build the eight or nine stadiums they needed, they had to take in people [from] foreign countries to build th[em]," Deloney said. 
Deloney describes the situation that the Migrant workers were faced upon when they built the stadiums. 
"They'll put 10 people in a room, a small room sharing a toilet in scorching hot weather," Deloney said. 
Qatar is in a desert climate. It is known for having intense, dry heat with temperatures rising above 113 fahrenheit. Deloney points out that workers were still forced to work in those conditions while the FIFA game was delayed until November because of heat conditions. 
"During that time, Qatar was really hot, 120 plus degree weather. They were still having workers working all day, getting pretty much no pay to build these eight different stadiums, and that's been going on for about 12 years since it was chosen in 2010"
Deloney finds a way to label these conditions. 
"It's considered one of the modern form of slavery," Deloney said. 
The United States launched an investigation against the FIFA organization after the bidding for Qatar. The investigation found that nine FIFA officials were found to be corrupt. Deloney explains that corruption was the only reason the World Cup was held in Qatar. 
"The only reason that Qatar was chosen is because of bribery. The United States did an investigation and found that they were each paid a million dollars, so they were bribed to choose Qatar. That way Qatar would get the massive boost of media from the World Cup," Deloney said. 
Deloney thinks of FIFA as a corrupt organization that has done controversial things in the past. 
"FIFA as a whole is an incredibly corrupt organization. It has had ties to fascist countries all the way back since its beginning. The second FIFA was held in Mussolini's Italy," Deloney said. 
Since the beginning of the world cup, students have been putting their attention on the game. Deloney recognizes the popularity of the World Cup but at the same time he recognizes a need for awareness and advocacy. 
"It's completely fine to support soccer and the sport, especially whatever team you want to win in the World Cup, but we should not be actually supporting FIFA," Deloney said. 
Deloney condems bringing hate to players or teams who are playing in the World Cup. 
"We should not be hating on any of the teams or the players for any of this, because it's not their fault. We should direct all of that towards FIFA, and make people aware of this because this sort of thing has been going on in Qatar. It shines a light into what is actually happening and what has been happening not just right now but has been for many years," Deloney said. 
Abusing migrant workers was not the only controversy this World Cup has faced. The banning of LGBTQ+ activities by Qatar has also been discussed. Deloney advocates against these bannings. 
"They charged people with jail time for LGBTQ activities. This is unacceptable, not allowing the players to express themselves and support different groups with the armbands they wanted to wear," Deloney said. 
The World Cup will be going on until December 18th. During this time many families of migrant workers are asking FIFA to compensate or pay back the migrant workers for the abuse they withstood over the years.