Morgan Wallen thrills crowd at Rockingham County Fair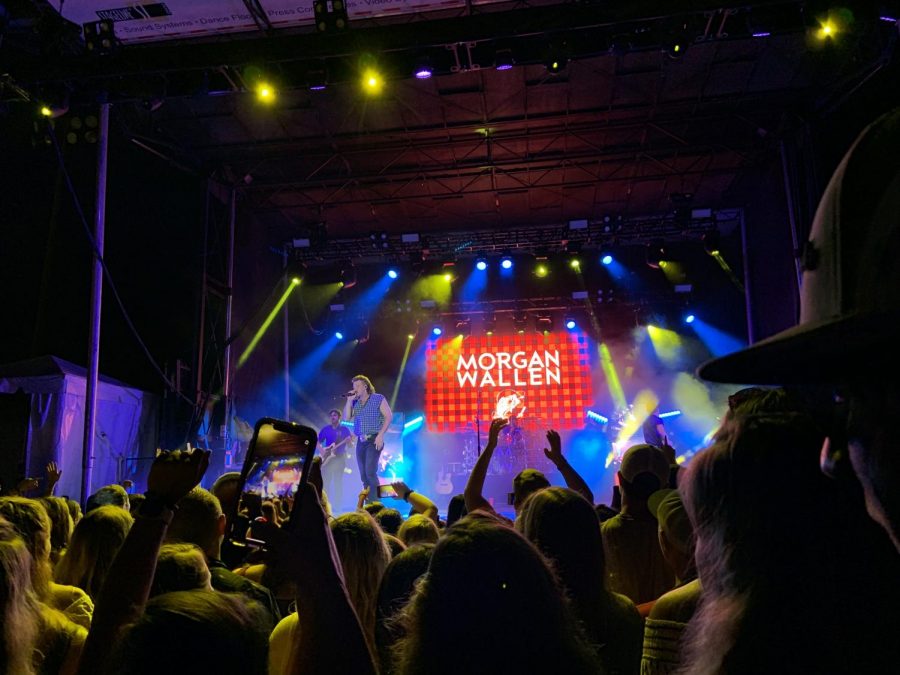 After a severe thunderstorm at the Rockingham County Fair on August 13, that left concert-goers soaking, thousands persevered to see up and coming country star Morgan Wallen. Wallen has racked up 4.5 million listeners a month on Spotify after the release of his latest album "If I Know Me" in April of 2018. Two of the most well known songs off of the album include "Whiskey Glasses" and "Up Down" featuring Florida Georgia Line. Each song has more than 95 million streams on Spotify.
The Hackens Boys opened, a local band from Bridgewater opened for Wallen. They performed some of the songs on their new album including "On The Run". Finally, at 8:47 p.m, three guitarists hit the stage, shredding with smoke pouring out into the audience and strobe lights flashing. Then, Wallen came running on stage with his signature checkered, sleeveless MW tank top. He screamed, "Harrisonburg, Virginia! What's goin' on baby?" He got the crowd rocking early, opening up with "Whatcha Know 'Bout That," "Happy Hour" and "The Way I Talk".
The standing area in front of the stage was full of phones and hands in the air. Tickets to the up close and personal experience cost $5 more than the grandstand seating in the way back (which I was stuck in). The bleacher seating was just as energetic as the people in the front though, with a fair amount of people standing as well. Wallen then slowed things down with "Redneck Love Song", "Had Me by Halftime" and "If I Know Me", all of which were from his new album.
Then, at 9:13 p.m, everyone's dreams came true. Wallen seemed to sense the hype building up for the first half of the concert for him to play a particular song. He introduced the song for about a minute, thanking everyone for supporting him through this song. People knew what was coming once Wallen said, "…and if you've ever had a heartbreak, sing along with me." He launched right into the bridge, "Line 'em up, line 'em up, line 'em up, line 'em up" and the crowd went crazy. The crowd screamed back "Knock 'em back, knock' em back, knock 'em back, knock 'em back" and "Whiskey Glasses" was in full throttle. "IMMA NEED SOME WHISKEY GLASSES, COS I DON'T WANNA SEE THE TRUTH" echoed across the entire fairground.
Wallen slowly brought people back down to Earth with "If I Ever Get You Back", his new hit single "Chasin' You" and "Cover Me Up". After, Wallen introduced his band and told the crowd that they had played shows for 10, 20 or 30 people who "didn't really give a sh*t if we were there." After he was done introducing the bass player, he said, "But this looks like a lot more than 30, and y'all give a sh*t," and got everyone laughing.
After the last chords of "Cover Me Up" were strung, the country star thanked the fans for letting him get in his feels for a little bit and then started rapping "In the End" by Linkin Park. He then launched into other non-country songs like "Life In the Fast Lane", "You Give Love A Bad Name" by Bon Jovi and "Pour Some Sugar On Me" by Def Lepard. I would say the intensity during that mash up almost matched that of Whiskey Glasses. However, many people who had bought tickets didn't see this side of Morgan Wallen because they left after "Chasin' You."
Little did everyone in attendance know, Wallen actually wrote Jason Aldean's hit "You Make It Easy" and asked Wallen if he could use it on his album. The rest is history, and everyone had their arms around each other swaying during his rendition. Finally, MW closed with his first song to ever go #1, "Up Down". Much to my dismay, he didn't bring out Florida Georgia Line, but it was still the perfect way to end an amazing set.
Maya Waid