Snowcapella returns, rehearsals begin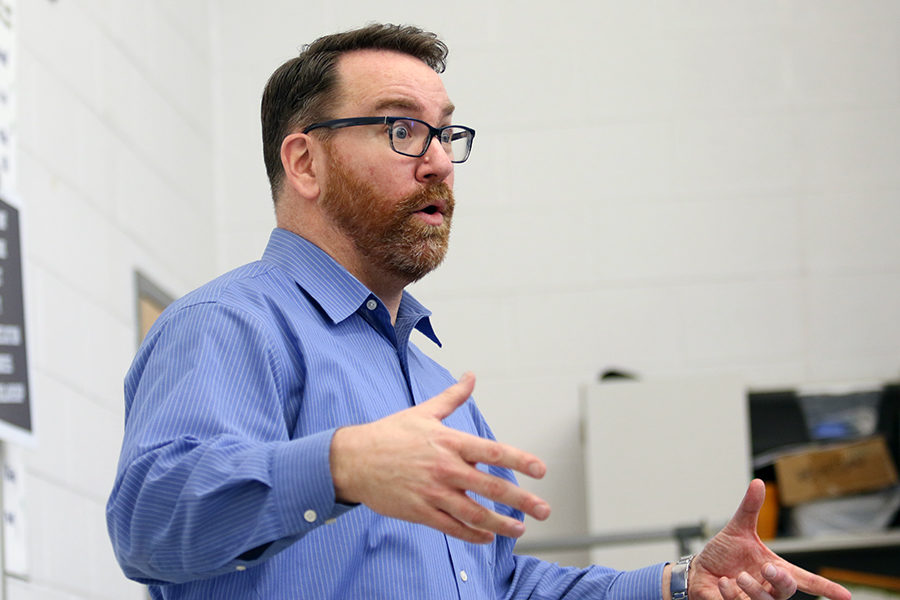 After a one-year hiatus, Snowcapella is back. Fine arts coordinator J.R. Snow, who leads the a cappella group, wasn't out of school for much of last year with an injury, but he's back this year and ready to perform.
"I love a cappella," Snow said.
Snow's has been involved in a cappella ever since his days at JMU, where he started an a cappella group of his own. At all the places he has taught (Richmond, Northern Virginia and HHS), he's led a student a cappella group.
"It's a great way to introduce [students] to a different musical genre that they can participate in at the collegiate level and beyond," Snow said.
Senior Julia Inouye first participated in the group freshman year. Above all, she enjoys the modern feel of a cappella.
"A cappella is a more contemporary and poppy, so you get to play with different parts of your voice that you wouldn't otherwise," Inouye said.
Inouye also sings in the musical and choir, which are very different from a cappella. For one, Snowcapella has fewer members than the musical cast or the choir.
"It's a very small group, so you are very individualized," Snow said. "You are heard."
And of course the music is different.
"We go anywhere from pop rock to RnB soul. We've done Train. We're doing 'Greatest Showman,'" Snow said. "We've done Bruno Mars. We've done 'Footloose,' Kenny Loggins's old eighties-style stuff. Anything works in a cappella."
Much of the selection process for what goes into the show is student based. All of the arranging is done by Snow himself.
"I really want student leadership to say, 'Hey, we want to do this Mr. Snow.' And then I'll make that happen," Snow said. "It's a matter of finding a piece that we're all excited about and that the voices match what we have."
One of those voices is senior Isaac Mast. His experience with a cappella goes back to his time at Eastern Mennonite High School (EMHS), where he attended before coming to HHS. He appreciates Snowcapella's unique feel.
"I'm a big fan of [Snowcapella] because it's more contemporary, and a lot of what we did at EMHS was more like a small ensemble," Mast said. "It wasn't modern a cappella."
For Mast, the most difficult part of a cappella is its lack of accompaniment.
"A cappella is inherently difficult just because you don't have any instrumentalists to back you up," Mast said.
For Snow, the turn around between musical and Snowcapella's performance at the Forbes Center – just four weeks – is difficult logistically. Almost all Snowcapella singers are also in the musical.
"You have to have a certain set of skills to be able to move as quickly as we need to," Snow said.
Overall though, Snow's job is made easy by all the training Harrisonburg singers go through.
"I have the luckiest job in the world," Snow said. "I go: 'Hey, all you well-trained singers, let's get together and have some fun.'"