One Act casts Inouye, Cummings as opposites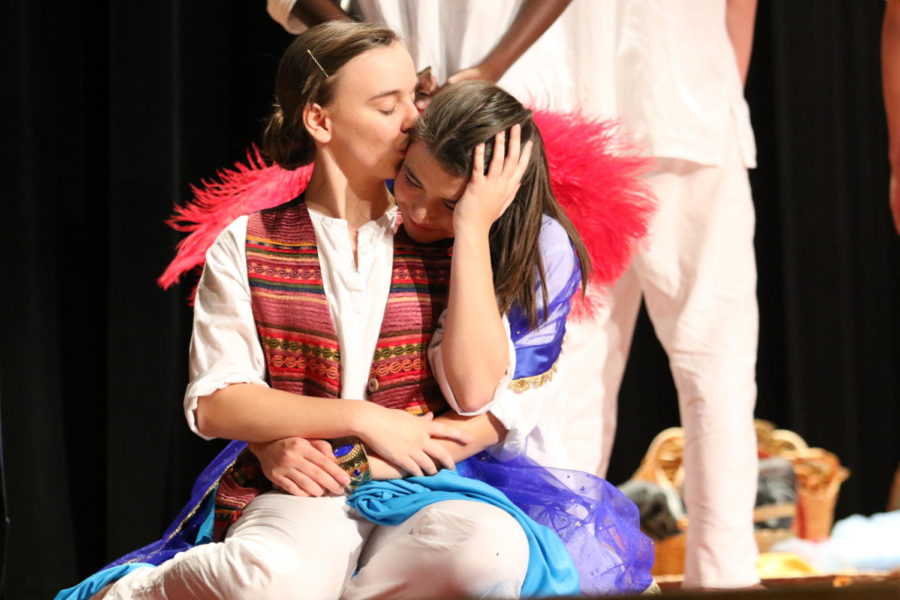 In Buddhism, one must let go of themself before reaching enlightenment. In acting, one must let go of themself before becoming a character. When cast as love interests Siddhartha and Kamala in this year's One Act Siddhartha, both junior Kate Cummings and senior Julia Inouye embraced the concept and ran with it.
"[The romantic relationship] is obviously not real," Cummings said. "Though being in love with a woman may seem a lot different from being in love with a man, for me it's not Kate who is in love with [Kamala], it's my character."
Though Cummings was cast in a role built for a male actor, she believes the stage chemistry between her and Inouye will make up for what lacks in gender.
"I'm really excited to show people that it doesn't matter what kind of person you are outside a show, whether the gender difference, whether the type of human being, it isn't you up on that stage," Cummings said. "It's the character."
Inouye's character Kamala, a high status courtesan, is on a very different level than her counterpart, Siddhartha. This furthers the crack between actor and character. And beyond that, character and character.
"[Kamala] is a courtesan, [so] she is a different level. She is interacting with many people constantly. She has her servants and people who see her and her profession, physical pleasure," Inouye said. "That is very different from the other characters."
Though Siddhartha was originally intended to be portrayed by a male, after seeing the chemistry between Inouye and Cummings, director Ken Gibson believed the character fit his vision for the play more. Gibson saw Siddhartha's journey to find enlightenment as an opportunity to explore the world, including the art of love. As demonstrated by Cummings and Inouye, their connection strengthened his ideas.
"Reading and thinking about [the play] more made it seem like the play was more universal than just being linked to one gender. It became more of a spiritual thing than just one guy's story," Gibson said.
Gibson also believes the chemistry between the two characters can continue to build and expand until the whole story is more than just a simple relationship between a Samana and his mistress.
"It starts with the commitment level [of Cummings and Inouye]. Because they are so committed to embracing those characters and forgetting about the gender of those characters, it allows the rest of the cast to follow suit and give themselves to everything else as well," Gibson said.
That commitment level of Cummings and Inouye stems from their desire to play opposite of each other for such a long time, never really believing it could come true.
"Kate and I decided early last year that it was our life goal to play opposite each other," Inouye said.
Similarly, Cummings knew that the relationship between the pair would add to the creative process of building a show.
"We work really well together on and off the stage and feel very comfortable with each other. We aren't afraid to try new things on stage and take risks with one another," Cummings said. "We trust each other and that is the most important part of working together."
Inouye and Cummings not only hope to perform the unique show in a creative way, but they hope to also leave the audience with the takeaway of being blind to genders.
"I'm excited for the audience to see that even though I'm not a male. In the show I can completely forget about Kate for a little bit and just be in love with Kamala," Cummings said.