McGrath explodes in defining indoor season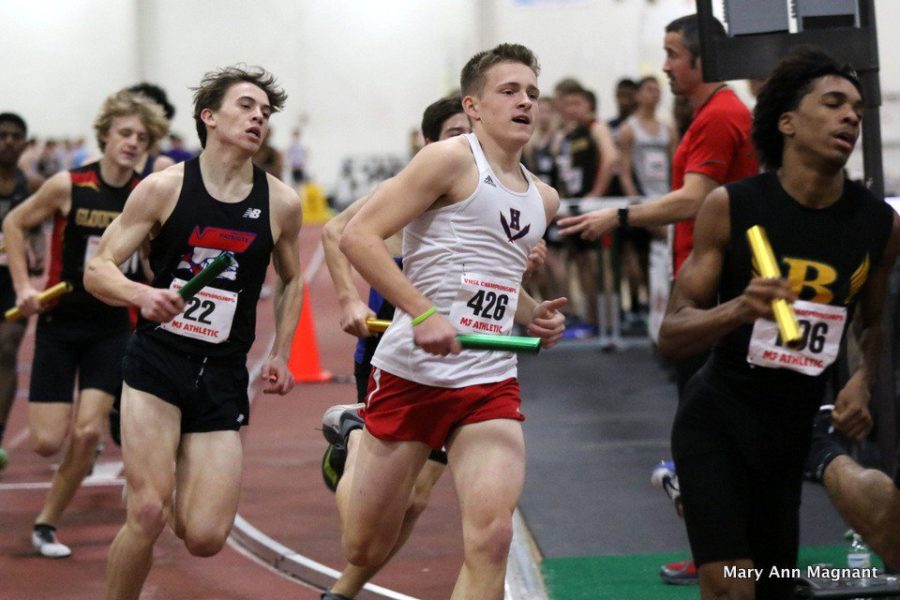 For junior Tucker McGrath, running is mental in both senses of the word. Obviously, it's a sport of psychological strength, but it can also drive you crazy.
This is especially true when you just can't seem to drop time no matter what you do. McGrath spent his cross country season battling this dilemma.
"Mentally I just wasn't there for the races I needed to be there for," McGrath said. "I let myself get into an emotional pit, and I didn't pull myself out of it, so I just dwelled on all my issues."
But as summer waned and indoor track season rolled around, something clicked for McGrath.
"I came [into indoor track] off a really bad cross country season and not really being in love with running anymore," McGrath said. "I tried to pick myself up and pick up the dust, and the times just started coming."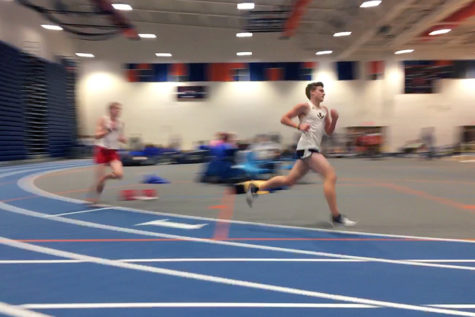 First it was a sub-five minute time at the Liberty Premier Invitational. Then it was sub-4:40 at the Bulldog Invitational. By the end of the season, McGrath had dropped over 35 seconds in the mile and been crucial in the 4×800 meter relay's state qualification.
"I just fell back in love with running," McGrath said.
Coach Jerry Hertzler witnessed this transformation.
"He just came in really focused to do well in indoor this year. I don't how this played into it, but I know last year he was the fifth man on a four-person relay, and he didn't want to be in that situation again," Hertzler said. "It's that season that's been waiting to happen… that big-time breakthrough season."
The culmination of much of that season happened at regionals. One of the first races of the day was the 4×8, which McGrath led off. Six-odd minutes after McGrath's leg finished, McGrath and the team were officially headed to states.
"Not going to lie, I teared up a little bit," McGrath said. "That's something I've been chasing since freshman year, and I've been close a couple times. It's been the big driving factor behind all the work I've put in, so it was definitely a big moment."
However, the day wasn't all happy. McGrath teared up for a second time after missing qualifying in the mile. The moment was made even more bitter because he'd missed qualifying for states by time by one second in the two previous meets.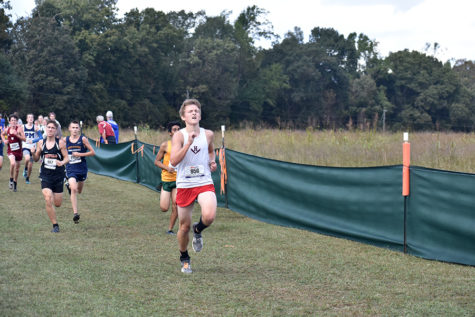 "It's really hard to be disappointed with myself because I did drop 35 seconds, and at the start of the season, I wasn't even thinking about qualifying by time," McGrath said. "But it was also really frustrating because twice in a row I ran one second too slow… I took a step back and was like, 'You know what, it's been a great season. I really can't be frustrated with this.'"
Sophomore David Beck was able to qualify for states in the mile by time, running only one second faster than McGrath.
The rivalry between Beck and McGrath for the top mile spot exploded this year with McGrath's dramatic drop in time. The pressure was on for Beck.
"It keeps you wanting to be faster. You always want to be that first spot," Beck said. "You never want to let the other person get to your place. It's a good way to stay motivated and never back down from what you think you can do. [However, while] you might be against each other during the race and not working as a team, it's important to understand that you are teammates."
Their rivalry stops in the 4×8 relay that Mcgrath leads off and Beck anchors. Overall, Beck sees McGrath as a team player.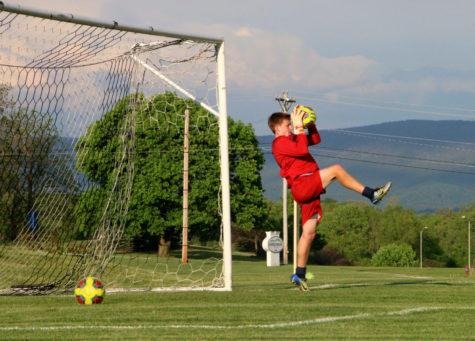 "He's definitely helped make it more of a team sport," Beck said. "When I'm down or have had a bad race, he's always there to pick me up and give me a pep talk."
McGrath was a captain this year for both cross country and indoor track, a role Hertzler thinks fits well with McGrath's attitude towards running.
"From my point of view, he's got a good mix of trying to do what's best for the team and also trying to achieve his personal goals," Hertzler said. "People ask, 'You made your guys run that?' I'm like, 'I can't make anybody run anything.' It has to be internal motivation."
That drive is what has propelled McGrath through cross country and indoor seasons, but he usually cuts his running short in the spring by playing soccer. That will not be the case this year.
Obviously, Hertzler approves of the decision.
"Somebody else's loss is my gain," Hertzler said. "He can be one of the top, elite runners on the track team, enough said. I don't know what that means for soccer."
In McGrath's reasoning, doing outdoor will not only give him another shot at state qualifying but also prepare him for cross country next year.
"My life revolves around running: how I eat, how I sleep, things like that," McGrath said. "It doesn't make any sense to not run [outdoor] when I'm running close to state qualifying times."
For Beck, the commitment is a relief.
"I think it's the best decision he's made in his high school running career," Beck said. "We've got to qualify for states together in the 1600. That's a big goal… I hope he just keeps doing what he's doing…because he's been vital to our team."