Sneller enjoys role in Legally Blonde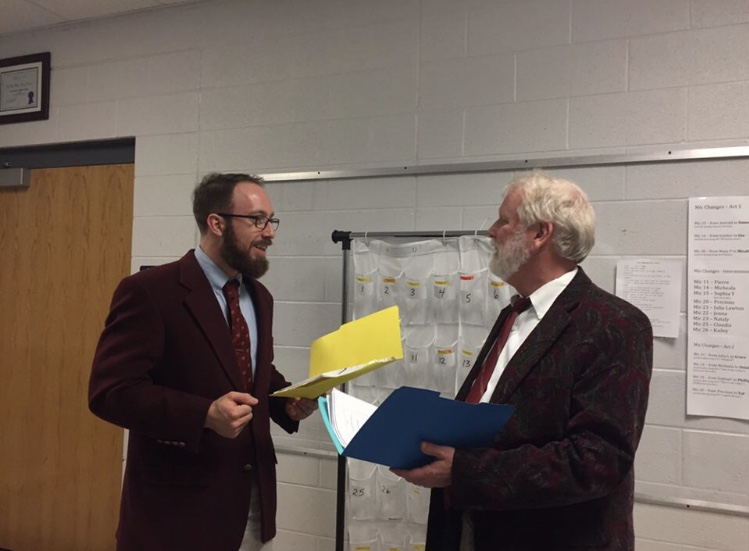 Advertisement
With elementary and middle school theater experience, science teacher Erich Sneller will be making his first debut in the upcoming musical, "Legally Blonde". Sneller has always been a theatrical person and was asked to be part of this year's production by playing a member of Harvard's admissions council.
"I technically didn't audition. I was just asked and was allowed to perform. I used to act in elementary and middle school, and I absolutely loved theater, so it just seemed like a very awesome opportunity to be able to do it now as an adult," Sneller said.
Sneller balances his time between school and the musical by prioritizing the activities he cares for, especially the musical.
"[With my after school time and the musical], I just prioritize it because I care about it. Then I just make sure that I get my other things done. Practically speaking, I have a planner and those things in place, but I just make time for whatever I care about. In this case [the musical] is something I care about," Sneller said. "In the beginning, I was not given a whole lot of directions for as what my character's role was going to look like, so they just said we're just going to go with it and we'll see what you come up with, which was cool but also what do you want me to do, and how do you want me to say these lines? But it's getting a bit better now. By the time we perform, we'll be ready to go."
While he does play a role in it, Sneller, in fact, has never seen the Legally Blonde movie. Rehearsals only require him to attend the scenes he's part of, keeping him from fully seeing how the plot is.
"[When] we're practicing, it's like this whole universe that's being created there that everyone is so present in. The [students] are doing a lot of stuff, but as for me, it's been like a handful of practices and reading over my lines a little bit. [My goals for the musical are] to do the best that I can and be one hundred percent in it, enjoy it and show up to [be] the best that I can," Sneller said.