O'Fallon fights through injuries, commits to Mary Washington soccer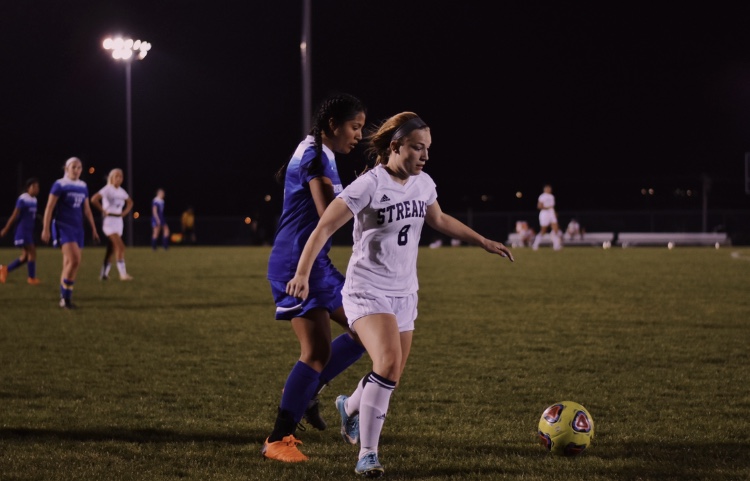 There were only two options for senior Mikaela O'Fallon after tearing her ACL for the third time: give up or keep fighting. After lying on the hospital bed after each surgery, O'Fallon refused to give one answer specifically, and that was to give up on the one sport she loved most: soccer.
O'Fallon was six years old when her parents enrolled her into recreational soccer. She and her family moved from Pullman, Washington to Harrisonburg in 2006 when her father was in the middle of his PhD program and received a job at James Madison University. O'Fallon participated in gymnastics while living in Washington, causing her to immediately be immersed into sports. Her father also played sports, which contributed to her early involvement of being an athlete.
"I think he wanted a boy, and I was [the first child], so he put me in sports and I've been playing ever since I could walk," O'Fallon said.
She continued to play soccer after transitioning from a recreational team to an academy team. When high school started, O'Fallon joined the varsity soccer team her freshman year and also earned a spot on SOCA, a travel soccer organization based in Charlottesville. Although O'Fallon has had a diverse athletic background that also includes basketball and indoor track, soccer has always stuck out to her the most.
"I like playing with my feet," O'Fallon said. "I don't like dribbling [a basketball], [and] I'm not very hand-eye coordinated. I'm better with my feet."
One challenge O'Fallon faces in soccer is training. Playing on two seperate teams and balancing each practice and game, O'Fallon aims to improve during every training session.
"As you get older, the trainings get harder and you're always pushing yourself. My biggest challenge is getting into shape because running sucks [and] conditioning sucks," O'Fallon said. "I try to work on my skills as much as I can, so when I can't get it, it really bothers me. It's hard to do a move and I don't get it, so [I] just have to keep practicing."
Assistant Athletic Director Kristen Lovell joined the Streaks last year as an assistant soccer coach. Upon her arrival, she made a tight connection with O'Fallon as she watched her grow on and off the field.
"My first impression was that she is a very loud person. She is very out there; however, she is a leader. She has been the captain on the soccer team [since last year], so she's a good leader for us. She's always there to help others in the classroom, outside of the classroom and on the field," Lovell said.
Taking the role of captain for the girls varsity soccer team is just one accomplishment O'Fallon has achieved. Although this leadership spot was given after years of hard work and dedication to the team, O'Fallon might have not been in that position due to her past.
It was during a soccer game in her eighth grade year when O'Fallon first tore her right ACL. After surgery and being cleared for a month, O'Fallon tore her right ACL for the second time during another soccer game before her freshman year. After tearing two ACL's, O'Fallon was automatically prone to tearing her left ACL, which soon happened during a basketball game in her sophomore year. Tear after tear led to surgeries and frequent checkups, leaving O'Fallon to miss out on practices and games for the sake of her recovery. Through it all, O'Fallon considered each tear to take her down not only physically, but mentally as well.
"I definitely doubted a lot of things when I was going through my surgery… Everybody was telling me that I shouldn't play again, but that made me stronger because I wasn't going to let someone end my [soccer] career," O'Fallon said. "I was going to end it myself, and I was going to tell myself when I'm not going to play soccer anymore. I'm not going to have someone else tell me when it should end."
Truly getting back onto the field during her junior year caused O'Fallon to realize that friends, families and coaches helped her throughout her soccer career. If there was one person who truly stuck by her side after each win, lost and surgery, it was her father.
"He knew deep down my college dream [of playing soccer] was over [after tearing each ACL], but he never gave up on me. He would always push for me… He [hoped] I had a chance to play [in college]," O'Fallon said.
The dream of playing soccer in college came true for O'Fallon after she recently committed to Division III school University of Mary Washington (UMW). O'Fallon had looked into JMU, EMU and Bridgewater, but nothing felt more like home than when she visited UMW for an overnight stay with the girls soccer team.
"I fell in love with campus right when I was on it. It is not huge like JMU, but it's not tiny like Harrisonburg High School… I did an overnight [stay] and I was with the girls, and they were just such a warming team that I loved," O'Fallon said.
Guiding her during the recruiting process and commitment decision, Lovell believes O'Fallon's skills and personalities will be a unique contribution to the UMW women's soccer team.
"The things that stick out the most would be on the field when she has a free kick and scores from 20 yards out. She's done that quite a few times, probably two or three times that I can remember that were really beautiful goals. She's always joking around at practice," Lovell said. "She keeps everyone in good spirit."
Now that her dream of playing college soccer has come true, O'Fallon hopes to earn playing time going into her freshman season.
"I need to earn my spot," O'Fallon said. "I need to earn a position on the field when we're playing, so that's definitely my goal."