When junior Elaina Jones learned how to make friendship bracelets, they never expected to have made 100 to 200 bracelets. Near the start of their sophomore year, Jones also began to crochet and knit. Doing these crafts was not only good gifts for friends but they learned to use them to improve their mental health when the stress from school began to set upon them. 
"Making bracelets and doing other crafts is a really good way to get my mind off of school when I'm stressed. It makes me feel like I'm being productive without stressing me out trying to complete completing work. It's really helpful to be able to finish something and see the finished product right in front of you," said Jones. 
Jones wanted to create bracelets after seeing bracelets being made in a summer camp. From resources on YouTube and patterns on braceletbook.com, they began spending hours at a time creating bracelets. 
"A lot of the people were making bracelets that I thought looked cool. No one wanted to teach me, but there was string there, and I watched how they were making them. When I got home, I looked up a lot of tutorials on YouTube and taught myself how to make them, with far more detail than the ones at the camp were made with," Jones said.
Making bracelets was a cheaper alternative to buying bracelets of the same quality that they make it in. 
"There's more satisfaction in making it yourself than just buying it from someone because you did that even if you can point out all of your mistakes you still did it. You can make it exactly like you want it if you're the one making it," Jones said.  
Jones wears their bracelets every day, and it became a part of their identity. They often wear the same bracelet until they get tired of it or it breaks off, only to take it off to shower or to wash the bracelets. Wearing it shows off several hours into the craft. 
"It's become a habit because of how much I have worn them in the past," Jones said. "Wearing bracelets is also a comfort thing for me. It gives me something to fidget with if I need to. I've been wearing them for so long and it would be very weird to not wear them." 
While making bracelets, Jones had found things to listen to. This includes podcasts, T.V. shows and movies.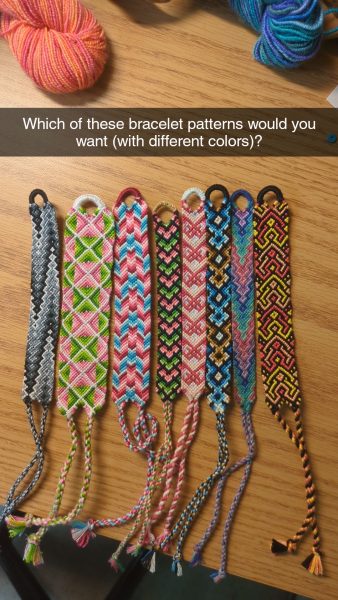 "What I do when I'm doing crafts depends on my mood. Sometimes, I'll listen to music. Other times, I'll watch shows. Sometimes, I'll craft while studying, like watching a review video, and I've even made bracelets in class because it helps me focus on what the teacher is saying," Jones said.
Although friends have encouraged Jones to set up an online store, they prefer to continue making them as a hobby. If they were to begin selling their crafts as a business, they fear it would only create more stress. 
"I occasionally sell them in person if someone sees me making one or likes ones that I'm wearing. They'll ask me to make one for them, and I'll give them a price. I just don't typically advertise it at all," Jones said. "I also feel like selling them would make it feel more like a job, and it would be harder to make them."
At the start of this school year, Jones took advantage of their piles of yarn and began to crochet and knit to make clothes. They plan on learning how to make other things as well. 
"I like the idea of making my own clothes," Jones said. "My grandmother used to crochet a lot. She doesn't have the full function of her hands anymore, so she couldn't teach me, but she gave me a lot of patterns." 
Similarly to the bracelets that they've made, they'll use the things they created to gift to friends and family. It's a way for them to give their friends and family a gift made with love without spending too much money. 
"I feel like once I get good at these crafts, it will be very easy to make a lot of different types of gifts, and I really enjoy making people gifts," Jones said. 
Knitting and crocheting also give Jones a break from their daily tasks to do and create something they enjoy. 
"It's a good way to take a break from doing a craft I've been doing for a long time and to try something new. It's really helpful learning something new in between doing school work because it gives me a break," Jones said.