Strickler awarded HHS Teacher of the Year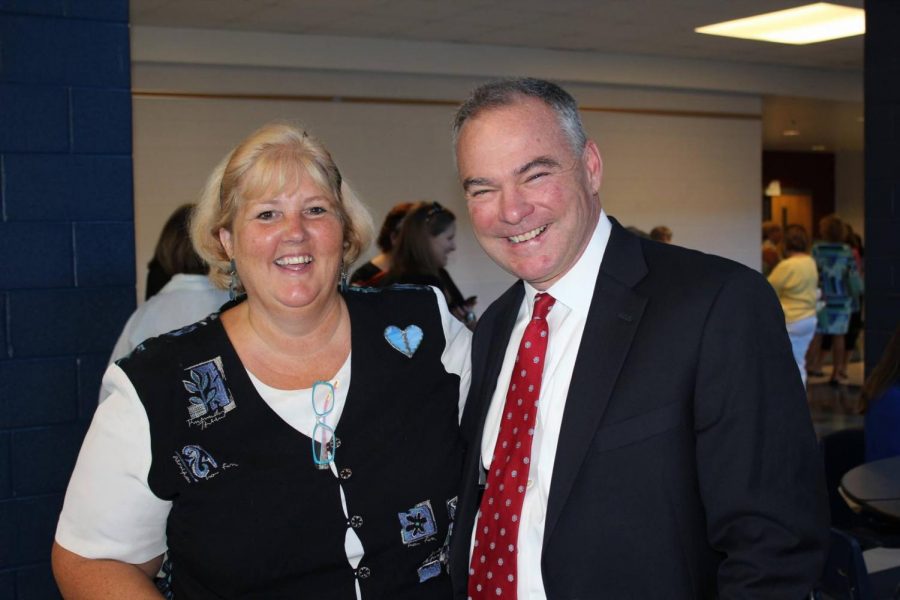 After teaching for 38 years, 36 of which were spent at HHS, English teacher Mary Strickler was named the school's 2020 Teacher of the Year. For this award specifically, teachers nominate other teachers who they believe deserve to win each year. The teachers who are nominated multiple times are put on a final ballot until one is ultimately chosen to win the award.
"Many awards that teachers get, they have to apply for themselves. This award was out of the clear blue, I didn't nominate myself," Strickler said. "What my peers wrote about me is priceless, it means more to me than winning an award, just to know they hold me in high esteem is a king's message."
During the 2018-19 school year, Russell Wilder was named Teacher of the Year, even though Strickler had many nominations. Because of this, she was not expecting to win this year, but was excited to see her name appear as one of the teachers on the final ballot prior to being chosen as the winner.
"Teachers who nominated me sent me copies of the blurb they wrote, which was really sweet; however, I did not think I would make the ballot [because] last year I had ten to twelve essay nominations and didn't make the final ballot, so I was just thrilled to be on the ballot when it came out," Strickler said.
In addition to winning Teacher of the Year, Strickler has also been honored with many other awards in relation to advising the yearbook staff and teaching English throughout her career.
"[One of the biggest awards I have received] is the National Yearbook Teacher of the Year that I got in Anaheim, California in May 2019, [but] there have been a ton of school awards also," Strickler said. "I do have more spring in my step these days [because] just like students, positive feedback not only validates what you are doing but also makes you want to try harder."
Becoming a teacher, however, has not always been easy for Strickler since none of her family members are teachers.
"All my family [members] are preachers, [so] I was the black sheep of the family becoming a teacher," Strickler said. "One day my dad took me aside and said, 'Mary, I have my congregation for an hour a week, but you have teens every day, Monday through Friday. You are the one on the front line making a true difference.' I often think about that."
Over nearly four decades of teaching, Strickler has had the opportunity to teach the children of her former students; however, after looking at her roster for her first semester English 11 Honors class, she soon realized she was now teaching junior Makai Organ, a grandson of one of her former students.
"I've taught scores of children where I taught their parents, but now I'm teaching grandkids. Makai is my first, [so] I'm excited and ready to start on the next generation of kids," Strickler said.
Since completing his semester class with Strickler in the fall, Organ is now a Teacher's Assistant for Strickler's English 11 Honors class and can remember the moment he found out Strickler taught his grandmother.
"[Strickler] was so excited because she has taught more than one generation, and that just shows how dedicated she is to teaching," Organ said. "She really treats her students as her own by [doing things like] occasionally bringing them food and just being a person you can talk to about anything. Her personality is just amazing and I am proud to say that I am the first grandchild she has taught. She is truly my favorite teacher."
Throughout this school year, the connection between Strickler and Organ has helped the year go by more easily with less stress.
"Every day I walk past her class, and [I] see her [and] yell her name. She responds with 'whoop, whoop." It makes her day that I do that, and when we are together in her class, it's always a positive vibe," Organ said. "We can just talk and laugh together. She has made junior year less stressful for me by providing a wonderful, safe workplace. It's always good to have strong relationships with your teachers, and Strickler tries to make one with each and every student she teaches."
After teaching for as long as Strickler has, colleagues and students may assume retirement is on her mind, but it isn't, despite teaching being a challenge every day.
"Teaching is the hardest job you will ever love," Strickler said. "I keep a saying from Mother Teresa on my sun visor and I am reminded every day: 'I alone cannot change the world, but I can toss a stone and watch the ripple effect.' That's what I believe and how I try to live my life."