Wilder named Teacher of the Year, reflects on teaching journey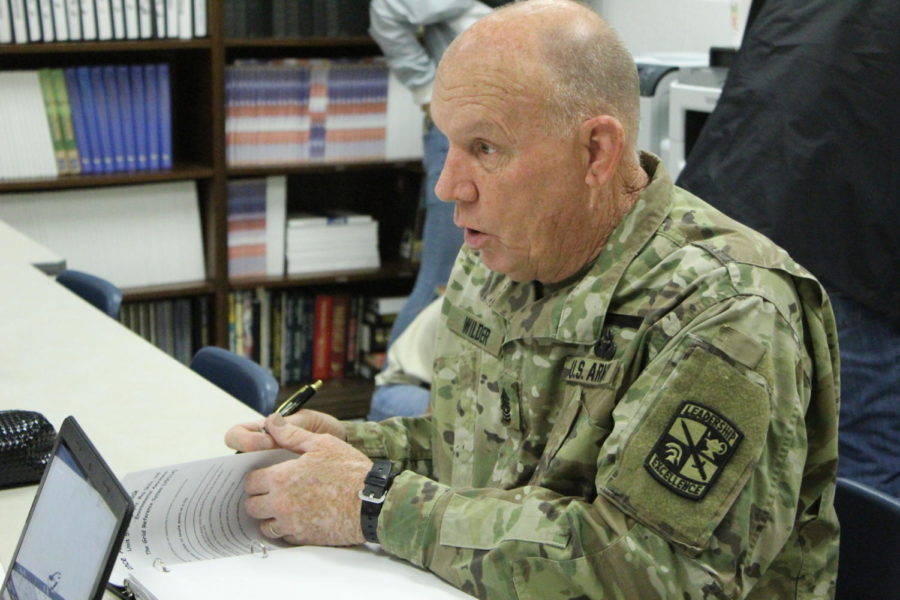 Advertisement
Teacher, father and Command Sergeant Major are the three things to describe of the 2018-2019 Teacher of the Year at Harrisonburg High School. After nominated for this prestigious title, Russell Wilder was named Teacher of the Year. Soon after hearing the news, Wilder felt a moment he had been waiting for after years of teaching at HHS.
"I thought after all of these years of teaching, being the Army guy, these other teachers have finally accepted me as one of them. I was accepted by my peer group and appreciated… In this building, the teachers here are incredible, and to know they said 'Hey, Sergeant Major, you're good,' that was the wow moment," Wilder said.
Wilder's journey as a Blue Streak began seven years ago when he left Bassett High School in Bassett, Virginia. He worked as a teacher and football coach and then later transferred to HHS.
But before even working in education, Wilder held a different life. He had served in the military for 26 years and then later worked for Southern Virginia University. He then moved to Natural Bridge, where he worked as a juvenile officer. While Wilder has gotten a feel for multiple jobs throughout his life, he believes the most interesting of all jobs is in a classroom.
"Getting up every day and coming to work is like Christmas… You always have that present that you can't wait to open until Christmas, well it's like that everyday because when you come to work you're wondering 'who or what?' [and] 'what's going to happen or who's going to change that day?' Wilder said.
While Wilder spends the majority of his day at school, his life is different as soon as he heads back home.
It was five years ago when Wilder and his wife had taken legal custody of their three grandsons. After their daughter-in-law had left her three sons on Wilder's porch and their father began suffering severe Post Traumatic Stress Disorder (PTSD) and Traumatic Brain Injuries (TBI), Wilder took matters into his own hands. Since then, his three grandsons have lived with them where he takes care of them as his very own.
"It makes [home] warm again. Is it hard? Yeah. But man is it fun. It takes all my time between baseball, basketball, everything they do. When I get home, we're heading to either baseball practice, basketball practice, something that they do… I'm the oldest parent in the bleachers, but probably the proudest," Wilder said.
One of the things Wilder values about being a Blue Streak is the time he gets to spend with students. After transitioning from Bassett to Harrisonburg, Wilder noticed the differences in his environment.
"I got here, and I met the kids. I saw the struggles they go through; trying to be a Dreamer, trying with DACA, trying to get the same privilege I have [of being a citizen]… I would rather have one Harrisonburg kid over all of the kids I had at Bassett High School," Wilder said. "The struggles they go through is different, and where they come from is different. When you listen to their story, it's heartbreaking, and to know that they started here and now they're [up], it's incredible. It's easy to love Harrisonburg kids."
Working side-by-side every day and deciding which moves to execute next with the students, Colonel Roy McCutcheon has found working with Wilder to be a rewarding time. McCutcheon met Wilder when he was still the army instructor at Bassett High School and later had the opportunity to work together after a previous army instructor at HHS had resigned. Since then, McCutcheon has seen Wilder hold a unique relationship with students compared to his other colleagues.
"He's authentic. There's nothing fake about Sergeant Major Wilder. He tells it like it is [and] doesn't hide any feelings. He cares about the students…The students respect him because he tells them the truth. If they're doing good, he tells them they're doing good," McCutcheon said. "If they're not doing so good, he calls them out and tells them they're not doing so good. They understand that the reason he's telling them is for their own betterment. It's not to make them look bad. It might be critical, but it's constructive criticism."
Finding Wilder as more than just a teacher, senior Guillermo Lopez is a student in JROTC who finds Wilder as a father figure as soon as he walks into school. With two parents who are busy all of the time, Lopez has found him to fill in the gap.
"He's like a protector. He's like a dad to me. He looks out for me. It doesn't matter where he goes… he's always talking about me and how I changed his life, but, in reality, he changed my life," Lopez said.
Lopez joined JROTC his sophomore year, where he constantly found himself timid around Wilder. After years of getting to to know him and growing in the program, Lopez is now Sergeant Major in JROTC, where he finds himself going after what Wilder has taught him.
"I've always tried to be like him. Not be tough and rough, but when you get to know sergeant major, you really know that he is humble. He is tender, and I try to get that part. I try to become like him… He wasn't trying to become the best teacher, but he got it," Lopez said. "It opened up his eyes too because you don't know how [well] you're doing until someone tells you."
In the eyes of his teaching partner, McCutcheon would find Wilder's relationship and stance with the students to be the reason he was named Teacher of the Year.
"He's a champion for the students," McCutcheon said. "He always speaks for the students. He always looks out for their betterment, and he will go to bat for them."