(UPDATED 3/24/2020 4:40 p.m.) HCPS releases information regarding school closings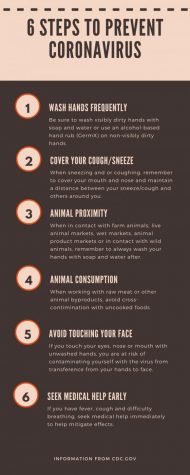 UPDATED AS OF MARCH 24, 2020, AT 4:40 P.M.
---
As of March 13, Governor Ralph Northam has issued a closing of on site schooling for all K-12 schools in Virginia. School will not be accessible starting from March 12 until March 27.
Teachers at HHS will be required to digitally refresh content for their students every two days.
All practices have been canceled until further notice.
The SAT scheduled for March 14 has now been canceled. The makeup exam for it that was originally on March 28 has also been canceled. In addition to this, the May SAT has been canceled.
The JROTC Cadet Ball has been rescheduled for April 11 at Hotel Madison.
When HHS students return to school, it will be a B-day for students.
No announcements on Spring Break or graduation have been made yet.
No announcements have been made about the end of the quarter or how grading will take place.
Students are expected to keep in contact with teachers through email or Google Classroom.
If you have questions, you can read a Q&A with HHS Principal Melissa Hensley about some issues HHS will face.
If you are or know a student without internet access, click here to read about how Comcast's Internet Essentials Package can help.
For information about where food can be provided for HCPS students, click here.
The HHS counseling team has asked for all HHS students to make sure they are a part of their graduating class Google Classroom for daily updates and information. To add the class, go to Google Classroom at click the + button at the top right. The Google Classroom codes for each graduating class are:
Class of 2020 (seniors): 7hdjdny
Class of 2021 (juniors): pasdyt7
Class of 2022 (sophomores): 2k4f7l6
Class of 2023 (freshmen): ey2l4p5
New information regarding the AP tests this May have been released by CollegeBoard. Click here to read the updates.
Q3 for HHS will be graded on a pass or fail system. If a student has the letter grade D or above, then they will be counted as passing. There is no word yet on if this will continue for Q4. Q3 will end Wednesday, March 25.
View Comments(1)