(UPDATED 3/19/20 5:47 p.m.) Q&A with Principal Melissa Hensley about Harrisonburg High School's coronavirus closure
As of March 13, Governor Ralph Northam has issued a closing of on site schooling for all K-12 schools in Virginia. School will be closed from March 16 until March 27. This Q&A with Principal Melissa Hensley answers frequently asked questions about the closure and at-home learning.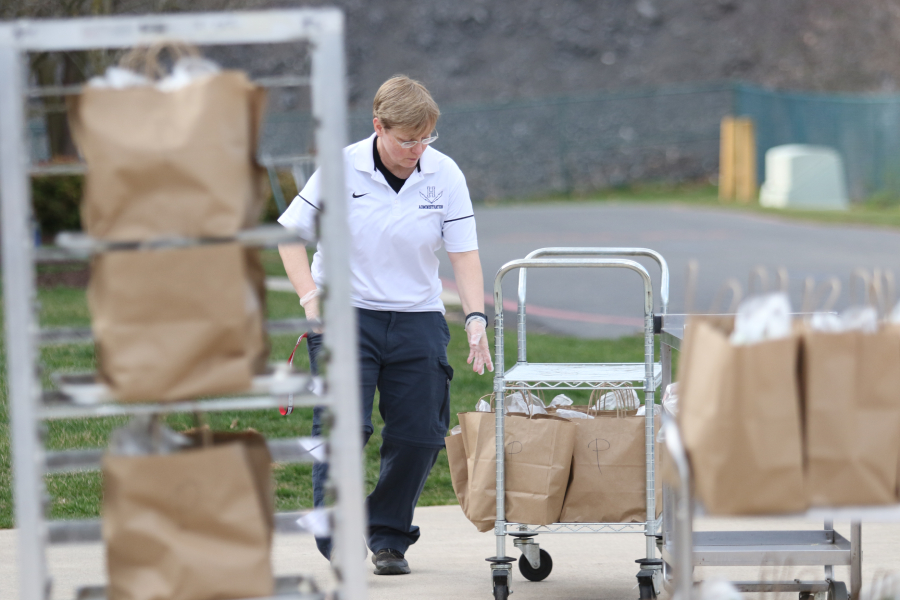 UPDATED AS OF MARCH 19, 2020, AT 5:47 P.M.
---
Interview March 19, 2020 at 3:02 p.m.
So far, from what you've gathered from teachers, students and other administrators, how have the first few days of online learning gone?
The academic and continuity of learning program established for students is off to a good start. Many of our students have already begun working and are in contact with their teachers getting the assistance needed. Students are encouraged to help one another and help to hold one another accountable for completing assignments by checking in virtually with peers to see if anyone needs help with assignments or just to provide encouragement to complete work.
As teachers have been working with their students over the internet and Google Classroom, what has the administration been doing or working on during this period of at-home learning?
School administrators have been working with teachers and students to provide assistance and guidance regarding courses, procedures, and protocols for establishing distance learning for students. We are also serving as the liaison between the central office staff and HHS staff in the distribution of information regarding teacher and staff expectations. Administrators have been conducting virtual interviews to fill vacancies and meeting with staff to address questions and concerns.
Do you have any updates thus far about the end of the quarter, the rest of the school year and such?
While no decision has been made as of today, direction will be forthcoming.
Are there any long term plans in the works if this closure were to extend beyond its two weeks? Could the school year be extended?
We have not yet received any additional information regarding school closures.
How has the meal distribution turned out so far?
We are fortunate to have so many carrying teachers, staff, and community members who jumped into action at the request for people to assist with the meal distribution. On Tuesday, HHS distributed over 240 meals just at our site. I am thankful for the multitude of staff who assisted our students and families.
Because many students remain active through school activities like PE and sports, do you have any recommendations for them during this time?
Students should follow the CDC recommendations for social distancing. Local gyms are providing online videos for workouts which may provide a good opportunity for students to remain active during this time.
---
Interview March 13, 2020 at 5:03 p.m.
Can you run through the overall contingency plan for the next two weeks as far as online learning?
"The school [was] closed today, [so the] staff was able to come in and put together learning opportunities and resources for students that will be available through platforms students are familiar with that will allow them to work on reviewing material that has previously been taught so it stays fresh and they're able to stay current with their studies. There will be packets sent home for some students who are unable to access the internet or otherwise need some different opportunities for learning. Teachers worked diligently on that today. They did a really good job working together as a faculty and staff to put those things in place today. We'll continue that process with those materials being updated every two days for students."
Will the posting be structured like A and B days or will students have to organize their work on their own time?
"[All the work] is going up at one time. A lot of it has probably already been posted if it was posted through Google Classroom or one of the other online platforms. It should already be up [because] they worked on that today. It's up for all classes [and] will be updated every two days."
Will there be any lecture-style format online classes like how many colleges are teaching their students online?
"There were some teachers who were talking today about possibly doing some Google Chats and things of that nature. With the individual classes, [students] are just going to need to check what their instructors have specifically posted."
Many students depend on Harrisonburg High School for meals like breakfast and lunch. Is there a plan in place for these students?
"Yes. The division is putting a plan in place for the meals. There should be information from the Central Office about that in the next few days. It has been a point of discussion among administrators over the past week or so as we've been preparing to make these things available for students and families. That information will be coming out from those folks in the very near future."
Would Harrisonburg High School make a decision in the future independent of the state to extend the quarantine should the coronavirus situation worsen?
"The superintendent is certainly working hand in hand with the CDC, the Virginia Health Department and local and federal officials. That would certainly be up to him, but those are the folks he is consulting with in order to make that decision."
How will this closing affect the end of the quarter?
"We were talking about that a little bit ago because we had made some decisions to move forward with the quarter prior to the Governor's decision to close all Virginia schools. At that point, we were just going to move forward as it was. Now, we are going to wait for the next week to see where things are at that point and then make the decision about whether we are going to extend the quarter. Either way, students need to know that we are going to work with them on work that still may be owed, things that they should have turned in today, projects they are working on or things of that nature. We will be working with them to make sure they have opportunities to turn things in as they were expected to or continue to be expected to."
Can teachers put in grades at this point, or are current grades set in stone until students return to school?
"Assignments that were previously given to students, [like] if students are turning in missing work or assignments that they've had and have already had a due date on them, teachers will be grading. Work that will be posted online that students can access over the two week closure period will not be graded. That work is there for review purposes to keep students up to speed and their skills sharp. That work will not be graded, but if students have prior assignments or assignments that are missing, this would be a great opportunity for them to make up those assignments and submit [them for] grading."
Is Spring Break still occurring?
"At this point, I have not heard any discussion about cancelling Spring Break. That's certainly a decision of the division superintendent. I have not heard any discussion about that at this point."
Is graduation still on schedule?
"For now, graduation is still on schedule. We were scheduled to have a senior class meeting today, so we will be working through that next week and starting to put some information out for the senior class. We will be meeting with the senior class when we return, but we will be working on putting some information together for them to get out probably sometime next week."
Do you have anything else you want students and the community to be aware of as the school goes into this period of at-home learning?
"We just want to make sure that everybody understands we care about our students and our families in the Harrisonburg community. We hope everybody takes the precautions they need as a family and as a community to get through a very difficult situation by providing support to one another."