Girls tennis concludes season with regional finals for singles and doubles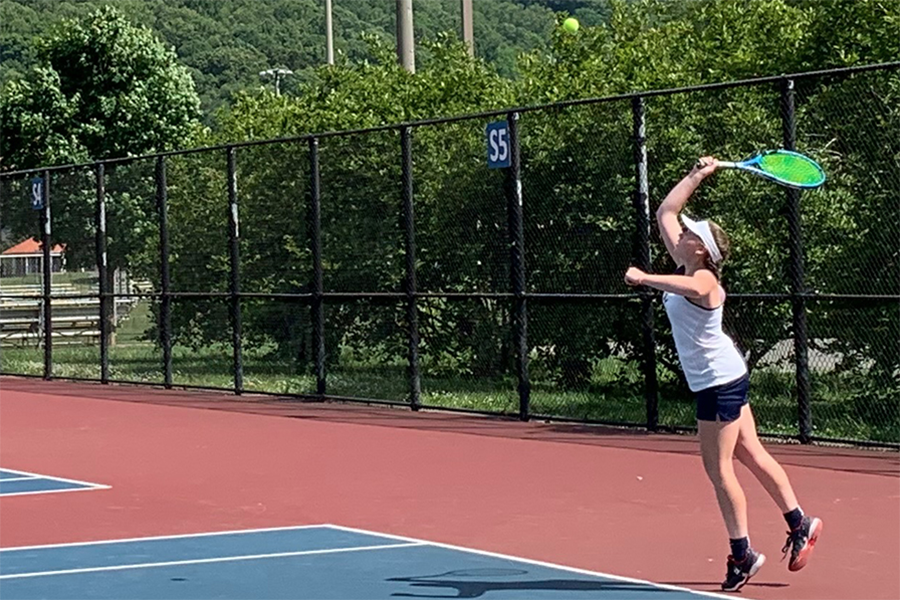 The last few weeks of school usually consists of late mornings and early departures from school. However, at 6:20 a.m. on May 29, seniors Andrea Osinkosky and Sarah Earle left to attend the Regional Finals for individuals and doubles tennis, a full day event held at Mary Washington University's tennis complex.
Senior Andrea Osinkosky competed in singles and doubles. The tournament is single elimination, meaning that when Osinkosky lost her singles match, her singles season and high school tennis career came to a close.
"For singles, I went in very competitively and I was hoping to get a win. I didn't, but I played really well and [my opponent] definitely played really well so I'm not disappointed. It's definitely not the best match I've played this year but it was fun and I enjoyed it," Osinkosky said.
Despite the results of her singles match, Osinkosky is still proud of her performance against her Halifax opponent.
"I didn't really have any expectations, I just wanted to play the best tennis both physically and mentally that I could have played this year. I've improved a lot over the season and I was hoping that it would show during these postseason matches," Osinkosky said. "I think I did this well, especially mentally. Tennis is such a mental game."
Osinkosky began her singles match around 10:30 a.m. Her and partner Sarah Earle's next match wasn't until 4:00 p.m. They competed against the Halifax doubles team which was comprised of Osinkosky's single opponent and another Halifax girl.
"Sarah and I fought really hard, especially considering that we were waiting around all day to play. We put up a good fight and we were working together really well like we have all season," Osinkosky said.
Osinkosky and Earle fell two sets to zero with the first set being decided by a 7-4 tiebreaker and the second and final set lost six games to two.
Earle, although frustrated at the result of the doubles match, is proud of her and Osinkosky's performance in the postseason.
"The doubles match yesterday was definitely upsetting. We lost in a tiebreaker by two points during the first set, which is devastating because it was really close. I think during the second set we had some unforced errors that got in our heads, which caused us to lose. My abdomen was hurting quite a bit throughout our doubles match, and so that might've contributed to our loss, but regardless, we fought hard and played our best," Earle said.
This was both players' last match in their high school careers.
"I don't really regret anything that happened this tennis season. I mean we always tend to wish we had worked harder or put more effort into our matches, however you can't really look back at in terms of what you should've done differently, but rather what you can do better next time," Earle said. "Staying positive is what has pushed me in doing better with each match."