Outdoor track team kicks off season at Gary Bugg Coed Classic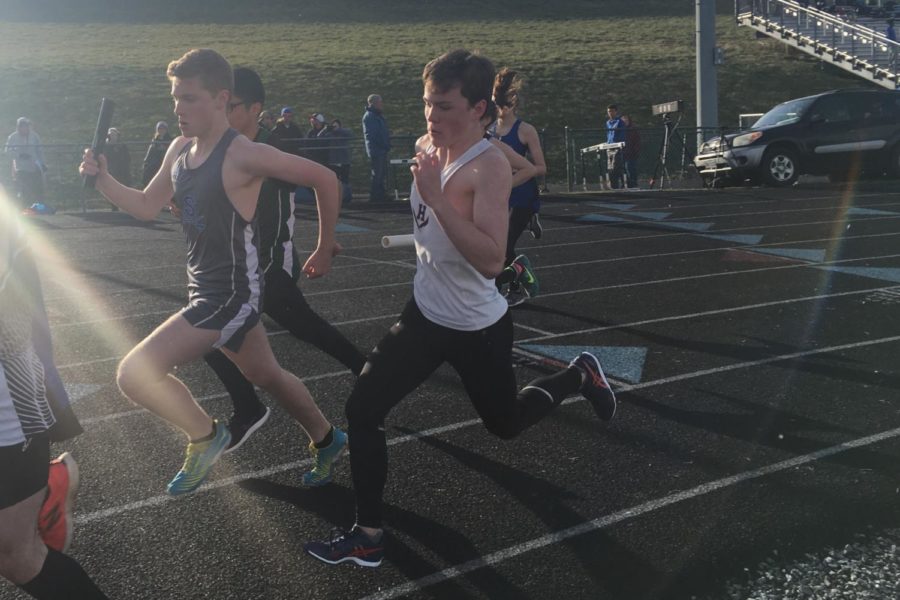 The 42nd Annual Harrisonburg High School Gary Bugg Coed Classic kicked off the outdoor track season on Friday, March 22. Currently, VHSL restricts females and males from running in the same event together, but because the Gary Bugg Coed Classic was started before this restriction was instituted, coed relays are still allowed to compete. Freshman Kate Kirwan ran as the first leg in the Coed 4x800m relay.
"Considering it was the first race of the season and I didn't have a big pack to run with in the front, I feel like I ran pretty well," Kirwan said. "Because we were seeded first, I was just trying to get out and stay out and hold the lead for the rest of the team."
The relay team of Kirwan, junior Tucker McGrath, senior Hannah Miller and sophomore David Beck placed first overall with a time of 9:33.06. After a successful first meet, Kirwan's ultimate goal is to make it to the state competition at the end of the season.
"My biggest goal is to make it to States, but overall I just really want to keep dropping time throughout the whole season," Kirwan said.
Kirwan was entered in the Girls 1600m Run as well, but because of inclement weather, the meet was cancelled after the Coed 4x100m Relay. Sophomore Conor Wells also missed out on the opportunity to run in the Coed 4x200m Relay.
"I only ran the 100 because the meet got cut short, but I think it felt good for the first race of the season," Wells said.
Wells placed 13th in the Boys 100m dash with a time of 12.53. His goal by the end of the season is to get a personal best in that event in addition to the 200m dash.
Standout performances at the meet included Victor Lynch placing 2nd in the Boys 100m dash and sophomore Hayden Kirwan, freshman Calvin Hulleman, freshman Jeffrey Lopez and senior Alex Hulleman winning the Boys 4x800m relay.
The next track meet is on April 6. at Woodberry Forest. For complete results from the Gary Bugg Coed Classic, click here.