Sophomore STEM students travel to Blacksburg to study nanotechnology, chemistry
On Monday, Nov. 26, sophomores from the STEM Academy travelled to the Virginia Polytechnic Institute. The group, accompanied by chemistry teacher Erich Sneller, engineering teacher Andy Jackson and calculus teacher Geoffray Estes, visited a nanotechnology lab and a chemistry lab. Students also had the chance to speak with HHS alumni and current Virginia Tech sophomores about their experience at the school.
The trip to Virginia Tech was a chance for sophomore Carlo Mehegan to visit the campus of a Virginia university and learn more about the opportunities they offer.
"I got to learn about how nice of a school Virginia Tech is and see some of the different chemistry and science opportunities they have there," Mehegan said.
The trip to Virginia Tech was a chance for sophomore Nathan Henderson to relate the topics he has learned in chemistry to different projects on a larger scale. The choice of Virginia Tech did not necessarily affect Henderson's decision to go on the trip.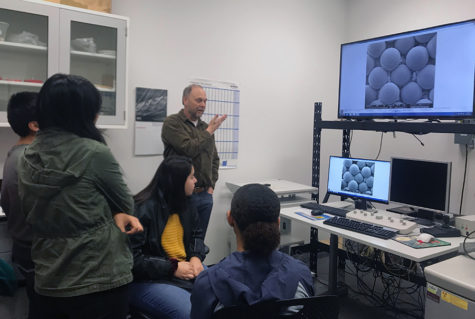 "I think I would have gone to any school, so I can further my knowledge in chemistry and broaden my horizons while looking at colleges," Henderson said.
Henderson and the other sophomores conducted an experiment and looked at the results through electron microscopes. The lab was directed by Virginia Tech students.
"I think I learned the most from the lab about microparticles and how buckyballs are used in everyday life," Henderson said.
Sophomore Makai Organ saw the trip as a way to see another area of Virginia and a new college campus.
"I used to want to go to Tech when I was younger, but I had never actually seen the campus, so going there was a good chance to see what the college looks like and to see if it would be a good fit for me," Organ said.
Mehegan found the trip to be both exciting and informative and saw the microscopes and experiments as a possibility for a career path in the future.
"The microscopes were really cool, and I definitely want to study them more in the future. I also liked how we got to relate the trip to stuff that we had touched on in chemistry with Mr. Sneller," Mehegan said.
Leave a Comment