Streaks beat Charlottesville 59-28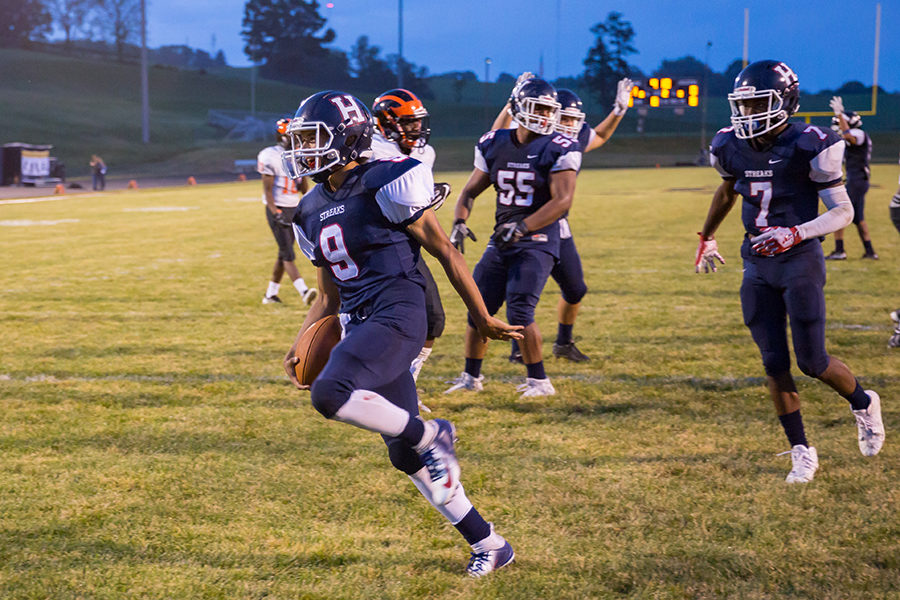 Following their previous two losses to Lord Botetourt and John Handley, the varsity football team was able bring home a win last Friday, Sept. 7, as they faced off against Charlottesville.
Quickly following the start of the first quarter, the Streaks hopped out to an early lead when quarterback Kwentin Smiley kept the ball in the air second play of the game and ran it 80 yards for a touchdown. Shortly after, Smiley put us on the board again as he scored a 46 yard touchdown, bringing the score to 14-0 in the first quarter.
With only three minutes played in the second quarter, Dunston Williams was able to score a one yard touchdown. Later on in the second quarter, Williams recovered a fumble from a kickoff return, leading to the Streaks fourth touchdown as Smiley scored from eight yards. Five minutes later, Smiley threw a touchdown pass to Victor Lynch to make the score 35-6. With both teams grabbing another touchdown, the teams went into halftime with the score 42-14.
Following halftime, the Black Knights cut the lead to 42-22. This score didn't stand long as Victor Lynch took the ensuing kickoff all the way back to the end zone. The Streaks got yet another touchdown and field goal whilst the Knights scored another touchdown, ending the game with a score of 59-28.
Smiley finished the game with a career high 362 total yards and five touchdowns, and the Streaks improved their record to 1-2. They will head to Brookville for their next game.