New school stirs controversy, students speak out

Loading ...
It was a clear and blustery evening on Court Square as senior Jack O'Brien stepped up to the podium flanked by fellow senior Martin Beck. He was introduced to applause and took the mic.
O'Brien began by introducing himself, then turned to the issue at hand.
"As my four years [at HHS] have unfolded, I've seen the school undergo changes," O'Brien said. "The administration and faculty work unbelievably​ hard to provide their students with the best learning environment possible. The one consistent problem? Overcrowding."
The crowd of around 40 people remained silent as they listened to O'Brien's speech about an issue recently wrought with controversy.
"You've read the news stories, seen the signs, heard the rumors. I stand here, as a student of Harrisonburg High School, to tell you that it is not​ over-exaggerated. The problem is real, and I live it every day along with over seventeen hundred​ other students. The problem is solvable though, and the solution is simple. Build. Another. High School," O'Brien said.
To O'Brien it's simple, but for others – in specific the new political action committee Students Over Structures – it's a major issue. The group has launched a campaign of flyers and signs across town with the use of over $17,000 from local companies (who stand to lose from a property tax hike). Their signs say: "Tell City Council & School Board, Students Over Structures, No $100 Million Dollar High School."
With this in mind, O'Brien finished his speech.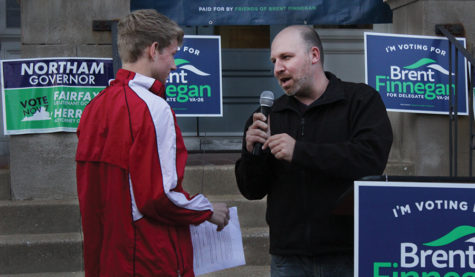 "Rather than Students Over Structures, let's get students inside of structures," O'Brien said.
---
The city leadership has heard the pleas of O'Brien and others. In May, the school-board-appointed High School Space Study Committee recommended that the school board approve the construction of a new high school. In early June, the board voted unanimously to build.
However, that doesn't mean that there aren't still hurdles for those in favor of a new school. The city council will also have to approve construction before it begins. And then there's the issue of a price tag.
A major argument used by Students Over Structures, as announced on their signs, is the $100 million cost of a new cutting edge high school.
Students Over Structures supporter Bruce Forbes – whose company, Forbes Development LLC, gave $5,000 to Students Over Structures – believes that city property owners can't afford "trying to build a Taj Mahal" of a second high school, a move that would inevitably drive property taxes up. For Forbes, a local business owner, that means a tax increase of many thousands of dollars.
Forbes also feels that the school board's analysis is flawed and that other options, such as busing students to county schools or building an annex are better alternatives. He also questions whether HHS population projections are accurate.
"[The school board] doesn't look at the long run," Forbes said. "We know this city cannot afford it."
However, O'Brien thinks that the potential price shouldn't scare those afraid of higher taxes.
"I think the price and the niceness of the new school can be debated and worked out to something reasonable, but I just think we shouldn't spare money in terms of getting a building itself. I think we don't need the best building in the world, we don't need another Bluestone, but we need a new building," O'Brien said.
O'Brien's sense of urgency is compounded by the fact that the school just keeps on growing. Projections from two separate analysis firms hired by the school board show the HHS population at somewhere between 2,100 and 2,200 students by the time 2020-21 school year rolls around. That's at least 750 students over the school's effective capacity of 1,350.
"It is a little crazy that it's taken us this long [to decide to build a new school] because at this point it will take at least three to four years just to make the school," O'Brien said.
Senior Martin Beck, who also spoke at that Court Square rally and attends as many meetings as he can, agrees with O'Brien's prognosis.
"I remember there was one guy two city council meetings ago who was an HHS student ten years ago. He said that at that point, HHS was at capacity, and they were talking about a new high school, and everyone was really for it. But it never happened. Now we're here ten years later, and nothing's happened," Beck said. "I shudder to think of what this high school will look like in four or five years."
Despite this, Beck is still somewhat optimistic, especially after recent victories in the school board and mounting support for the cause of a new high school. A loose local organization known as For HHS2 has also sprung up in favor of (you guessed it) building an HHS2.
"I would hope to see an approval of the new high school before I graduate. I don't know if that's wishful thinking or not. In local politics things move absurdly slow," Beck said.
At many of the city council meetings Beck attends, the crossfire between those in favor of a new high school and those opposed gets tense.
"It gets heated from time to time because these people are very, very concerned about the future of their construction projects and their land holdings," Beck said.
Forbes agrees that the whole controversy may have become more divisive than necessary.
"It has become more political than the situation calls for," Forbes said.
Even though Beck and O'Brien believe the only option looking forward is a new high school, that doesn't mean they can't see the potential downsides.
"There was one woman who spoke and voiced her concern that she was on a fixed income and she lives in a house with a fixed mortgage. The erection of this new school would put her at a financial disadvantage. I can see that side of it," Beck said.
It would also hurt local businesses, such as those who donate to Students Over Structures.
Besides monetary concerns, there are many other inevitable growing pains that come along with a new school.
"I could see a sort of lack of high school identity or fracturing of Harrisonburg identity. Now we're in a centralized location, one football team. We share an identity. With a second school there might be a rivalry that would start," Beck said.
---
From speaking at council meeting and rallies to serving on committees, students have made their voices heard throughout this process.
Freshman Danait T-Medhin, alumni Alanna Whitfield and senior Autumn Shifflett served on the High School Space Study Committee. O'Brien and Beck consistently show up for school board meetings and tell their stories to the community whenever and wherever they can.
O'Brien first got involved last spring when he started attending city hall meetings.
O'Brien's first meeting was about raising funds for HHS, and many other students also attended. Although he didn't speak, O'Brien did enjoy the experience.
The next meeting – one specifically to discuss the construction of a new high school – would be O'Brien's first public speaking appearance, although he didn't realize it at first.
"I wasn't planning on speaking. I was there with a couple other classmates, and they were all encouraging me. They were like, 'You should speak, it would be really impactful,' so I decided I would speak," O'Brien said. "I pretty much just tried to speak to my experience. I wanted to give a face to… the poor students that are in this overcrowded school. I wanted to show that we're real people, that we actually exist."
However, it wouldn't have been without the prodding of others that O'Brien stepped up. In particular, alumni Zach Benevento.
"[Benevento] talked to me a little bit beforehand. He kind of motivated me, showed me that I can have a voice in the community, and that really resonated with me. Hearing him say those words of encouragement, I was like, 'I do care about this, and I want to be a part of it,'" O'Brien said.
Since then, O'Brien has spoken at the city council meeting on Oct. 24 and at a rally for Virginia House of Delegates candidate Brent Finnegan on Nov. 1.
For Beck, interest in the issue of overcrowding started when he wrote a story about it for Newsstreak his freshman year.
From there, his interest continued to grow. Currently Beck plans to continue attending council meetings until the problem is solved, which he thinks may end up being an uphill battle.
"It's going to be tough. When you go to a city council meeting, the first thing you notice is there are a whole bunch of differing ideologies on the council," Beck said. "It's going to be tough to come to a reconciliation, especially because public opinion is also so split."
See the events preceding the vote on the high school as well as the final decision.
Leave a Comment