JV girl's basketball plays John Handley Judges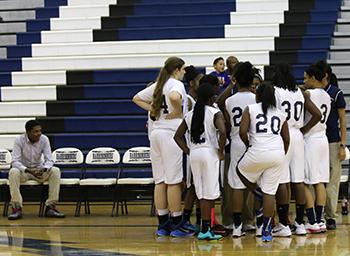 Sam Heie, Staff Reporter
December 8, 2015
Hang on for a minute...we're trying to find some more stories you might like.
The HHS junior varsity girl's basketball team played the John Handley Judges on Friday, Dec. 4 at 6:00 p.m. at Harrisonburg High School. Captaining the team was Cyniah Stuart, Jackaya Brandon and Jazmine McDonald. Coaching the team was Head Coach Aimee Jackson and Assistant Coach Olivia Mason. The Blue Streaks were playing a man-to-man defense the whole game.
The Blue Streaks led the Judges 19-12 after the first quarter with 2 points from Becky Staton, 4 points from Jakaya Brandon, 2 points from Atilia Thomas, 3 points from Alexus Smith, 6 points from Captain Cyniah Stuart and two points from Aaliyah Jordan. The Blue Streaks had a shutout of 8-0 during most of the first quarter.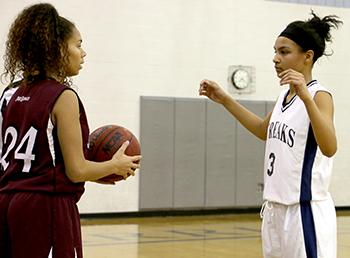 Sam Heie

New offensive plays of the night included the "Nike," in which the post players would stand at the elbow and just flash for the ball, the "Michigan," in which the post players would set up a screen for the guards near the 3 point line and would be a simple lay-up option, press play and press break.
During the second half, Jakaya Brandon had a total of 10 points scored, 8 of them in the third quarter. Desia Buckner had 3 points, Alexus Smith had 4 points, Cyniah Stuart had 5 points and Aaliyah Jordan had 3 points. The HHS Blue Streaks concluded the night with a win and a score of 46-29.
"
We got jitters in our first game so we have a lot of work to do"
— Coach Aimee Jackson
As a freshman on the team, Aaliyah Jordan plays as a shooting guard.
"I felt that we could've done better in our offense and we could box out. Our defense was good though," Jordan said.
Jordan credits some of the success to the captains.
"The captains helped a lot this game. If you came into the game, they would tell you where to go and what to do, what play we were running, and who they had to mark," Jordan said.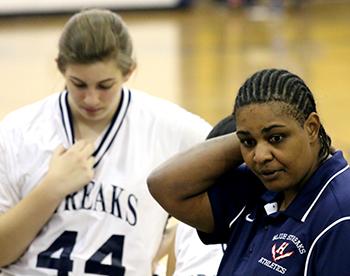 Sam Heie

The captains were in charge of the plays, like the "22" play the team used at the game.
"We did our 22 play [on defense] then our full man play and then back to our 22," Jordan said.
Aimee Jackson is in her first year as head coach, although she was assistant coach before that.
"First quarter we came out really strong. Second quarter we got a bit scared because they pressured us. Third quarter was actually our quarter to score more points. I think we actually we were trying to push it to score as many points as possible. Fourth quarter we slowed it down a lot because we had two players in foul trouble," Jackson said.
Jackson knows that the team has a long way to go.
"We got jitters in our first game so we have a lot of work to do," Jackson said.