Junior campaigns for immigration reform with DAVA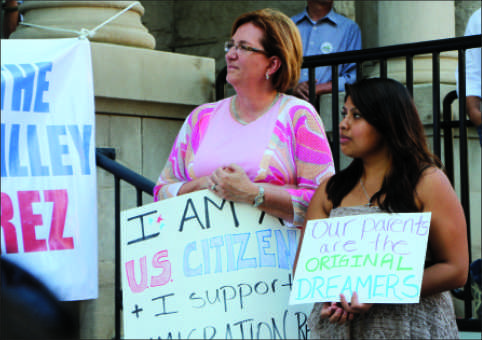 Brenna Cowardin, Print Managing Editor
April 30, 2014
Junior Dulce Elias knows how to speak up for what she believes in. Since her freshman year, she's been advocating immigration reform not just because it's a major issue, but because she's stuck in the system as well.
"I'm part of SVSLI,  which is Shenandoah Valley Scholarship Initiative, and [I asked] Isabel Castillo, she's on the board [of SVSLI], because she's really involved, and she's a really big activist here, and she's also part of Virginia Organizing. I knew I wanted to get involved because I'm undocumented," Elias said.
Elias is now a member of Dream Activist Virginia, or DAVA, and over the past few years Elias has spoken one on one with politicians, debated with groups of about 100 and led her own rally.
"We do a lot of activist work, which includes rallies, but also more of getting the word out, talking to people and getting people who would like to speak up [to speak up]," Elias said.
As a teenager, Elias described working with DAVA as intimidating. Everyone else she works with has been advocating immigration reform for years.
"I haven't had a lot of experience, and they have, and they're really good at what they do. I look at myself, and I say, 'Woah, I have a long way to go,'" Elias said. "They tell me, 'It's great what you're doing, keep at it," or they give me guidelines because they've been doing it longer, and it's great to get advice from them."
Castillo is one of the people who has influenced Elias's experience.
"[Isabel is] the one who's always there and is always really involved in it. She's a really strong woman. I've never met anyone that would do everything she does," Elias said. "Knowing her life, and how she's undocumented as well, and how she overcomes that [is inspiring]. She's working and doing such big things."
Elias had to learn how to deal with those who disagreed with her opinions early on.
"At the first place I spoke, you got open mike, so everyone got to talk. [Other people at the meeting] basically said that immigration reform was a waste of time, and that we should just deport [undocumented residents]," Elias said. "I got so red. When I get mad, I just want to say something, but you're not allowed to, so I have to try to stay calm."
However despite this, Elias loves her experience with DAVA.
"This is how you get exposed to the world, and that's how you get to know people, and you have to take risks," Elias said.
Elias takes these risk constantly. She has had a few one on one conversations with politician, in particular, congressman Bob Goodlatte.
 "The first [conversation] I had [with a politician] was with Bob Goodlatte, he's the representative from our district, and I told him my story, and we started crying," Elias said. "That was the first time he came out and said that he would be willing support immigration, but then he backtracked himself, and now he's just being stubborn."
Elias is just as stubborn.
"We're going to D.C. tomorrow because Bob Goodlatte is having a conversation with his constituents, and we're going to go to push immigration reform again," Elias said.
Just recently, that stubbornness was put to the test. In February, Elias was kicked out of a private fundraiser for House Majority Leader Eric Cantor while she was handing out fliers.
"One of the guards, who was a policeman said, 'Just wait here.' It was really scary, but then they snuck me back in, and I had to talk to the policeman again," Elias said. Eventually she ended up talking to Cantor.
"They had me talk to Eric Cantor. He's apparently the fourth most powerful person in politics and I didn't even know," Elias said. "Politicians are always in a rush, so I had to go up to him and say, 'Please support immigration reform,' and I had to say it really quickly before they rushed him out."
Elias's veteran advice is to make the debate emotional, and although it doesn't work all the time, it's a good place to start.
"[Our big goals is] getting stories out because if you touch someone emotionally, they will be more willing to support you, but some politicians are kind of heartless, so [that doesn't always work]," Elias said.
Elias sees her role in immigration reform as a duty to fulfill because not every one of the undocumented residents in the U.S. will speak out.
"My favorite part is standing up for what I believe in because there are 11 million of us, and not everyone wants to stand up, so it's kind of my job to stand up and represent what we're here for and that we're not going to go," Elias said.