Student-devised One Act places third at states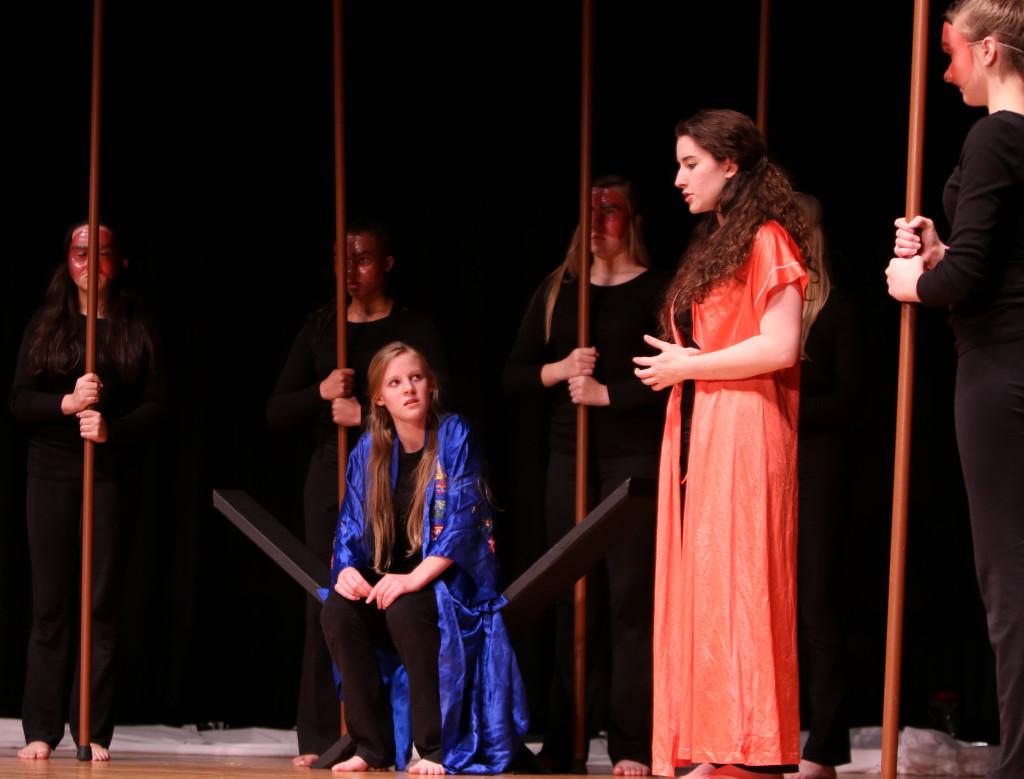 Luke Gibson and Fernando Gamboa
December 11, 2013
The VHSL One Act State championship: A yearly event that is almost becoming a tradition for Harrisonburg to attend. In 2011, HHS secured second place. In 2012, HHS raised the bar by placing first. When the one act cast and crew entered the doors of Monticello High School, Charlottesville on Tuesday Dec. 3, it was difficult not to feel the pressure of last year's victory. This may have been the reason for why reactions to placing third with show Pieces were generally mixed
This year, however, was different. Along with changing 'Districts' to 'Conference', VHSL had also made a change to the divisions, meaning Harrisonburg would compete in 4A as opposed to last year's 2A. This change carried the implication that the championship would only consist of four schools from two regions.
But the division wasn't the only change. This year Harrisonburg came armed with a new type of one act, along with a rearranged cast.
Deb Halpern also felt the pressure of being a one act senior.
"This year is really different, because we wrote our own show and [because I'm] a senior. I've always had people in one act that I would look up to and admire and tried to mold myself after, theater wise, but I didn't have that this year and it was cool to be the oldest people in the cast" Halpern said.
Placing first in the competition was Jamestown High School with Competition Piece; second was Glen Allen High School with And; and fourth was Chancellor High School with The Complete World of Sports Abridged, who placed first against HHS in regionals.
The general consensus was that the performance excelled in terms of acting
"The cast did fantastic. They had great energy and they seemed to be living in the moment, which is a big deal for acting. Pacing [and] timing for many things in sequence was the best we've ever had," Director Stanley Swartz said.
It was felt however, that the performance fell behind with technical skill and ensemble.
"I think we did pretty good, but the ensemble felt weaker than usual. It was still fantastic, but it wasn't as fantastic as we usually do it," Senior Antoine Timbers said.
Victoria Brunson, a freshman from Jamestown High School, felt the impact and the emotion of the piece as the cast intended.
"It was really good. It made me want to cry, but I couldn't because I had mime makeup on. A really fantastic performance," Brunson said.
Trying to achieve victory may be a primary objective of one act, but the cast also felt that the bonds they made and the experiences they had were just as important, especially for Caroline Shenk, who was new to states.
"My experience at states was a really good one. this is all new to me, I was walking into it blind but, i feel like we performed a really good show and being able to experience this with friends and people i got really close to was good," Shenk said.
For now, Stage Streaks will set their focus on the Winter musical, followed by spring play and spring arts. Next year, they will once again work on a new one act with a new cast. Their third place at states will be remembered, like so many of their other wins and losses.
"It's always disappointing not to come in first, it always has been and it always will be. And it was. But third in state is nothing to be ashamed of and I couldn't be prouder of our cast, crew and directors for taking a show we made [ourselves] that far," Halpern said.