Social studies students learn how life was in colonial Williamsburg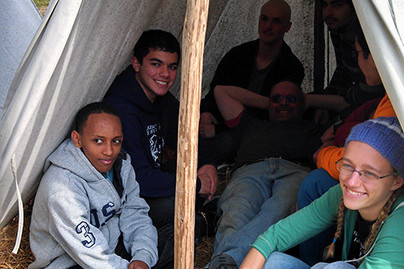 Mia Karr, Print Editor-in-Chief
October 31, 2013
"The trip was amazing," Harmison said. "I would definitely recommend going. It was Fifteen students now know what's it's like to march in the colonial army during the American Revolution, attend a trial for a woman accused of witchcraft and watch a musket be fired. Students in the AP Macroeconomics, AP U.S. History, and Dual-Enrollment U.S. History classes got to experience history in an unconventional way through a four-day trip to Williamsburg
The group-consisting of fifteen students and teachers Mark Tueting, Jay Blair, and Emily Holloway- left on the morning of Friday, Oct 25. After a four-hour drive, they arrived at Jamestown, and attended a tour. After dinner, the group made their way to colonial Williamsburg for a ghost tour through various historical houses. To end the day, the group attended a re-creation of the real-life trial of Grace Sherwood, a woman accused of witchcraft in Virginia during the eighteenth century. For junior Merrill Harmison, this was a highlight of the trip.
"I really liked the 'Cry Witch' activity. It seemed very real and it really brought to life the whole thing. It helped me see what a real witch trial would be like," Harmison said.
Day two had the students and chaperones returning to colonial Williamsburg, this time for a formal tour, which included stops into a colonial prison and a blacksmithery, among other things. Students then had several hours to explore colonial Williamsburg, eat lunch and shop. They were joined by two HHS alumni who attend the College of William and Mary.
The evening brought two more activities. First, the group participated in "In Defense of our Liberty", an hour-long experience of life as a colonial soldier. The students had to stay in formation, execute commands and learn about the many diseases they likely would have suffered. Second, the group traveled to colonial Williamsburg's plantation to participate in an African American dance workshop. They got the chance to learn about slave culture at the time, sing and dance. This was a unique experience for junior Aarash Heydari.
"Everybody stopped caring about what they looked like…We let our passions be expressed through dance," Heydari said. "I've never done anything like it."
On day three, the group traveled to Busch Gardens. The theme park was transformed into a spooky wonderland after 6:00, due to the theme park's "Howl-O-Scream" event. This was a more social, less educational affair. The trip provided many opportunities to interact with fellow history students.
"[I liked] getting to know some people I didn't know as well," Harmison said.
However, day four was a dive back into history. The group traveled to the Abby Aldritch Rockefeller Folk Art Museum, and then to Yorktown for a tour. To conclude the trip, the students broke off into groups to write poems about the experience and then performed them.
"The trip was amazing," Harmison said. "I would definitely recommend going. It was totally worth it."