Newsstreak Senior Farewells
I joined Newsstreak my freshman year after attending JCamp the summer before ninth grade. JCamp sparked an interest in me for photojournalism and story writing. I thought I loved photography and imagined pursuing that. I quickly realized taking photos was not my forte and I'd stick to writing news stories and features. Quickly my junior year came and I began to take over the website alongside my honorary mentor Maya. 
Room 444 became my go to class, as I had it for three or four periods my junior year. I quickly learned that Kibby loves to sing country songs and the national anthem under her breath. To Kibler, I leave a Jalapeno Sausage Egg and Cheese Bagel from Mr. J's. I leave you all my tardies, absences and morning meetings I missed. I slept till 11 every morning to make up for your lack of sleep because you get here at 4 in the morning. Sorry we never got you that mocha  cappuccino we promised. Love you kween. 
Clare, amazing job on all your Best of SNO awards won. I leave you more time to study for AP's while at conventions. I leave you the EIC corner. And lastly I leave you all the tea and gossip. Oh and try and remember your wallet, phone, keys and purse, you can't keep losing that stuff. To Jumana, I leave you the website. You have already done so much for it. The practice of going out on your own and learning how to do things yourself is going to take you far. Miguel, I leave you AC because it didn't work on the flight back from San Francisco. Miguel and Adrian hopefully y'all never have to be woken up at the buttcrack of dawn while at any conventions.To the newsstreak staff as a whole, sell ads and go to the conventions, it is so rewarding. 
Jolie, Kasey and Riley, besties since day one. We have all had our ups and downs but newsstreak kept us together against our will, thankfully. Kasey I'm so proud of you for making the top 5 journalists of the year. You are the Dictator of the year! Riley, thank you for always answering my questions, even when I asked the same ones about five times consecutively. Oh Jolie, you got me through high school. I'm going to miss escaping school and hiding from Burley in between lunches. Can't wait to see what next year brings us all.
__________________________________________________________________________________________________________
Coming in early, staying in late, taking pictures of star athletes, going about the school for an interview. These are all things that accompany calling room 444 your classroom and being part of the HHS Media family. My sister told me my eighth grade year that taking Newsstreak would be one of the most rewarding experiences of my high school life. After that one recommendation I took it and forced all of my friends at the time to take it too. Those friends are now the Editors-in-Chief that I sit next to every day. Little did I know I would meet the best people, make the best bonds and have some of the best memories through the program. 
To the remaining Newsstreak staff I leave my Tik Tok legacy that I expect to be carried on as dramatically as I am, especially you Camryn. I know you will do amazing things with social media accounts. Ashlyn I'm glad you rejoined the program, enjoy your senior year and go on some trips. You will love them. Miguel, keep up with the Subway Surfers. Clare and Adrian I leave the stress filled early mornings and late nights, and dealing with a whole new batch of kids who know absolutely nothing (and decorate the editors corner a little its bland). Also play good music. Clare, I'm going to miss taking random pictures of you and our messy unorganized area. Hopefully next year someone will be as good of a distraction buddy as me. Jiayi, Jumana and Evelyn I hope there is always a starbucks near the hotels at future places you go on trips, good luck and enjoy your next 2 years in the Newstreak program. I know that all of you guys will carry on the amazing legacy, and if anyone is moved to the new school, you will create an entirely new program and make it just as good as this publication. To the entire staff, this class may seem hard and sometimes really annoying, but it is worth the trouble. Accept every opportunity and go on all the trips you can, they are the best part. 
Silas, Kasey, and Riley I am proud of how far the four of us have come. From our first day in Newsstreak learning how to do the newspaper and having some of the worst page designs imaginable, to running the publication this year, we have grown so much as people, and together. I am so excited that the four of us are all going to the same college and can drop in whenever we want to. ROLL DUKES! Kasey, Virginia Journalist of the Year, and top five in the country I am beyond proud of you, you deserve everything that you have accomplished and that will come to you. I am so excited to see where life takes you because I think you will be a president or something. Silas, I'm glad all these years and all those fights later we are still as close if not closer than siblings, I don't know what I will do next year not being attached at the hip with you. And Riley, or reen, thank you for dealing with sitting next to me and dealing with me through elementary, middle, and high school. I know sometimes I'm A LOT. Hold me to my promise of getting you your birthday present. 
Lastly, President of JEA and queen of 444, Kibler. I'm going to miss the "byes" every time someone leaves the room. Someday I or someone else will hopefully get you your mocha cappuccino. Take care of Bobby the beta. I'm going to miss our EIC+Kibler debriefs whenever something happens in the classroom. You have always been our supporter and kept me in the program even when I was considering dropping out. I'm glad I stayed though. I'll miss ya kibby! I have met the best people and had the best time, although sometimes stressful. It was worth it in the end. Jolie out.
__________________________________________________________________________________________________________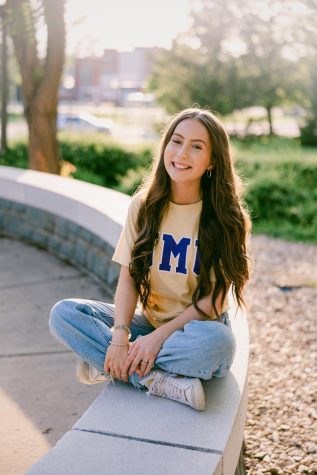 Walking into room 444 for the first time felt like a whirlwind. I have always been introverted and shy, but freshman year of high school I was times 10. I was immediately intimidated by the upperclassmen and their confidence, the dynamic of the newsroom as well as the expectations that I so badly wanted to meet. My first year on staff was filled with moments of anxiety, but also excitement as the editors I looked up too complimented my work and pushed me to be better. I even got to start designing my own newspaper pages and experience my first convention that year. 
The 2019 JEA/NSPA convention in DC was when I realized I wanted to stick with the class. It made me realize that the editors weren't just making things up, this journalism thing was a lot bigger than HHS. It was also when I realized that I would never lose the friendships I formed in the newsroom and I would never get out of sharing a hotel room on these trips with Jolie Sallah. 
Transferring to completing Newsstreak work online sophomore year was an adjustment, but I continued to build my writing and interviewing skills through Zoom and FaceTime. I started to gain more confidence that year as I grew in my abilities. 
As I took on yearbook on top of newspaper junior year, I learned so much about myself through the deadline cycles and discovered my passion for design. Junior year was full of early mornings in the room to edit as well as learning how to leave an impact as a mentor like mine did on me.
The HHS Media program and journalism has given me so much. I attribute much of my growth as a student and a human being to skills and experiences I have gained due to this program. From freshman year trying to get out of speaking up in chat and chew to senior year placing in the top five nationally in the Journalist of the Year contest, I have grown tremendously and learned so, so much. 
Not only has this program given me the gift of personal growth, but it has also given me my people. Jolie, Silas and Riley, I will miss so much our adventures at the conventions and our debrief sessions in the room during third block. Jolie, I will even miss when you decide to do earthquakes on my chair. Viv thank you for being an honorary Newsstreak student, you saved us quite a few times on deadline and thank you for being my friend. I so admire you as a person and am so excited to see where ODU takes you. Thank you guys for making the past four years so memorable and being my number one cheerleaders (and for the hug sandwiches), I can't wait to graduate next to you all. To Clare, I leave you my precious corner, spinny chair and stress flowers. I so admire your abilities and drive to get things right, but also to make them better. Please remember to have fun along the way (yes, I mean no homework at conventions) and don't hit anybody else's cars. To Adrian, I leave confidence to lead and confidence in your abilities. I know you and Clare will take this program far next year and I am so excited to hear about it. To Jumana, Jiayi and Evelyn, I leave early mornings and late nights in room 444. You guys are so impressive and I know you will strive to uphold HHS Media's legacy. To Camryn, thank you for becoming my friend this year and for the positivity you bring to the room. Promise no more crying about spreads. To Miguel, I leave the candy bowl and the Subway Surfers winner title. And lastly, I leave all the thanks in the world to Kibler. I'm so thankful for the ways in which you have pushed me to grow as a journalist, a leader and a person. I will always miss your comebacks to Silas and Jolie and wise words in moments of stress. I am so excited for what the future at JMU holds for me, but will always be so thankful for the foundation HHS Media has gifted me with.
__________________________________________________________________________________________________________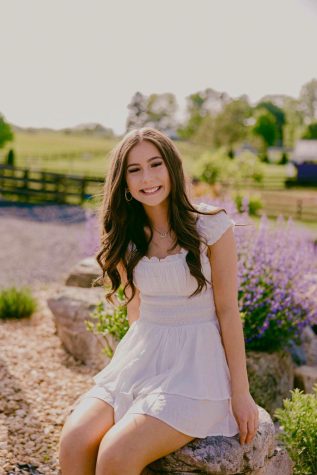 Despite how hard Newsstreak has been, it has become my home over the past four years. The friends I made my freshman year are the same people I am leading HHS Media with, four years later. Everyone should have the opportunity to be in this program for four years. The connections you will make, skills you will learn and what you will learn about yourself, all make it worth it. 
Jolie, Silas and Kasey, you guys have become some of my favorite people over the past four years and I will miss laughing with you guys. You guys are like my siblings and I don't think I've ever been this close to a group of people. Jolie, thank you for sharing a bed with me at every convention even though I had to wake you up every morning. Silas thank you for lifting my suitcase up and driving us to every convention at crazy times in the middle of the night even though your driving is so questionable lol. To Kasey thank you for editing the entire yearbook alone and not making me do it. Jolie and Kasey, I hope our hotel room never floods again.
To Queen Kibler I leave singing Taylor Swift out loud and asking for Dunkin' in the mornings. I will miss our talks during third block and being mad at Jeff about not getting our well deserved confetti. I leave calling and texting Bill and the jalapeno bagel from Mr. J's. You have taught me so much, thank you. 
To Clare Bear, you need to stop taking so many AP's and let yourself calm down lol. The AP's will still be there tomorrow. I leave you all the spreads in the world and being in charge of every program in the school simultaneously. I leave you my four blocks in the Newsstreak room even though you won't have room for it in your schedule. To Adrian, I leave early mornings in the Newsstreak room fixing newspaper pages and the newspaper grade sheet. To Miguel, I leave Diego and listen to more Taylor Swift. To Ashlyn and Camryn I leave no more spreads and get Mr. J's before morning meetings. To Soraya, I leave making sure Clare has fun at conventions (and all the time) and gossiping about everything in the hotel room. 
Goodbye room 444, time for someone else to spend way too much time in there.