AP students share their experience of handling college-level courses
The Advanced Placement (AP) program was launched in 1952 for high school students. The goal was to give students an accelerated level of learning and a grade point average (GPA) boost. With that accelerated level of learning, increased work loads became common. There are many ways students deal with this accelerated level of learning. Some handle the stress through their schedule, and others find it harder to manage the workload. 
Sophomore Jonathan Spitler took two AP classes, European History and Psychology  Spitler shared one hardship relating to his classes. 
"What's most stressful is learning the content rather than just doing the assignments. In both AP classes, there's a lot of content," Spitler said. 
Spitler, along with other AP students, has to organize his time in order to study and also have time for himself. Spitler estimates about three to four hours daily for his AP classes.
"I wake up around 4 a.m., so I can get ready for school at 7:30 a.m. I arrive at school, and then I do my school things until 3 p.m. I ride the bus home and then, for an hour or two, I'm just on a break from school. I either take a nap or go through my phone," Spitler said. "Then around 5-6 p.m. I start actually studying until 10:00 p.m. Sometimes I might do an assignment or two until 11 p.m., and then, I sleep." 
Due to Spitler's sleeping schedule, he finds himself relying on caffeine to stay focused during the day.
"I drink a lot of coffee in the morning. It's a good energy boost and a refresher, and then in the afternoon, I might drink more coffee or energy drinks, so that I can stay focused on studying," Spitler said. 
Spitler is planning on taking about five AP classes his junior year, which he sees to be a lot. 
"What I think is going to happen is my wakeup schedule until I get home is going to stay the same, but I am going to take less time to study per class. Right now, I am taking one to two hours per AP class, and I only have two," Spitler said. 
Junior Emanuel Flores-Lobo is taking three AP classes. His approach to managing the classes is slightly different. He also finds himself dedicating from three to two hours depending on his focus levels. 
"I dedicate one day to just that subject. I also take breaks between, so I don't overload myself and get stressed. If I try to study for all of them at once, information is going to overlap and get confusing," Flores-Lobo said.
Flores-Lobo has a learning tool that helps him prepare for the tests in May and the classes. 
"I use Marco Learning. They have videos you can watch, which goes over frequently asked questions about the test. It basically gives you a rundown of what's on the test and what you can study for it," Flores-Lobo said.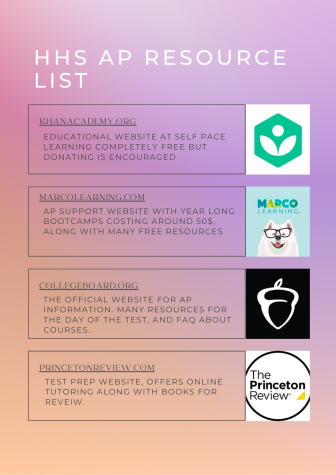 Marco Learning is a website popularly used by AP students to help not only prepare for AP tests but also standardized testing and college admissions. Flores-Lobo likes to start his studying as soon as he gets home so that he has more time to do things he enjoys later on in the day. With the amount of AP classes he's taking, some prioritization in his schedule has to happen. 
"Sometimes, I have to prioritize. I know I'm not going to get everything. I have to see what I have to finish first, because with the three of them, it throws my schedule off. I feel like I have to change it every week. It's kind of hard to me, it's a fluctuating schedule," Flores-Lobo said. 
Junior Alejandro Berrios takes four AP classes: Language and composition, computer science, United states history and Calculus. He approaches studying for AP classes differently. He estimates he spends three hours daily on his classes. 
"There is homeworks that take at least thirty minutes every day, and most of the grade comes from tests and the tests are very, very large," Berrios said. 
When prepping for the tests he chooses to have an easygoing strategy. 
"I take it as it goes, one step at a time. I'll see when I get there. I'm just going with the flow and hoping for the best," Berrios said. 
Berrios recommends listening to music among other things as a way to de-stress after tests or long days of homework. 
AP classes are not mandatory and some students see these classes as gateways to succeeding and or getting into college. For Berrios, AP classes mean less costs in college. 
"I mostly picked AP classes because of my family. My family wants me to [take] harder classes.[It's] also because I thought I could get college credits. Since I don't come from a family with that much money, the credits are very useful for that, so I decided to take those classes,"Berrios said. 
While signing up for the AP classes is free, taking the exam costs around 95 dollars. Typically, if a student were to score a three to a five on the end-of-the-year AP final test, they are rewarded a college credit which could mean that a student does not have to take a certain class in college (depending on what AP class they took) this not only reduces costs but speeds up the graduating process. 
"I know it's a lot of work, so the AP classes help me prepare for college," Berrios said. 
The appeal of taking numerous AP classes also comes from the need to stand out on college applications. Some students, like Spitler, who are aiming for the Ivy league, it is very important that their application for college shows that they are advanced.   
"I always wanted to challenge myself, but I also do it for the college credits because it looks good on your resume to do challenging courses. After high school, I want to go straight to college, hopefully Princeton. In order to do that, [I take] a lot of APs,but also to make me stand out from others," Spitler said. 
Spitler is passionate about making his application stand out because getting into a good college for him is vital. 
"My dad and mom really want me to go to college, and I always felt like I wanted to go to college before they tried to pressure me into going. My dad is an immigrant, so trying to find a job for himself is difficult, and he also realized that if you go to college, it's going to be easier to find a job than if you didn't have college experience. He wants me to get a good paying job, and he thinks that a lot of the high paying jobs are available if you do college. That's his perspective," Spitler said.
Flores-Lobo shares the same feeling of taking AP classes to be able to reach his final goal of getting into college which is an important thing to him. 
"My parents [came] to our country and because of that I was able to study here, which is a good place to study at. I never had to struggle to go to school, and I know they did when they were younger. It motivates me because I have this opportunity, many children of immigrants don't have, [and I do] I have this it's given to me. I shouldn't throw it away," Flores-Lobo said. 
There are two freshmen taking AP classes who offer different perspectives on the classes. Freshman Randell Joven who is taking AP Mac Music  feels a level of intimidation being in classes, typically filled with upperclassmen. 
"It feels kind of intimidating because everyone there is either a junior or a senior, but I think I handle it well," Joven said.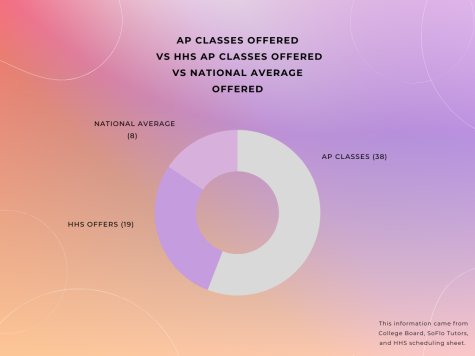 Joven uses a daily study pattern to alleviate stress for preparing for the final tests in May. 
"I've been studying every night. I get medium stress from it. I wanted to challenge myself and there is an extra GPA boost with the class, too," Joven said. 
Freshman Leslie Yang is taking Computer Science in order to get that challenge in her schedule. Yang uses Khan Academy to study. Khan Academy is a free educational website that allows for students to practice subjects at their own pace.
"I wasn't taking very many difficult classes this year, so I just wanted one to challenge me. It's not that bad, keeping up with the work is what's difficult. I think I do a very good job of staying on top of it. I've been studying every day, usually in Khan Academy," Yang said.
The AP tests were held in May, where students took the test if they chose too.
Leave a Comment