Newsstreak senior, Thompson, places in national journalism competition
"And the winner for the Virginia Journalist of the Year is one Miss Kasey Thompson," said VAJTA representative Erinn Harris through smiles. 
Room 444 erupted in cheers as senior Kasey Thompson received hugs from family, high fives from mentees and a cake bigger than herself from adviser Valerie Kibler.
"I didn't expect it," Kasey Thompson said.
Weeks later a series of shrieks came from the second row of the continental ballroom at the Hilton Union Square hotel in San Francisco. Kasey Thompson placed in the top five nationally of the Journalist of the Year (JOY) competition through the Journalism Education Association (JEA).
The JOY competition had 200 applicants from across the country and 35 students were chosen to represent their state in the national competition. Kasey Thompson placed in the top five nationally along with the state winners from Florida, California, Texas and London. 
"I really had no expectations just because I was shocked I won for the state, but then it kind of settled and I was like 'wow I'm really proud of myself, this is awesome, but I'm just excited to go to San Francisco and be a part of it'," Kasey Thompson said.
The top five finishers are announced alphabetically, causing Virginia to be announced fifth. Kasey Thompson was sure as they got to the fifth and final award winner, it wouldn't be her. 
"When I heard Kasey's name called I screamed in her face and I was jumping for joy because I was so excited that she was in the top five," senior and fellow Editor in Chief Jolie Sallah said.
Kasey Thompson has been a member of the HHS Media staff for the past four years and has worked up from staff reporter to becoming this year's Yearbook Editor in Chief. 
"I don't think that any program could have set me up better for my future than this one has. I don't think that I would be the same person senior year as I am now if I hadn't taken Newsstreak my freshman year. It's shaped me in many different ways. I've always been really shy, but this class has helped me find my place in high school and I'm really thankful for it," Kasey Thompson said.
The Journalist of the Year competition requires applicants to create a portfolio to showcase their work as a student journalist. Sections are required on Writing and Reporting, Editing, Leadership and Team Building, Graphic Design, Web and Social Media Design, Photojournalism, Broadcasting, Law, Ethics and News Literacy, Marketing and Audience Engagement and Commitment to Diversity. The applicants must compose all of these sections in a website format with a personal narrative and letters of recommendation.
"It was a lot of work, but it was so rewarding because now I have this whole website that I can add to throughout college and whenever people ask me about the award, they'll be like, 'what did you write for it?' and I'm like 'Oh, I made a portfolio' and then I show them. It's really cool to have a whole website with all my stuff together in one place," Kasey Thompson said.
Thompson began working on her portfolio in the winter of 2022. Her twin sister and fellow Editor in Chief, Riley Thompson, notes the sheer amount of work the portfolio took to build.
"She worked very hard for it and she's one of the most nitpicky people I know, so she spent forever on her portfolio," Riley Thompson said. "It's good to see how she grew from her low class freshman year stories to the beautiful works of art she makes now and how amazingly she covers things. I'm excited to see what she does at James Madison University (JMU)  and in the [School of Media Arts and Design] (SMAD) program."
The fourth Editor in Chief of the Newsstreak program this year, senior Silas Spears, has been with Kasey Thompson in the program for the last four years. He believes that Kasey has a special aptitude for design and thrives as a journalist.
"She always puts in 120% effort while I feel like most everyone else is just doing 100% effort or even lower. Kasey always excels and goes ahead and she makes sure to not just do the bare minimum, but much more and she makes up for other people's slack," Spears said. 
All three of her co-Editors in Chief are immensely proud of Kasey for all her hard work and are proud of all the work they have accomplished together. 
"I'm proud of her," Riley Thompson said. "She can make things look good. She has an eye for design." 
Kasey Thompson found her niche in the Newsstreak room through her interest in design. She will continue her education at JMU in the SMAD program where she has been awarded the Senator Harry F. Byrd, Jr./D. Lathan Mims Scholarship  scholarship which is paired with the Madison Award for Academic Excellence that will pay for 75% of her tuition. Kasey Thompson believes none of this would be possible without the experience she has garnered in the Newsstreak program.
"If you're considering taking Newsstreak I think you definitely should and you can find your place in the class. You don't have to do all the things if you think you don't like parts of it. You [have] just got to really throw yourself into it and take advantage of it. I'm really thankful for winning, and I'm really proud of myself," Kasey Thompson said.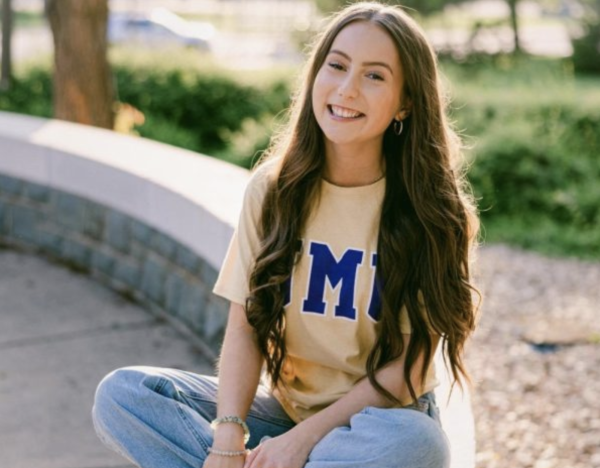 Kasey Thompson thanks the following people for their support in her journey through the program and in creating her portfolio:
"I'd really like to thank Kibler because she terrified me at first, but she's become my literal best friend and my second parent, so I'm really thankful for her and all the way she's pushed me and believed in me. I'm also really, really thankful for my fellow Editors in Chief, they make it fun all the time. I'm thankful for Clare. I'm thankful for Adrian. They have always pushed me and always made me feel like I made an impact in this program in some way. I'm also really thankful for Jumana, Jiayi and Evelyn. They always make me feel like I'm special in some way and I really appreciate it. And my parents [who] are always so excited for me," Thompson said.
To view Kasey's portfolio click this link: