Liu represents Virginia and HHS at National Honor Band of America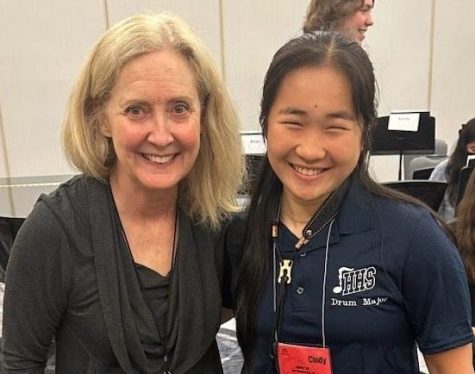 Last Sunday junior Cindy Liu performed for the Music for All National Festival at Butler University alongside representatives from different states. Liu represented HHS and Virginia in the prestigious Honor Band of America in the oboe section. 
"To represent VA in the oboe section feels so special because the other two oboes are from Texas. It's been cool to hear about how bands are like in other places and to play with other amazing musicians," Liu said. 
Liu was able to perform and be mentored by Northwestern University Director of Bands, Dr. Mallory Thompson who she described as amazing. 
"Dr.Thompson is amazing. I can't even think of how to describe working with her [is]. She has a way of working her magic to bring music out of the ensemble," Liu said. "There have been so many musical moments that give me chills and it's the best feeling."
With the conference coming to an end, Liu recalls the whole experience being great. 
"It's great. It's been really fun to be a part of the conference and to be around so many great musicians," Liu said.