Boys tennis beats Staunton Storm 5-4 in opening scrimmage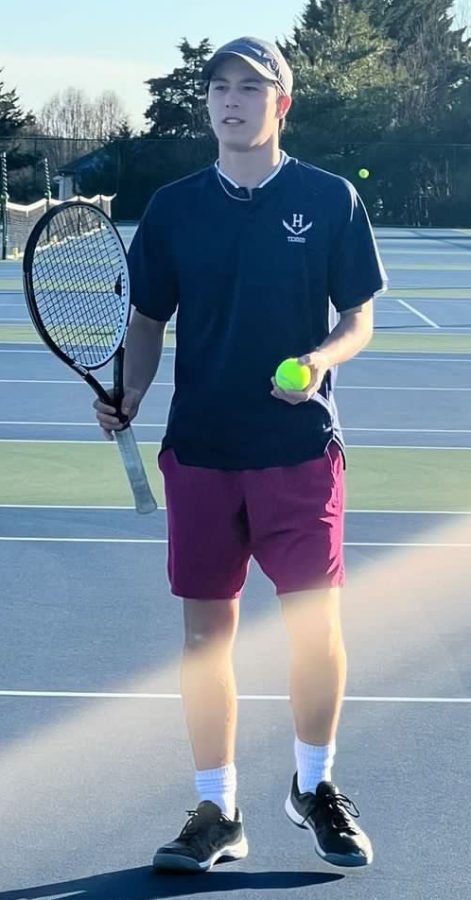 Boys Tennis found themselves in a close battle against Staunton High School in the opening scrimmage of the 2023 season. Harrisonburg went 11-2 last season while Staunton went 12-4. The teams met in a scrimmage last season which ended 8-1 in the favor of the Blue Streaks. The Blue Streaks going into the match had a very different looking ladder. Only three of last year's ladder were in the new 2023 ladder. The match began with doubles. Harrisonburg High School athletes will be listed first.
1 Doubles: Senior Corey Beshoar and junior Julien Steins v.s. sophomore Laurel Shelton and senior Tucker Terry 8-4
Last season the Blue Streaks one doubles was nearly unbeatable. Beshoar and Steins built a quick lead and did not look back. Staunton won a couple games late, but were overcome by the talents of Beshoar and Steins.
2 Doubles: Senior Owen Tompkins and sophomore Louis Gibson v.s. senior Spencer Blackwell and senior Alton Harris 9-7
Last season Tompkins and Steins were doubles partners. This season Gibson slid into the 2 Doubles spot and played his first doubles match on the ladder. The Blue Streaks fell into a quick 4-1 hole. Gibson and Tompkins both dropped early service games and Harris had a couple of netfront winners. Early in the match Blackwell's serve was an issue for the Blue Streaks, though as the game progressed the Blue Streaks eventually took control on the return. The Blue Streaks eventually battled back, but were on the brink of a loss down 5-7. They won games thanks to Tompkins's serve and turned the momentum into their favor. The Streaks went up 8-7 and after a long game they finally completed the comeback to get a key victory at the two doubles spot.
3 Doubles: Freshman Tristan Nussbaum and sophomore Drew Lankford 0-8 v.s. senior Ben Cason and senior Lain Strickland
A completely new pairing then last season had a date with an all seniors doubles team ahead of them. Both Nussbaum and Lankford played their first ever match on the new look Blue Streaks ladder. They quickly fell into a hole at the hands of their serve, going 0-4 on service games. Staunton got a much needed win to stay in the match. "It was a good experience [being on the ladder]. Unfortunately we didn't [win]. Next time I think we can [rebound] and get the victory," Lankford said. "I really need to improve my serve. We lost on serve a lot. Have to [get back] to practice and work hard."
1 Singles: Senior Corey Beshoar v.s. sophomore Laurel Shelton 8-0
Beshoar started his senior season off strong. He quickly won against Shelton. Beshoar has a great season ahead if he can replicate his success last season going 12-1 in singles.
2 Singles: Junior Julien Steines v.s. senior Tucker Terry 8-1
Steines found his first victory at 2 Singles. His ability to place the ball propelled him to victory. Even after going 2-0 Steines was not satisfied with the match. "Today was a bit iffy, I wasn't at my best, but it will come," Steines said.
3 Singles: Senior Owen Tompkins v.s. junior Elias Hardy 8-0
Tompkins rode his momentum from a doubles thriller into his singles match. Hardy was replacing the injured Blackwell, who got a leg injury during his 2 Doubles match. Hardy came into the match originally as the Staunton seven. Tompkins, recovering from an elbow injury, showed little amounts of rust and achieved a dominant victory.
4 Singles: Sophomore Louis Gibson v.s. senior Alton Harris 8-9 (6-8)
This was a match that went long into the night ending over a half an hour after any other match. A close battle that had both players winning games on the others serve. Harris' spin serve won himself many key points. Gibson held 7-6 and 8-7; and even a 6-5 lead in the tiebreak. He fell 9-8.
5 Singles: Junior Felix Young v.s. senior Ben Cason 1-8
Young played his first ever match on the ladder going up against Cason fresh off an 8-0 victory at 3 Doubles. Cason continued a very good evening and made quick work of Young.
6 Singles: Freshman Tristan Nussbaum v.s. senior Lain Strickland 5-8
The first year player Nussbaum was up against the senior of Strickland. Strickland had tight control of the match, but Nussbaum kept it very competitive. Unfortunately for Nussbaum he fell short of pulling the upset. "My serve definitely improved," Nussbaum said. "My [volleys] were kind of a mess for me. I really want to get better at the net. I was really happy I got to be on the ladder. The guy was older which kind of [made me nervous]."
Final Score: Harrisonburg 5 Staunton 4
Staunton proved to be a competitive matchup for the Streaks, especially on the bottom half of the ladder. The come from behind victory at 2 Doubles proved to be the deciding match. The Blue Streaks will be back in action Monday March 13 home against Sherando. The match will start at 4:30 p.m.