JROTC program provides family dynamic for Reyez, Guifarro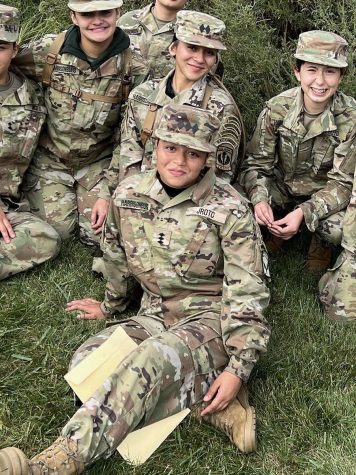 Junior Olga Reyez and senior Alondra Guifarro have been in the JROTC program since they were freshmen. Reyez is the Battalion Commander which requires her to oversee the way the program runs. Guifarro is a Lieutenant Colonel, as well as Executive Officer of the Battalion. 
JROTC is one of the many groups within HHS that students find a home in. 
"JROTC became my outlet in high school. It became a safe and comfortable place to be myself. It is the place I enjoy the most in school because of the Cadets and Sergeant Major and Colonel," Guifarro said. 
According to Reyez, JROTC is misinterpreted by most students who view the program as just a class, but for these students, it's a family.
"Most people think it's a military class, but to me it has become like my second home. Through the tough times of always trying your best even when you don't feel like it, it has taught me a lot of things. Seeing how people fail or grow makes me happy because when they fail they understand their mistakes, we don't let them stop there. When they grow, they want to keep that motivation to become even better. That's why I think it's a different side of school where you don't learn academic things, but life lessons instead," Reyez said. 
Guifarro believes JROTC has shaped her as a person and pushed her to grow throughout her last four years of high school. 
"JROTC is a family based program. Everyone creates bonds, as well as with Sergeant Major and Colonel. It's special because of the comfort it gives students having it as a class they enjoy. It molds you as a person. It pushes you out of your comfort zone and allows you to learn things about yourself you didn't [previously] know," Guifarro said.