Earthquake in Syria worsens already terrible conditions for Syrians
"My cousin died in the crossfire of an airstrike in Syria a couple years ago. My aunt is still living in Syria. She's tired. She's tired of seeing her family and Syrians dying constantly," freshman Amira Al Ramadan said. 
The northern part of Syria among other surrounding areas got hit with a seven point five magnitude earthquake Feb. 7. Syrians all over the north have been dealing with the catastrophic natural disaster poorly. Their infrastructure and government is doing very little to help mend the disaster and the death toll increases day by day, hitting record high numbers. Many even label it as one of the deadliest earthquakes in this decade. Al Ramadan is a Syrian who was forced to move with her family outside of Syria when the Civil war started in 2011. Not all of her family members could leave and many stayed. Many got killed by the war. When Al Ramadan got the news that there was an earthquake in Syria, her heart dropped just as it had many times before in fear for her family back home.
"I was watching the news when I saw the headlines. My first thought was my family in Syria. I grew up with them and I felt terrified that something had happened to them," Al Ramadan said.
After calling her family, she got some clearance on their situation. 
"We called our family and they were mostly fine, my aunt had gotten physically sick from seeing the kids,  that they had to pull out from under the buildings. It reminded her of when her son died and she couldn't handle it. They lived in the neighborhood next to the one that was affected by the earthquake. They felt a slight shake in the buildings, but nothing intense," Al Ramadan said. 
After the earthquake, Al Ramadan's family went to a nearby neighborhood to see how they could help and what they found was heart shattering. 
"They saw children and families under the buildings. It was a heartbreaking scene to witness. My aunts immediately did what they knew to do, they opened up their homes and took in as many people as they could to stay with them," Al Ramadan said. 
Al Ramadan felt frustration and confusion with the reaction from the world after the earthquake. 
"The government didn't help. The neighboring countries didn't help. No one helped but their own people. All eyes are on Turkey,  but at least Turkey has a president and a government. These Syrians cannot even go to a government to ask for help and assistance. I don't feel bad for Syria, I feel bad for the Syrian people. The Syrian people who for years and years have been living in one injustice after the other," Al Ramadan said. 
Sophomore Ruba Mustafa was born in Syria. She lived there until the war erupted and was forced to move with her family again. When the earthquake happened, her first response was to learn more about the event to see how she could help. 
"Learning is the only thing I could do. I'm not a politician or a government, so I just educated myself on what was happening. What's happening is heartbreaking. Little children under mountains and mountains of rocks and concrete. It's devastating," Mustafa said. 
Mustafa is concerned about the deep troubles Syrians are in because of the earthquake.   
"Syria is at a great risk because of the war, the economic problems, the terrible government. The earthquake was just another thing that they couldn't handle," Mustafa said. 
Watching from social media, Mustafa came upon many videos of the victims being taken out from under the rubble. 
"I've seen videos and stories of rescuers digging people out of the fallen buildings. I saw a woman crying and hitting herself because her family was under the building. It was all really terrifyingly sad," Mustafa said.  
Many Syrians left Syria in 2012 after the war started with the purpose of finding a better home. Senior Muna Mahmoud's family was also one of the many that left Syria after the war. 
"We left Syria in 2012 because of war, and we went to Jordan. A lot of our family is still in Syria and were still there when the earthquake hit," Mahmoud said.
When she heard about the news, Mahmoud felt anger and frustration. 
"I was upset and frustrated. It's my country that was hurt, my country's people that died. So many families just died, it's very upsetting," Mahmoud said. 
Mahmoud made sure to call her family back home to make sure that they were okay, but for the first couple days she got no answer. 
"Our family didn't call us the first few days. It was scary, but when we were able to call them, they weren't able to talk very long because of the situation there," Mahmoud said. 
Mahmoud was also able to keep up with the news of Syria through social media.
"I kept seeing more things on TikTok post after post about the children and families they were picking up from under the ground. There were a lot of small children, young children just looking for their parents after they were pulled out. It's so upsetting, half of the children are dead and the rest are either under the buildings or have still not been picked up from under the rubble," Mahmoud said. 
Mourning the victims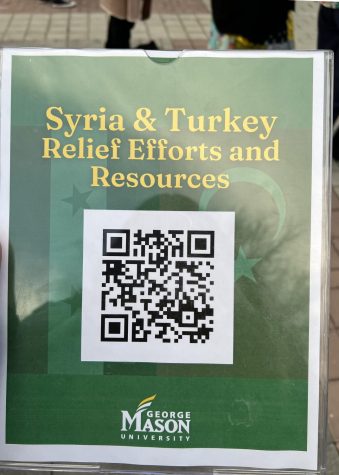 George Mason University in Fairfax, Virginia, held a candle vigil late Feb. 15 in honor of the victims in Syria and Turkey. The event was held at the clock tower at George Mason's campus. Yali Pan, the Associate Director for Engagement and Assessment with the office of international programs and services at GMU, helped set up and lead the event.
With her were two other students, Rewa Sharabi, a Syrian student and Berke Kizilcan, a Turkish student. Both stood in front of the crowd of students and community members to share some words about what happened. 
"Imagine if you were in a car accident and you survived the car accident, but died because of the way you were pulled out," Sharabi said. 
Sharabi used this analogy to explain that the reason the death toll in Syria was so high was not because of the earthquake itself, but because Syrians had no resources to be rescued. 
Sharabi mentioned the importance of social media despite the graphic nature of the videos and pictures circulating around. 
"I've heard people say that they stopped watching the news because it was too graphic. Imagine how they feel. If it's too graphic for us to look at, imagine how the individuals who are actually experiencing what we are looking at feel," Sharabi said. 
After the speech was given, the leaders of the event played a song called "Rise Up". During the song, many people were crying and hugging. 
A QR code was passed around with donation and relief resource information. On the website the QR code said "​​Mason community is deeply saddened by the loss of human life and the devastation of communities in Turkey and Syria – and we are equally humbled by the acts of courage, kindness, and determination we have seen."