Hurricane Fiona hits Puerto Rico hard, impacts felt in Harrisonburg
A hard worker who never gives up. Someone who loves to smile, party and help people. A rich culture filled with African, Indian and Spanish ancestors. Stunning beaches, mountains and a national rainforest. An incredible display of diverse music and outstanding food. Artists and singers. History that lines the streets of Old San Juan. Kind hearted, humble and someone who is always willing to help.
The characteristics described are that of Puertoricans, according to Skyline Middle School teacher assistant Evelyn Cruz. Cruz is Puertorican and proud. Born and raised there, she has strong familial and cultural ties to the island. When news of Hurricane Fiona reached Harrisonburg, Cruz was scared.
"After hurricane Maria the word hurricane is a scary word in Puerto Rico. When Fiona [became] a threat to Puerto Rico, people panicked. We were worried about the possible devastation ahead. Everyone was getting the basic supplies needed, they were scared. During the hurricane people couldn't sleep due to a lot of rain and flooding. The wind was strong enough to knock down the power [in all of] Puerto Rico. After the hurricane, people gathered to help each other, that is what we do," Cruz said.
Fiona hit Puerto Rico as a category four hurricane on Sept. 18, 2022. According to CNN, the hurricane has been confirmed to have caused 11 deaths, with 14 more undergoing investigation and 10 more indirectly related.
"My entire family lives in Puerto Rico. They were very concerned, but very prepared. Thankfully they didn't get flooded. Flooding was more in the mountains. My parents are in a home because they have Alzheimers, [so] I was at peace [with] the fact that I knew it was not a flooded area and [they] had a generator," Cruz said. "My parents owned a business that is still run by my sister, we sell everything you could think [of], it's like a little Home Depot and Walmart. I was at peace [because] I knew that my family was going to be taken care of and were going to be safe."
"
After the hurricane, people gathered to help each other, that is what we do.
— Evelyn Cruz
Cruz visited Puerto Rico and her family a week after the hurricane hit. 
"I was surprised not to see devastation like the hurricane before – Maria; however, in the mountains there's a lot of devastation and people are still without power. This situation can last for months because Puerto Rico's power structure is very cheap and old. I don't know why they can't fix it," Cruz said.
Junior Hector Rodriguez is also Puertorican. His family was one of many that were left without water and power after Fiona hit.
"During the hurricane it was hard to see my neighborhood destroyed. Almost all my family lives there and thank God the hurricane didn't affect them too much, they just went awhile without power or water," Rodriguez said. "My family now has power and water, but there are many people that I know that lost their homes and their only car and were pretty much left with nothing. Everybody is trying to do everything they can to put their part in and help the community."
Like Cruz, Rodriguez is very close to his Puertorican culture and his community there. He believes the resilient Puertorican spirit helps the island bounce back from devastation like this.
"I think something that makes Puerto Rico special is that we come from a small little island where everybody has to work twice as hard to keep up with the rest of the world. Every little win means a lot to everybody, if it's a sport or music or any other thing everybody is proud to be Puertorican," Rodriguez said.
According to the New York Times, at least 20 houses were destroyed, 200 more were damaged and the entire island lost power. Freshman Arianna Figueroa watched on as some of her favorite places were destroyed.
"Before the hurricane there wasn't really much talk about it other than one might be coming soon. Once the hurricane had actually reached Puerto Rico I was very scared. Not only because of what could happen to my family, but also because I knew no matter what category the hurricane was, it would hit the island hard, considering how small it is. After the hurricane I was very happy to find out that my family was okay but very upset to find out that some of my favorite places on the island were ruined or no longer there," Figueroa said.
Puerto Rico is about 3,500 square miles, smaller than the state of Connecticut. Its small size has created a tight knit community, but Figueroa's experience with the culture has been a little bit different.
"To me being Puertorican isn't just about the food or the dances. It's about having pride for your culture and celebrating every little thing that happens, because Puerto Rico has come so far from what it used to be," Figueroa said. "My background is different from other Puertorican kids because I am mixed, half white, so I didn't grow up learning Spanish or the dances that other kids learned, but that doesn't mean that I won't celebrate my culture. My family is obviously very proud to be Puertorican. My family has taught me to be proud of where you're from, even if I'm only half Puertorican."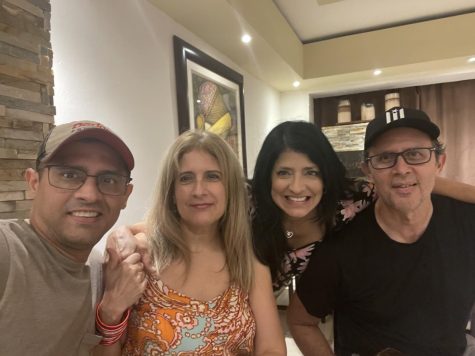 Fiona hit the island exactly five years after Hurricane Maria, which was catastrophic for everyone in Puerto Rico. Sophomore Thinalee Cedeno believes the hurricanes have instilled a fighting spirit in the state.
"Being Puertorican is the best [thing] I could have asked [for]. I love being part of a community that is loving. Me and my family were really shocked about the news that came up on the TV saying there was going to be another hurricane. I do know a lot of family friends that were affected by hurricane Fiona. They lost power and didn't get [it back for] a week, but everyone is getting up again because it's not the first time, us Puertoricans are really strong," Cedeno said.
Puerto Rico is strong, but the effects of Fiona have been detrimental to thousands, including the families of Cedeno, Rodriguez, Cruz and Figureoa. Every little thing can go a long way.
"Many people lost everything in their homes. I think Harrisonburg can help [by] sending supplies and home essentials," Cruz said.